It's hard to think of this festive season without some holiday cheer (re: booze). Whether you're hosting, coming as the plus one to your SO's company holiday party, or making an obligatory appearance at your auntie's annual gathering, alcohol is often the common denominator.
There's no denying the holidays are synonymous with a seemingly endless flow of libations and feasts complete with the usual suspects: Turkey, stuffing, mashed potatoes, apple pie, and sugar cookies. 
Party trends, mood and the drinks to match
Although social distancing restrictions have been lifted for months, data from Google Trends shows that Canadians still prefer relaxed, intimate celebrations and prioritize recharging their social batteries over a long night out. There has been a 73 per cent increase in searches for "canceling plans" in fall 2022 compared to 2021, and searches for "Irish goodbye" are the highest they've been in five years. (That's when you leave a party and don't say goodbye.)
This holiday season, Canadians are itching to do less (while still having fun), and creating festive cocktails can offer the perfect solution to those who choose dinner parties over clubs and are looking to simplify their social lives. 
While our social habits are shifting, we're still looking for ways to inject joy into holiday celebrations. Searches for "party games" have already doubled since September and Pinterest's "dinner party aesthetic" searches between fall 2021 and 2022 have tripled. People are thinking about alcohol in a new way. Whether it's motivated by hatred for hangovers or a newfound love for tasty, low-alchol by volume (ABV) options, people are drinking on their own terms. In the recent 2023 Pinterest Predicts report, the following searches are up:
Fancy nonalcoholic drinks +220%
Mocktail bar +75%
Cocktail garnish ideas creative +225%
Fancy ice cubes +75%
Creative cocktails presentation +555%
The moral of the story: We want all the fun without the effort. Read on for three festive cocktail recipes (including a mocktail version) to satiate your festive cravings. 
Holiday cocktail recipes for bubbly fans and teetotallers
Henkell Sparkling Mocktail
Henkell Alcohol-Free offers the enjoyment of sparkling wine for those who prefer not to drink alcohol. No need to compromise this holiday season. 
Makes 1 serving.
Ingredients
100 ml alcohol-free sparkling wine (Try Henkell Alcohol-Free.)
A handful of ice cubes
2 star anise
2 cinnamon sticks
1 orange slice
60 ml dry ginger ale
Instructions
Fill a glass with ice.
Add non-alcoholic sparkling wine and ginger ale
Stir gently to combine.
Garnish with star anise, cinnamon sticks, and an orange slice.
Mulled Signature Red Hot Chocolate
Hot cocoa, but better! The cocoa and spice aromas in Jackson-Triggs Reserve Signature Red VQA add up to the cinnamon and anise making this one of the best-mulled wines you've ever had.
Makes 6 to 8 servings.
Ingredients
½ cup cocoa powder
2 cinnamon sticks
4 star anise
8 to 10 cloves, depending on size
½ teaspoon dried ginger
⅔ cup dark chocolate chips
1 cup cold water
½ cup soft brown sugar
1 orange, sliced
1 bottle (750ml) red wine (Try Jackson-Triggs Reserve Signature Red VQA.)
½ cup fresh or frozen cranberries
Orange slices for garnish
Instructions
Add cocoa powder, cinnamon sticks, star anise, ginger, and chocolate chips to a large saucepan.
Pour in the water, then add the sugar and orange slices.
Heat on medium heat, stirring occasionally until the sugar has dissolved, then turn down the heat and simmer for 10 minutes.
Pour in the red wine.
Heat gently for another minute or two until warmed through. 
Pomegranate Rosé Paloma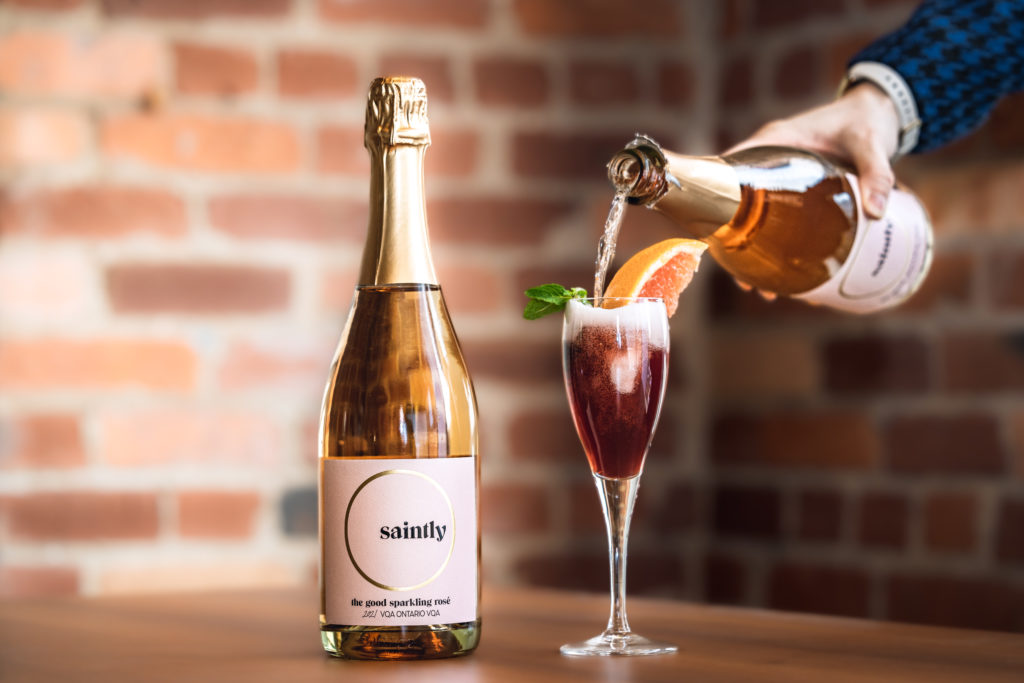 A light, festive cocktail full of seasonal fruit flavours. Add a clean and crisp sparkling wine such as Saintly The Good Sparkling Rosé to the mix for a simple yet elegant cocktail, perfect for the busy holiday season!
Makes 1 serving.
Ingredients
¾ cup pomegranate juice
3 ounces grapefruit soda
4 ounces sparkling rosé (Try Saintly The Good Sparkling Rosé.)
Grapefruit wedge and mint
Instructions
Fill a wine glass with ice.
Add pomegranate juice, grapefruit soda, and sparkling rosé.
Stir gently to combine.
Garnish with grapefruit wedge and mint.