The following recipe has been excerpted from Gatherings Casual-Fancy Meals to Share (Penguin Random House, 2023), and adapted for FLEETSTREET.
---
I love using charred bell peppers as a room-temperature salad base. They're meltingly tender and a touch bitter from the charring, and they play well with other textures. And there are lots of other textures here: Chickpeas, shaved Parmesan cheese, hazelnuts, raisins and parsley. The protein component is capicola, which is similar to prosciutto but comes from the hog's neck or shoulder (rather than the hind quarters). Tossed with a smoked paprika and lemon vinaigrette, this salad feels like many flavours from an antipasti board happily fell together into a salad bowl.
Piggy Peppers Recipe
Makes 4 to 6 servings.
Ingredients
5 tbsps extra virgin olive oil, divided
1½ tbsps lemon juice
1 tsp table salt, divided
½ tsp smoked paprika
⅛ tsp cayenne pepper
1 (15-ounce) can chickpeas, rinsed
3 red bell peppers, stemmed, seeded and sliced into ½-inch-thick pieces
4 oz thinly sliced capicola, torn into ­bite-size pieces
1 oz Parmesan cheese, shaved
¼ cup hazelnuts, toasted, skinned and chopped
¼ cup golden raisins
¼ cup coarsely chopped fresh parsley
Instructions
In a large bowl, whisk together ¼ cup oil, lemon juice, ½ teaspoon salt, paprika and cayenne together in.
Add chickpeas and toss to combine.
In a 12-inch nonstick ­skillet, over medium-high heat, add remaining tablespoon of oil. Once shimmering, add ­peppers and remaining ½ teaspoon salt and cook, stirring once every 2 minutes, until tender and deep spotty brown, about 8 ­minutes.
Transfer peppers to bowl with chickpeas and toss to combine. Let sit until flavours meld, about 30 minutes.
Bring chickpea-pepper mixture to room temperature (it can be covered and refrigerated for up to 2 days.) Just before serving, add capicola, Parmesan, hazelnuts, raisins and parsley to chickpea-pepper mixture and toss to combine. Season with salt and pepper to taste.
Serve.
---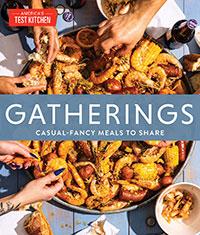 Morgan Bolling, the executive editor of creative content for Cook's Country and a cast member of the Cook's Country TV show, has worked at America's Test Kitchen since 2014, where she has developed more than 100 recipes, her favourites of which usually include some cut of pork. americastestkitchen.com