When I heard that Hammam Spa by Céla launched their new Glacial Mud Wrap, I was immediately interested. I've never had a mud treatment before, I felt like it could be a fun experience. 
Celine Tadrissi opened Hammam Spa by Céla's first location in 2005 on King Street in Toronto. After many years of success, she opened her second location in Bayview Village in 2019. When Hammam Spa by Céla first opened, it was a novel concept for Canada. From the modern interpretation of Turkish baths to the co-ed communal steam room, the spa's menu offerings were unconventional. Now Hammam Spa by Céla is the largest independently operated spa in Canada, treating over 800 guests a week and a total of 3,750 treatments monthly. 
Stress may be wrecking your skin – ignore at your peril, docs say.
What Céla Spa is really like
Upon arriving at Céla spa, I made my way into the change rooms and put on my robe. Then I went into the steam room for a few moments of relaxation before starting the mud treatment. The steam room in itself is a treatment. Infused with eucalyptus, the Hammam Steam Ritual is inspired by traditional Hammams. The smell of the eucalyptus is stimulating and has been shown to improve exhaustion and mental awareness and help enhance mood. And the light therapy used in the Hammam appeal to the senses. I can attest to that.
The thick, wet steam and humid heat in the Hammam, rising to 102 degrees at its peak, relax my muscles, relieving built-up tension.
Hammam Spa by Céla offers the steam ritual experience to all guests to help encourage relaxation before and after treatments.
Why dry skin isn't just a jerk in winter, but in the summer, spring and fall, too.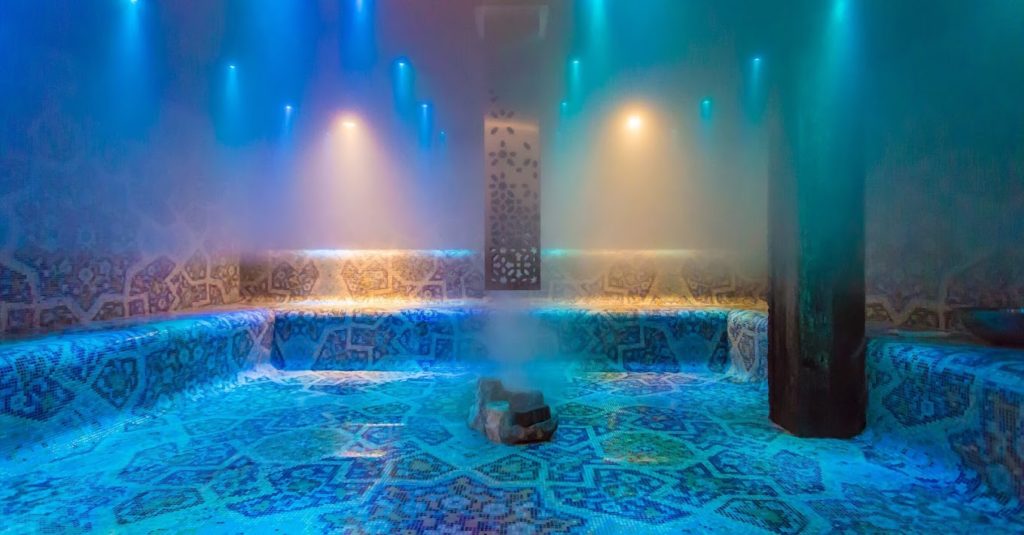 After taking in the hot damp air, I rinsed off and was ushered into the mud treatment room. 
There I saw a large heated marble table with a foil-like bed. I was nervous for some reason. I didn't know what to expect. I did know though, that this type of treatment has been around for centuries. 
I was asked to put on pair of provided disposable underwear and wrapped my top half of my body with a towel. Then I was invited to lay on the bed.
So what's the deal with hard water and our scalps?
Hammam Spa by Céla Glacial Mud Wrap treatment
The mud used is specially sent in from British Columbia, the only of its kind in Canada. It's enriched with more than 60 minerals and rare natural elements to detoxify, calm and rehydrate skin, sloughing off the effects of the cold winter months on the body.  
The Glacial Mud treatment helps me to relax. Here's how with these five steps: 
Skin is prepped with full body lymphatic drainage and light exfoliation using the Céla Kessa Mitt.
Céla Glacial Mud is applied from the décolleté down.
A customized scalp massage given, using Céla Essential Balm, followed by a neck, and shoulder pressure-point massage.
Then copper bowls filled with water are poured over the body to cleanse the skin. It's called the Hammam Spa by Céla copper bowl ritual, inspired by Turkish Hammams.
Céla Crème de la Crème Light luxe hydrating cream is applied to the entire body, leaving your skin revitalized, renewed and soft.
My verdict
When I say, this was probably one of the best spa experiences I've ever had, I am not exaggerating. It was relaxing, yet I felt like my body was being nourished. I genuinely felt calmer after it was over. 
I asked my Céla esthetician what makes this treatment different. Here's what she said: "This treatment involves five relaxing steps, including Hammam Spa by Céla's signature copper bowl ritual, inspired by Turkish Hammams to help cleanse 'magic' Canadian mud is what truly sets this treatment apart. In its pure form, the glacial mud has well-rounded benefits of hydration, detoxification, and nourishment." The copper bowl ritual is when the mud is washed off. It feels incredible. This was my favourite part of the mud treatment.
Céla spa founder Celine Tadrissi says she was fascinated by the variety of stunning spas she saw while traveling the world. She was especially astounded by the rituals of Turkish Hammams, Moroccan spas, and Korean bathhouses. When Tadrissi launched her own spa, she designed the location and service menu based on that and allowed clients to incorporate the treatments into their wellness routines.
Hammam Spa by Céla Glacial Mud Wrap treatment details:
Cost: $195
Locations: 602 King Street West, Toronto, and 2901 Bayview Ave in North York.
Other spa menu options: A drop-in rate of $65 for Hammam Steam Room, but is complimentary for guests with services at $100 or more.
Note: Hammam Spa is based on traditional Turkish baths. This spa is co-ed and offers a variety of body and face treatments, as well as waxing, mani and pedicures, spa lunches, and private suites.