– LIZ – 
The early '60s were off to a sad start for Elizabeth after Teddy Haslam's death, as more of those around her began to dwindle. By then, she had outlived all of her original employees and barely recognized the staff that roamed the halls of her 691 Fifth Avenue building. The press no longer courted her as much as they had at the height of her fame, but Elizabeth's travel schedule was just as grueling in the 1960s as it was throughout the 1930s. Elizabeth fell in love with air travel and couldn't believe how quickly she could be transported from one place to the next. Flying Pan Am, she donned her signature pink and pearls on a trip to Paris to visit Gladys, who continued to run the European operation like a well-oiled machine, and whose husband, Count Henri de Maublanc, had recently died of a heart attack.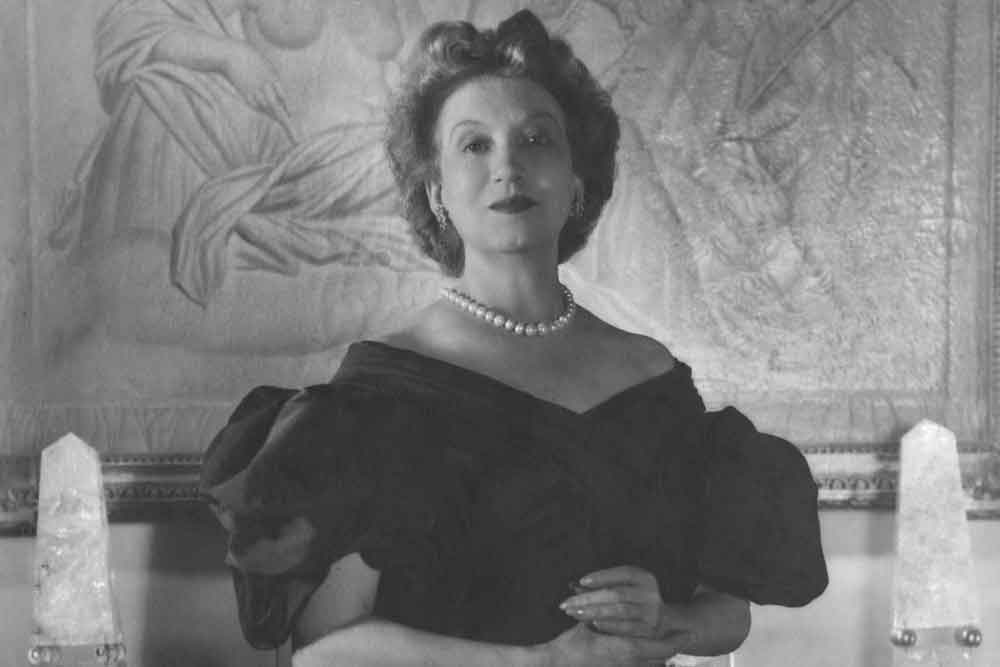 Elizabeth hopped over to London, her second-favorite city after New York, to check on the Bond Street Red Door Spa, where Eight Hour Cream continued to fly off the shelves, but the place felt strange without Teddy Haslam there to greet her. 
Seeking a change of scenery, Elizabeth journeyed to Ireland. She was becoming more impulsive in her old age and continued her pattern of coping with grief by indulging in real-estate therapy. After Bessie's funeral, she bought Maine Chance Farm, and after Teddy's funeral, she upped the ante by buying a castle in Ireland for $200,000 – sight unseen. 
The Barretstown Castle, outside of Dublin, came with over five hundred acres of rolling green hills and was fit for a queen. Elizabeth hired local designers to "pinken up" the castle's "drab décor." She purchased horses for the stables, even though she had stopped riding, and only visited the Irish castle once a year. 
Back in Manhattan, Elizabeth continued to splurge and bought a dog, as she couldn't very well bring her beloved horses home from the stables to cuddle. She named her furry pal Pee-Wee, as it took the pup a while to become house-trained. Pee-Wee became (wo)man's best friend, with Elizabeth feeding him caviar and wrapping him in fur minks when he slept beside her in bed. 
Terrified by the depths of her own loneliness, Elizabeth became a compulsive hostess, with sometimes as many as 100 people squeezed into her penthouse. She had always eaten cleanly, never smoked and exercised daily, but she began drinking more frequently during her nightly dinner parties. Only alcohol helped temporarily dull her inner demons. 
To ward off sickness, Elizabeth began taking regular vitamin injections, amphetamine-based shots by Dr. Max Jacobson, dubbed "Dr. Feelgood," after being introduced to him by Jackie Kennedy, another one of his clients. 
Despite Elizabeth's best efforts, her own health was weakening after multiple trips to the hospital for pneumonia and kidney infections. Her hair was severely thinning, and her left leg and hands swelled often enough that she had to take heavy doses of Novocain for the pain. By 1963, Elizabeth had suffered two minor strokes yet continued on with work and travel plans as though nothing had happened after her recovery. A noticeable sign to her staff was that she began to forget people's names, which she said was "not a sign of her strokes or her age, but a sign of her busy mind." 
In 1964, at age 86, Elizabeth was excited to fly from Los Angeles to New England to meet her friend Mamie Eisenhower at Maine Chance Spa but before the flight, Elizabeth fell so ill that she was confined to bed rest and around-the-clock nurse's care at the Beverly Hills Hotel. Mamie Eisenhower who had already arrived at Maine Chance, told her friend not to worry and that she "enjoyed every minute of her stay in the Garden of Arden," as she detailed in a telegram delivered to Elizabeth's hotel bedside. 
On April 1, 1965, Helena Rubinstein died in New York at the age of 93. Despite her own increasingly poor health, Elizabeth rebuked the possibility of her demise. Neiman Marcus was the only brave soul to ask Elizabeth what would happen to her company after she was gone. Years later, he described the experience in a letter to a friend: "Death was a subject Miss Arden refused to contemplate, and any reference to it was met with icy silence. I'm confident that she was convinced she would never die but would merely pass on into a Blue Grass-scented heaven, anointed by Eight Hour Cream." 
Dying was something that happened to other people, not to her. Much to the dismay of the company's stakeholders, Elizabeth refused to discuss a contingency plan for the future of Arden, as though she would live on forever.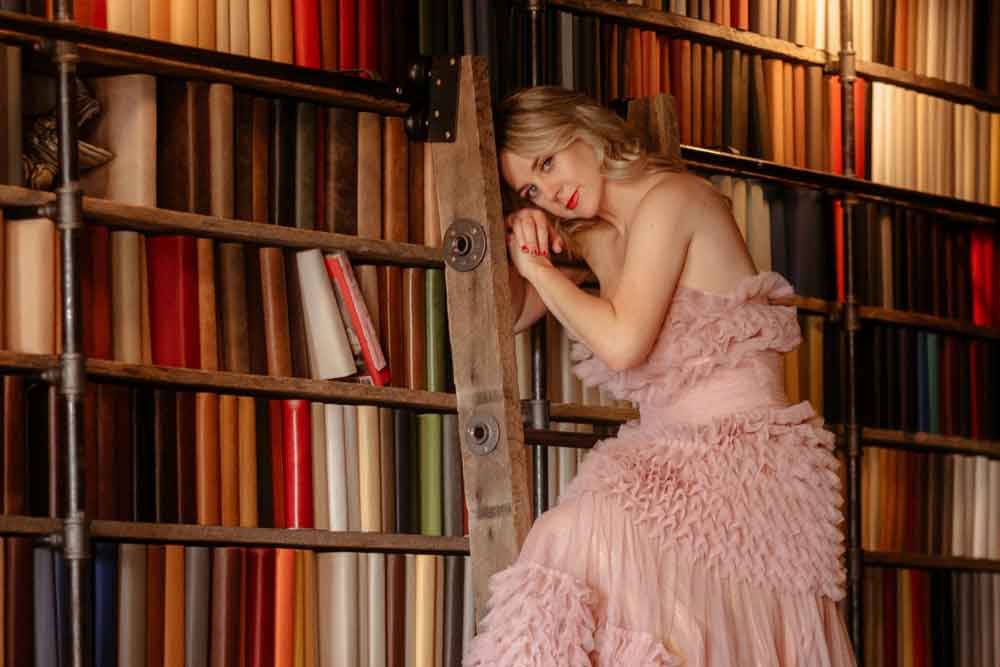 – LOU – 
Meanwhile, I was still burning the candle at both ends, but if Elizabeth could handle Manhattan's rat race into her 80s, I needed to toughen up. Plagued by a bad bout of insomnia, I had taken to going on long walks at night to tire myself out. The never-ending soundtrack of the city drowned out the stress swarming my synapses until I got lost in the rhythm of my own breath.
My sisters, Grace and Meredith, came to visit for a weekend – apparently the family was worried about me, so my mom sent them as foot soldiers. Seeing Grace and Meredith, bright-eyed and in awe of the city's splendors, reminded me of my former self, a version I once liked. I could tell my sisters weren't impressed with what they saw in me: a burnt-out, unmotivated shell of their formerly goal-oriented, ambitious sister. I justified my "unhealthy habits" in that I had spent my whole life planning ahead and working hard to achieve, achieve, achieve, that I deserved to indulge in a few vices. 
Grace, Meredith, and I went to the Plaza Hotel for high tea at the Palm Court. The imported palm trees, ornate glass skylight and oval vintage mirrors dripped of opulence and old-world charm. During our tea service, I noticed an elderly woman sitting alone a few tables away from us. Her elongated neck was adorned with so many strings of pearls, like a pageant giraffe, it was a mystery to me how she maintained any semblance of elegance under the weight of the beads. She wore a vintage Chanel suit in pink tweed, and her bottle-blonde hair, with silver streaks, was pulled loosely into a chignon. Soft makeup was delicately applied, save for the bright pink lipstick that rimmed the edges of her mouth and teacup. For being so dolled up, I assumed she was waiting for someone – her husband, children or a socialite companion – to join her for afternoon tea. 
The way she sat there, dipped in pink and pearls, the picture of independence, reminded me of Elizabeth Arden. I was drawn to her, for so often youth is associated with beauty, but the woman was so striking and poised in her own skin. I could only imagine how many heads she had turned in her younger years, but even now, the wrinkles that framed her features were attractive in their own right; horizontal exclamation points that highlighted her long lashes and sparkling baby blues. But beneath her beauty lurked a shadow of loneliness. I sensed it from the way she kept adjusting her rings and glancing at the hotel doors. Or perhaps I was projecting my own increasing unease in my skin. 
I looked away from the woman and got lost in conversation with my sisters as we sipped overpriced tea and ate tiny crust-less sandwiches that disappeared in one bite. I was mesmerized by how full of life my sisters were, how lighthearted they seemed as they threw their heads back with genuine laughter. My mind felt foggy, somewhere on the periphery of their merriment, but I hoped it didn't show.
On our way out of the Plaza, I noticed that the elderly lady was still sitting at her table. A fresh pot of tea replaced the old, and she was now deeply immersed in a book. The pink tassel on the end of her bookmark dangled over the white tablecloth, ticking back and forth as if it would never stop. A pang of admiration rose up inside of me. I realized my assumption had been wrong: the woman waited for no one.
---
Taken from Behind the Red Door: How Elizabeth Arden's Legacy Inspired My Coming-of-Age Story in the Beauty Industry by Louise Claire Johnson. Copyright 2021 by Louise Claire Johnson. Used by permission of Gatekeeper Press.