This ALO Moves HIIT Flow review is part of Class Action, FLEETSTREET's workout review series. We get sweaty to give you the low-down on what the workouts are really like. 
The Brand – ALO
For me, ALO is fashion. It's elevated yoga wear. My fire friends with fire style wear it (I'm looking at you, Bunmi). Each piece has an LA coolness factor with a level of comfort and togetherness that feels very much NYC. The line was created in 2007 in LA actually. It's a fan fave with the likes of Hailey Beiber, Gigi Hadid, and Kendall Jenner donning the garb—specifically the Airlift Leggings. But So, even if you've not seen the clothes IRL, you now know the look. In 2020, they came out with an ayurvedic skincare line. 
Here's a fact you may not know: ALO is an acronym for "Air, Land, and Ocean." The functional fashion label was created by Danny Harris and Marco DeGeorge in 2007. And in 2018, the company bought Cody, a yoga app. It was then renamed Alo Moves, with thousands of workouts including yoga, barre, meditation and high-intensity interval training (HIIT).
This on-the-go workout blends the best of YouTube and online gyms!
The App – ALO Moves
Like most workout streaming services, Alo Moves got a surge of lockdown-restless subscribers. And like heartbreaking through a brass box, its member base grew seven times since those days. The range of workouts is as wide as you'd find on YouTube. The workouts are organized by workout mood without actually calling it that. Check it out:
| Workout mood | Actual workout category |
| --- | --- |
| Chill or relax | Meditation |
| Get-up-and-go | Yoga |
| Kick butt but make it pretty | Pilates and barre |
| Let's do this! | Fitness |
Workout pants that don't roll down – you're so very welcome.
You can browse through the categories based on your "workout mood" or you can search for a specific class. Want a reformer workout? It's there. Need some stretches to relieve your neck? That's there, too – a Neck Pain Relief series. Need a breathy meditation to relax? Look up "Breath Sequence: Sleep" on the app. In the mood for a sound bath? Well, grab your yoga eye pillow, because that is in there too. Unlike with your YouTube search, you know that the class is quality because of the ALO Moves instructors and slick video editing.
The home page is like a dashboard with a variety of recommended workouts. There is also a "classes" page, with a feed that is updated as workouts are launched. But you can change that so the classes are listed by relevance, popularity, or name. 
The "series" page is similar to the classes page, but it groups the workouts based on short-term goals (e.g. energy healing, seven-day retreat yoga), class type (reformer, total sculpt), or even scenery (Costa Rica, Bahamas). 
The final page on the app is called "my practice." This is a key differentiator for ALO Moves against competitors like Peloton and the like. You can save classes and series, not just so you can do them again, but continue where you left off. Say you're on day three of the HIIT Flow with Christa Janine, the next time you log on, go to "my practice," just go to the series and you can see which class is next without having to go search for it.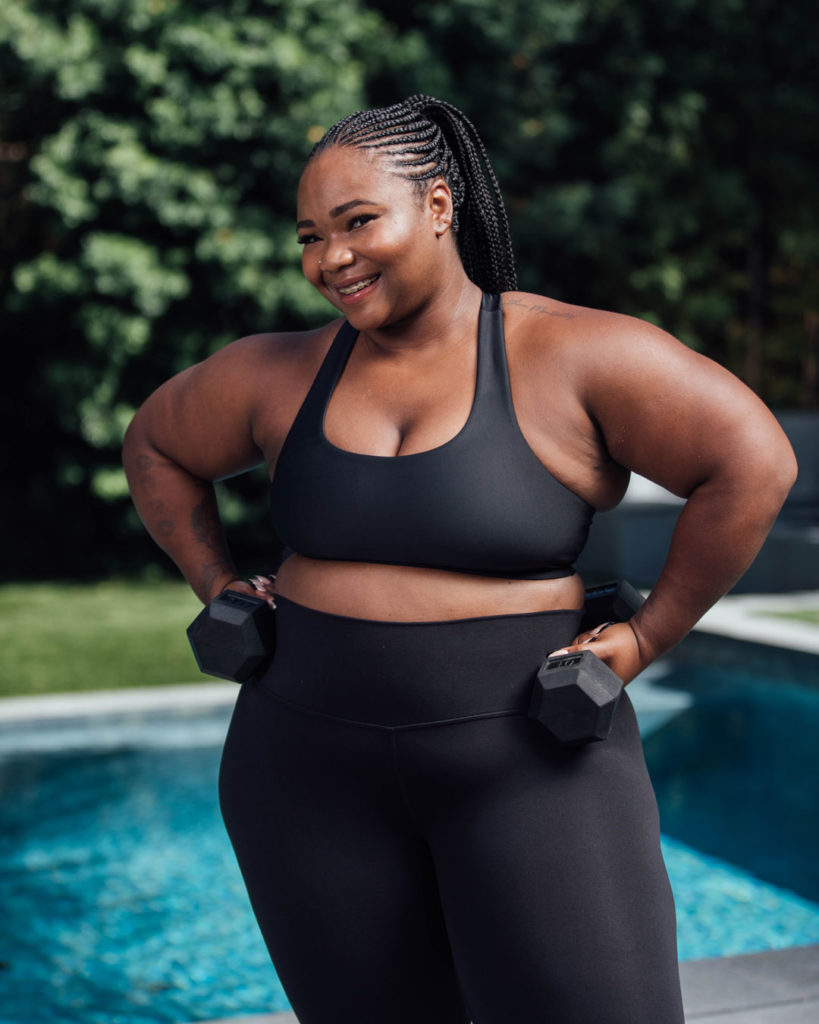 The instructors are a pretty diverse group. The site lists 82 – eighty-two!!! – instructors. So you don't just have your choice of classes, but the instructor you want, too. If you want someone who looks like you, they're likely there. The cool thing about ALO Moves is that classes are pre-grouped into series by the instructor. So, if you try a class and you like it, you can add it or the series to your practices.
Unlike Peloton or some YouTube workouts though, you won't see a section countdown of the class. And your heart rate doesn't show. However, you can sync the Alo Moves app with the Health app, if you have an iPhone. So, you can see those rings closing! 
I used the ALO Moves on Apple TV in my home gym. I'm not a fan of trying to follow workout videos on my phone screen. But to be honest, the iPhone app is easier to navigate and works more intuitively. I found the filter option didn't always work for me and I wasn't always able to untap "select all." But the solution – should you need it yourself – was to look up the class I wanted to take on my phone, add it to "my practice," and then select the video from there.
A boxing class that won't knock you out, but it will kick you in the butt!
The Workout – HIIT full body 20-minute flow
Part of HIIT Flow with Christa Janine, this quick HIIT class bridges a yoga flow (high to low plank, upward facing dog, down dog, step half/lift, three-leg dog, crescent, warrior two, reverse warrior, wide-leg forward fold, half lift, and lunge) with three strength training circuits. It also includes a yoga warm-up and cool-down stretches.
You need the space of a yoga mat on the floor and enough room overhead to do shoulder presses. For weights, Janine suggests having three sets of dumbbells nearby, ranging from 5 lbs to 25 lbs, as well as a booty band, water bottle, and a towel. 
This class is the first of the aforementioned HIIT Flow series. As a series of eight classes, the 20- to 30-minute videos are all led by Janine, and each complements the other. So they are meant to be done in order. Four classes are HIIT flows and the remaining are bodyweight power flows. The difficulty is listed as intermediate (out of beginner, moderate, intermediate, and advanced), and the intensity is level three out of four. This series is listed under fitness. ALO says, in its press materials to me, that the class and the series should improve: yoga skills, Increases strength and endurance, and overall flexibility. 
But for this class, you will notice that the flows combined with the weight training get the heart rate up repeatedly throughout the workout. And the breaks are so short that even the strength parts could make you red in the face. Strength training includes Manmakers (if you're wondering what the heck that means, it's a plank with single-arm rows, push-ups, hop to standing, bicep curl to shoulder press), more curls with shoulder presses, swimmers, forearm planks with arm reaches, rotating chest press, bridges, lat pullovers, wide-leg deadlifts, squats, band clam shells, and bear pose and kick throughs. Warm-ups and cool-downs are included, so you don't have to find a video for that unless you want to give those some extra attention and time. 
One of the few virtual workouts that won't let you cheat.
We Tried It
Full disclosure, I was not in the mood to work out when I did this. I was tired, it was late in the evening and it was dark out. The kind of evening you want to wind down under a weighted blanket, not change into workout clothes. But I told myself that the flows were just what I needed. But armed with my heart rate monitor, I noticed something sneaky about Janine's class. I went from being exhausted to full-on cardio heart rate. She tricked me. She had me thinking this would fit my mood, but instead of duping me, she had increased my energy in a strategically smart way. I didn't even notice until I started sweating. 
The workout was easy to follow, even when not looking at my TV screen. Janine smartly describes movements when facing down in great detail. She may have done the same when I was facing her, but I didn't notice. I did notice, however, that I didn't feel the need to look up for my plank reaches or rotating chest presses. THANK YOU! 
The 50 Lunges A Day For 30 Days Challenge: How it will change you.
The Verdict
If you're an ALO Moves fan, this workout is the same quality, and you won't be disappointed. Just maybe, you'll be as surprised as I was. But who is this workout for? Thanks to Janine's level of instruction, I think a beginner could follow along (just be patient with yourself, there are a lot of compounds – multiple-joint – exercises. The flows are repetitive though, so you will learn them. It's also great for a more advanced workout enthusiast or athlete. You will like the challenging strength mixed in between the flows to keep your heart rate high in the burn zone. Your mind thinks you're resting because of the switch-up, but your body knows differently. Plus, it's just 20 minutes, but Janine says you can repeat the workout for a bigger HIIT class.
ALO Moves, alomoves.com. 100 new workouts uploaded every month, unlimited access to the library of thousands of workout videos), including HIIT, yoga, Pilates, meditation, boxing, strength, and more,  $20 a month (14-day free trial); ($199 per year); app downloads available at the App Store and Google Play.