We've been riding the rocky waves of ever-changing lockdown measures for a year now, and we all truly deserve kudos for managing this far. Our patience has been tested, and we've unlocked new levels of resilience. (We've never waited so long for Amazon packages!) And, if you have kids, you can probably add several new job titles to your LinkedIn, like Personal Chef, Art Teacher and IT Support. It's hard to keep both your sanity and the household running, while also reminding yourself to take care of your physical and mental health. (BAE, can you take the kids?) We asked three busy women about their at-home workouts during these strange pandemic times.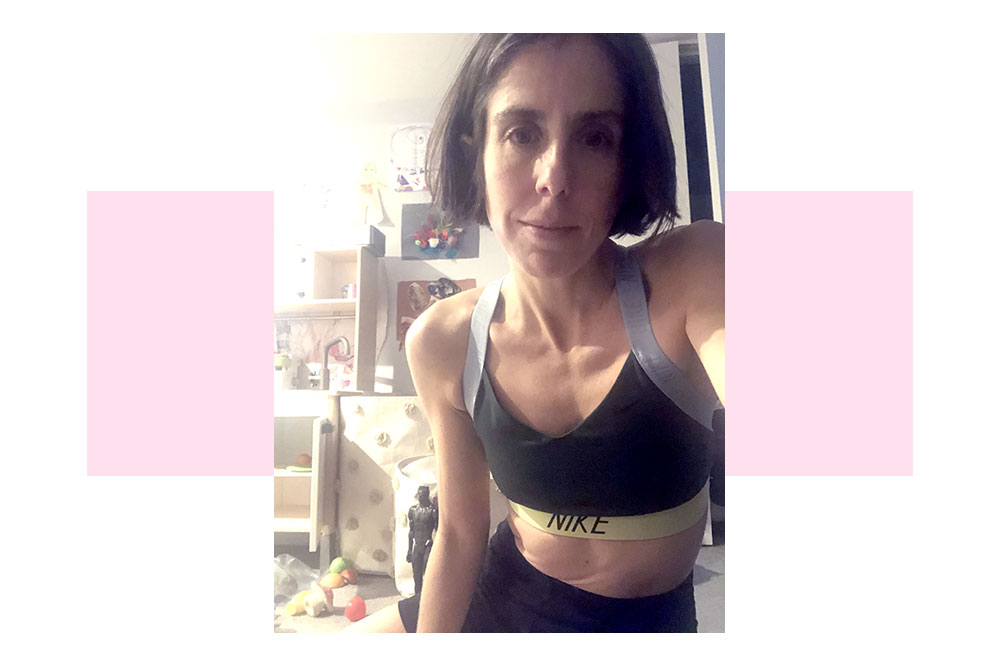 Miriam Zittell
On top of navigating online learning and Lego landmines with her two kids (age 3 and 6), Miriam is also a hustling entrepreneur. She runs Mellah Moroccan Rugs and the newly launched Stay Home Furnishings with her husband, John, while dabbling in wardrobe consulting, to boot (@outfit_agenda). She renews her energy by staying connected with friends, going for runs and keeping up with the IGTV instructors who exude IDGAF vibes.
Her workout
"I'm trying to do something active every day. I have become very good at finding amazing free workouts through IGTV live. I follow Toronto instructors like @haylesbeth and @theyeboah to keep me sane and feeling fit. Plus running – it's a miracle for me. When COVID first hit I was training for the Boston Marathon, but then the race was cancelled, my motivation quickly diminished and I suffered from a knee injury. So I have been running one to two times a week as I build back up."
Her hurdles
"Adapting to a fluid schedule. Not knowing what each day will look like with customers, feeling trapped at home and not being able to run outside because of bad weather, or feeling too tired to work out can all mean a day doesn't go as I had planned, so I just have to carve out the time when I can get it. Some days I'll wake up an hour before the kids, other days I'll do an IGTV workout when the kids are having lunch. Also, stepping on Lego."
Mental health care
"Working out is a huge part of my mental health care. I also did a 21-day meditation program through the Chopra app with some friends. I would aim to do the 10-15 minute meditation element and writing exercise first thing when I got up because I appreciated the way it would impact my mood throughout the day. I occasionally listen to podcasts about self-care when I need a boost, too.  A friend recommended a poetry podcast called The Slowdown hosted by Tracy K. Smith. Her voice is like ASMR, I could listen to her read anything and be instantly relaxed."
Pandemic parenting
"Try to go with the flow. If schoolwork is done and my kids want to watch a show at 1 p.m., I will let them. I can work out for a bit and then get them to the park after. I spend all my time taking care of other people, so if I don't take care of myself I can't do a good job for anyone else."
Her support system
"I have a few key people I am in touch with almost daily that keep me sane and laughing and give me a safe space to show vulnerability. I also spend a lot of time with my husband because of our businesses and running habits, but I'm trying to make sure we connect as friends and lovers – not just co-parents, business partners and housemates."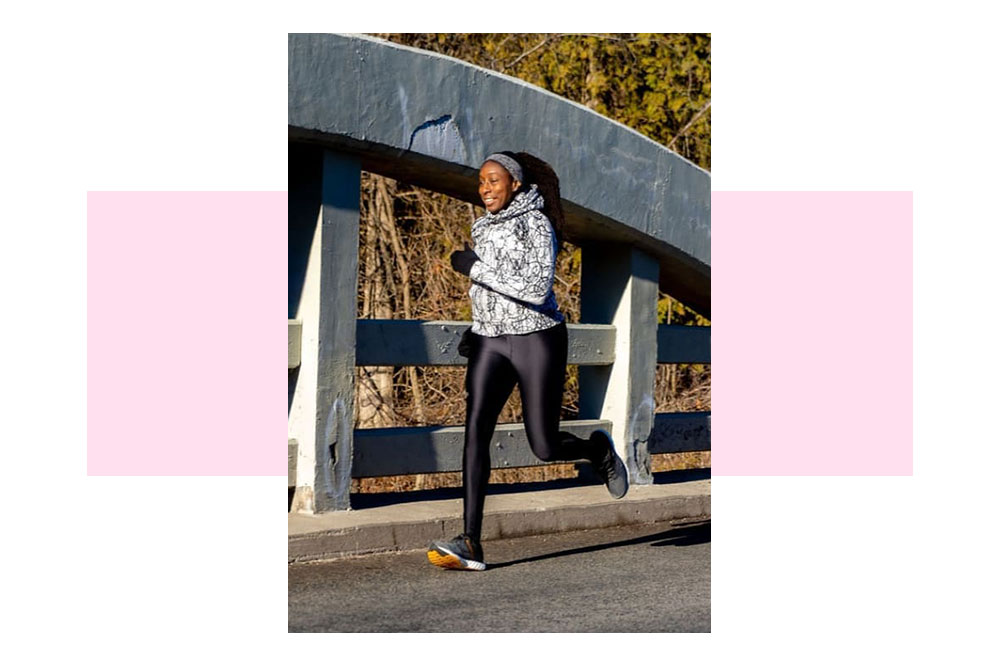 Melanie Murzeau
Community is truly at the heart of everything Melanie does. A public servant by day, Melanie is the creator of @blackrunnersofthegta, which features inspiring stories from the BIPOC running community and will no doubt inspire her three daughters (age 4, 7 and 9). Melanie makes sure she carves out time for family movies and hikes as well as solo time for outdoor runs.
Her workout
"I work out at least four times a week. I found it very hard to work out during the first lockdown and it was a shock to the system not being able to go to the gym or the indoor track. So I pivoted and adapted – I got a treadmill, bought some weights and followed Instagram accounts like @coach.p.k or @therunnersacademy for strength training tips. On the Nike Run Club app I love the Guided Runs, especially when I'm feeling blue with pandemic stress."
Her hurdles
"The most challenging thing is taking a break to do it. There is always something to do – laundry, sweeping the kitchen floor for the hundredth time, braiding a head of hair or getting a snack. But really I tell my husband that I have to go and have my clothes by the door and I just go out for a run."
Mental health care
"I run, go to bed early, drink water or simply lock myself in the bathroom and take a shower in the dark. I find it calming."
Pandemic parenting
"I think it's important to take breaks if you can. It's OK to be easy on your expectations. I let my kids watch TV and snack while I sneak a couple of minutes alone. I try not to feel guilty about the time I spend away from my kids on a run. I know that my time away makes me a better mom."
"We have all slowed down and really taken the moments of being a family unit. We go for nature hikes, do scavenger hunts and cuddle on the couch to watch a movie by the fireplace. We take time to hear stories and I make an effort to put my phone away and be in the moment with my family."
Her support system
"My husband takes the kids out for walks when I have to go for a run. He is awesome and allows me to have a break and vice versa. I often think about my friends who have young children and do not have a partner, friends who are teachers or who work outside of the home. I have to acknowledge that I have a sense of privilege. I am extremely grateful for my husband's support and would not be able to do as much as I do without him.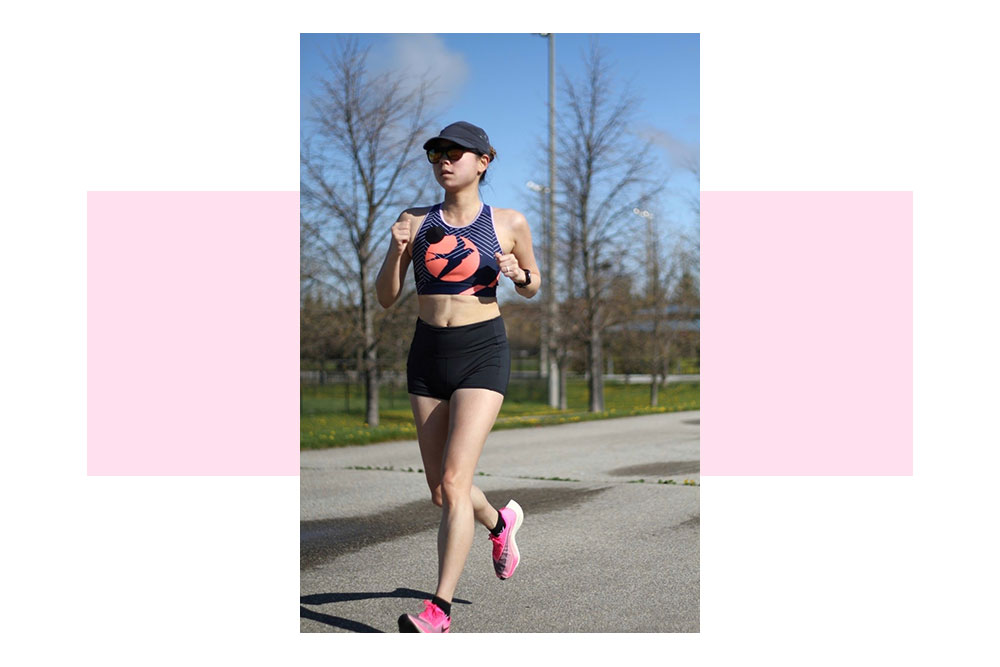 Vanessa Yu
Vanessa is committed to striking the right balance between an intense running training program and enjoying snuggles with her daughter (age 2.5). Being married to another die-hard runner has meant that forgoing the snooze button, practicing clear communication and gracefully orchestrating schedules are equally important to making their busy lives run smoothly.
Her workout
"I follow my training schedule that my coach sets for me each week, which typically consists of five runs per week (three shorter, easy-paced runs, one speedwork run and one long run on the weekend). But I am trying to incorporate more strength training using apps such as Nike Training Club. I also dabbled in activities that I have not tried before, like kickboxing, with YouTube videos."
Her hurdles
"Balancing both me and my husband's training schedules in the dead of the winter. We both train at a high level so we need to ensure we get in our training, usually during the dark, early morning hours prior to work and dropping off our daughter at daycare."
Mental health care
"This is an area I continuously strive to improve on. One thing I have found helpful is taking breaks during working hours to reduce strain on my eyes from constantly staring at a screen. I also tried meditation with my Headspace app which was really beneficial during times of high stress."
Pandemic parenting
"My husband and I both understand the importance of fitting in our training since it also serves as our me time. We work with each other and our respective coaches to ensure our schedules complement each other. For instance, we do not have speedwork on the same days as this typically takes longer and more mental prep than a regular easy run. Speedwork is run at a harder effort to become a faster and stronger runner, for example, 6-10 repeats of one minute of hard running followed by one minute of recovery. The way we choreograph our run schedules allows one of us to always be able to take care of our daughter."
Her support system
"We are fortunate that my father-in-law has been residing with us for a while now. Occasionally, if both of our easy runs line up, we'll ask him to take care of our daughter so we can run together. While we don't do this all the time, we are grateful that he offers as he also understands how important running is to us."
---
At-home workouts for moms
If you're looking to squeeze in some workouts, Instagram is a great resource. Not only are the workouts free, but you can do them according to your schedule (or rather the schedule of your little ones. Here are a few that Mariam, Melissa, Vanessa and I like: @ryan.heffinton, @rachel_fitness, @aubrewinters, @lindseyharrod and @melissawoodhealth. (Speaking of Melissa Wood, check out FLEETSTREET's review of the MWH workout app.) If yoga is more your thing, check out @missblissyoga and Naya Rappaport on @aloyoga.
For apps, we like: Nike Running Club, Nike Training Club to help with running and Headspace and Chopra for mental wellness.
Looking for something good to listen to on your next run? Consider these two self-care podcasts: Expanded hosted by Lacy Phillips and The Slowdown hosted by Tracy K. Smith.
And if you're looking for a good butt-kicking work out right now, you're welcome.