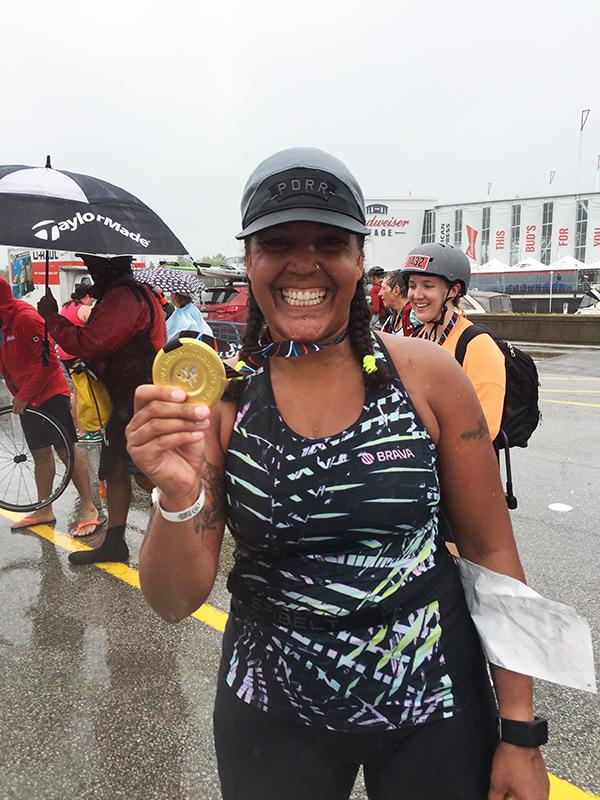 Long-time Toronto runner, sports massage therapist and yoga for athletes coach Melissa Doldron signed up for her first triathlon for the same reason many of us end up trying scary new things: good old-fashioned peer pressure. When a couple of triathletes from her Parkdale Roadrunners crew made their annual call for recruits, she finally accepted their challenge. She had another motivation, too: she hoped to inspire other women of colour to participate in a sport that hasn't traditionally drawn a lot of visible minorities.
Registering in January for the sprint distance at the Toronto Triathlon Festival in July gave her only six months to prepare for her first-ever multi-sport event. We asked Melissa all about training for three sports at once, overcoming serious self-doubt and fear, and the magical power of having a supportive crew from start to finish.
What's your background in sports? "In my early 20s I fell in love with Olympic-style boxing and competed as an amateur boxer in Ontario for about 15 years. Unfortunately I had a pretty bad shoulder injury early on, and I spent years rehabbing, going back to boxing, having it flare up again, then returning to rehab. When I had a career crisis, leaving graphic design and going back to school to study massage therapy, I decided to take a break from boxing. So I started running.
"After I ran my first half-marathon with no training—I couldn't walk up or down stairs for a week—I thought, There's probably a better way to do this. I started looking up run groups, and discovered the early days of the Nike Run Club and Lululemon Run Club and started going to both. But when I joined Parkdale Roadrunners, it felt special. That group changed everything. Even though it's not a coached program, it was awesome having shared goals and people to train with. I was bitten by the running bug."
"You don't really see people of colour in the triathlon world, and people won't try things if they can't see themselves doing that activity."
What motivated you to try your first tri? "Peer pressure, in the nicest sense! Two ladies from Parkdale Roadrunners had recently dipped their toes in the triathlon world, and for the past few years they'd remind us when triathlon season was coming and ask who wanted to try something new. Everyone would groan and roll their eyes, but this year I seriously thought about it. I ended last year in a bit of a running funk, being busy at work and dealing with a few nagging injuries. So when the question was asked again, I said, 'What the heck.'
"I also think about what I'm doing and how it has an impact on my family, friends and people in my community. You don't really see people of colour in the triathlon world, and people won't try things if they can't see themselves doing that activity. I wanted to show people that it's never too late and you're never too old to try something new."
You wrote on Instagram, "this triathlon training has definitely been the hardest f*cking thing I've ever done"—why's that? "I'm 41 years old and I work full-time at multiple jobs, so training for three sports on top of that was challenging. Plus, I'm not a good swimmer! Thanks to a shoulder surgery that has left me with chronic pain and some limitations in range, swimming is that much harder for me compared to the average healthy, able-bodied person."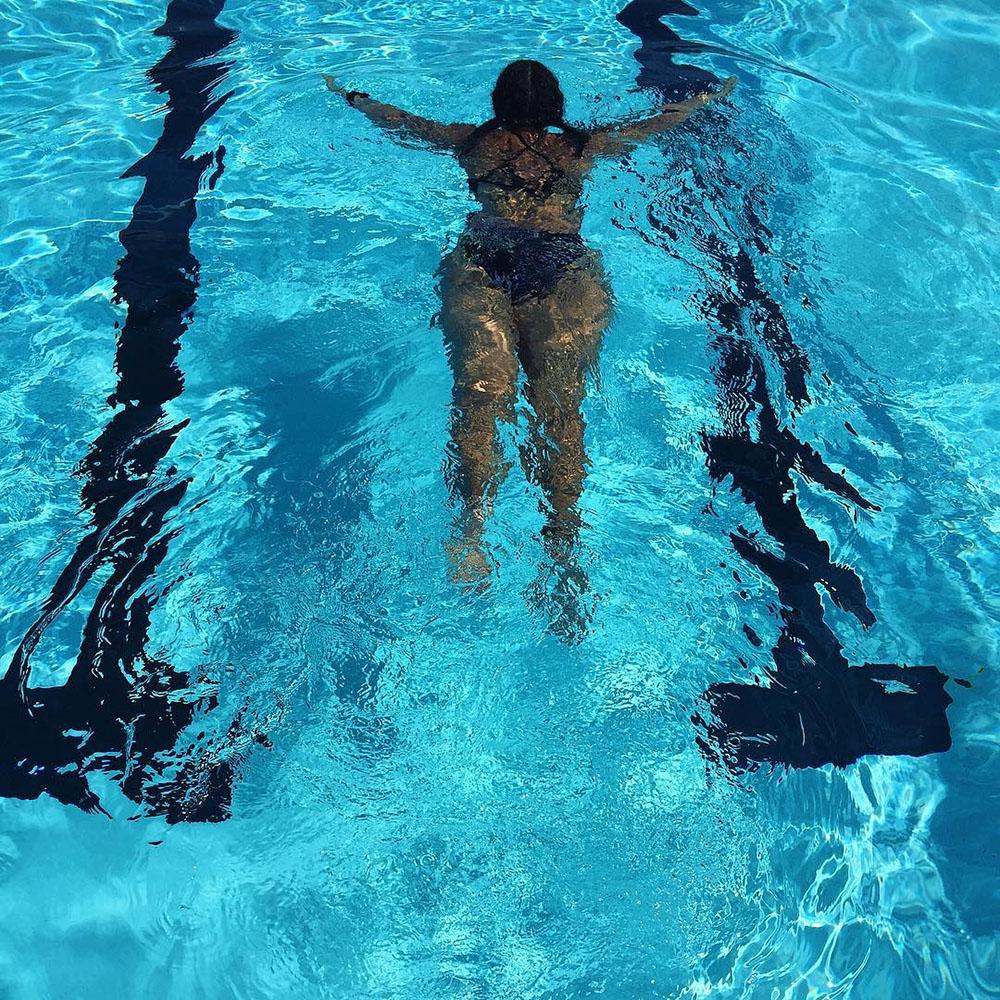 How did you structure your training for the tri? "I kind of winged it, which I wouldn't recommend. I built up my familiarity in the pool, just trying to be there once per week. I went to spin classes in the winter, then come springtime I amped up my biking big time. I biked to work every day and went on a long ride every weekend. As for running, I wasn't worried because I already run, so that was twice a week max. I wish I'd dedicated more time to speed work because I like really pushing myself. There are so many things I would do differently!"
You've talked about feeling "not strong enough, not fast enough, not skilled enough" in the swimming. How did you overcome your self-doubt? "I'm a pretty optimistic person, but there were a lot of unknowns. With swimming, I kept worrying about the distance and thinking, Oh, crap, I didn't put in enough time in the pool. But I had committed to this goal, so I thought, Don't cry about it. Just get it done. Having mantras to say to myself really helped. One phrase I repeated was, 'Keep pushing.' I have it tattooed on my forearm to forever remind me."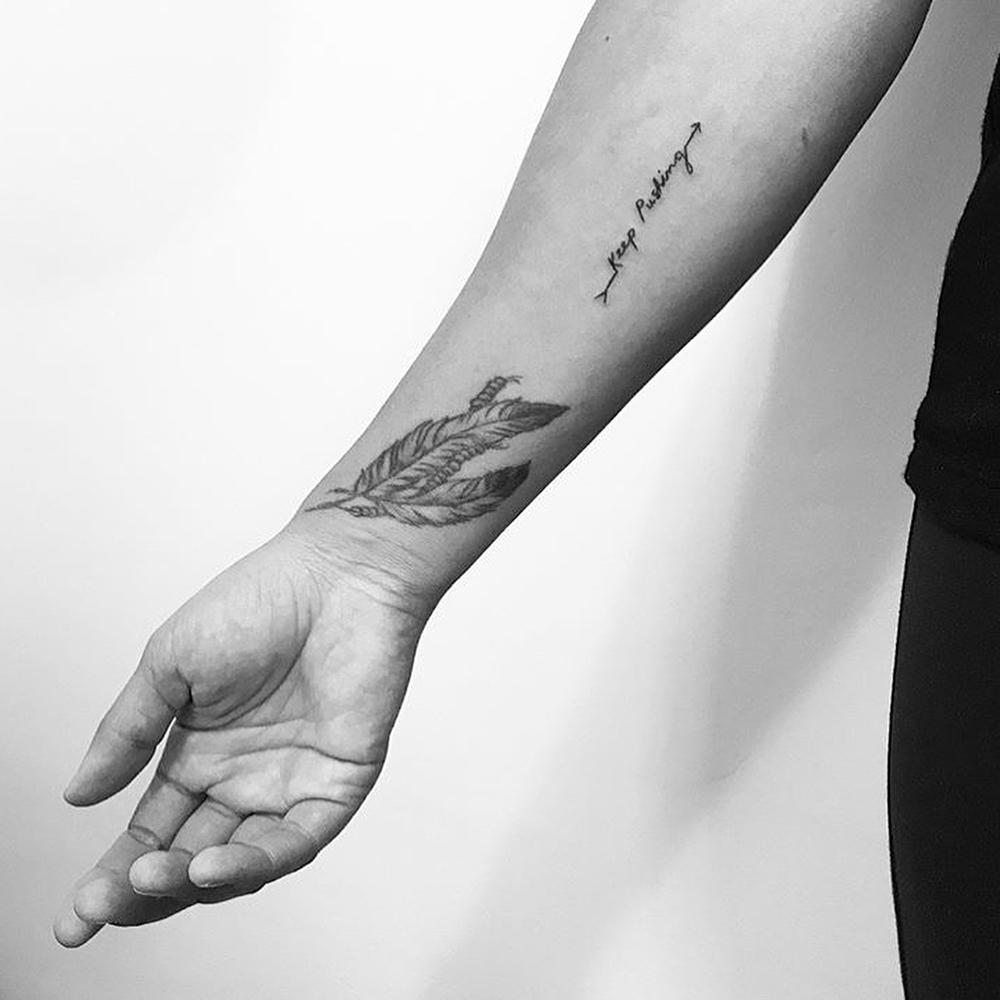 "The other mantra came midway through the swim and stuck with me throughout the race. It's something I had seen and heard from a running friend and local artist, Mango Peeler: 'Nothing is easy.' That mantra served me well since the rainy race conditions were so tough. Whether you're working toward a particular result, looking for that PB, or just wanting to push yourself further than you thought possible, it won't be easy. But it will be worth it."
You've also talked on Instagram about being someone who, like most women, struggles with body acceptance. Has triathlon training helped reshape your self-perception?
"Training for a tri didn't help reshape my self-perception, but it did give me a better appreciation of knowing what my body did for me. I was able to say to myself, 'Yes, you got this done! You are a badass!' In triathlon and road running circles, you typically see super lean and small bodies. I won't ever be that. That's not what I am. My body is getting me through this, and their body is getting them through their experience, too."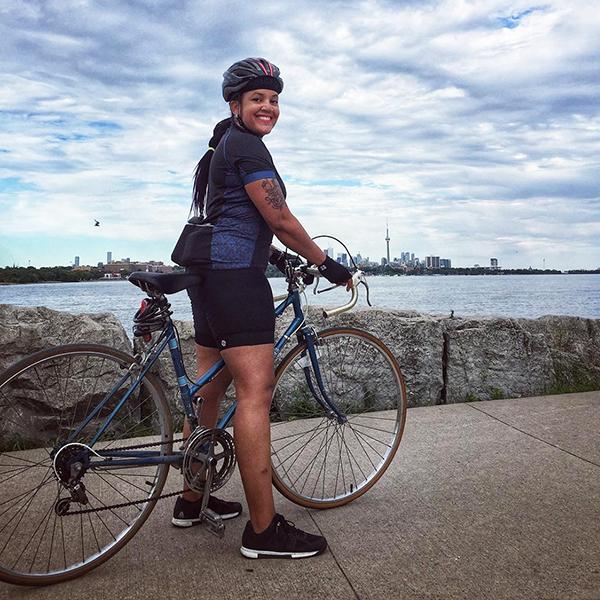 What was the most terrifying part about the tri, and how did you get over your fear? "I had a little panic attack at the start of the race. It was pouring rain and miserable. As the waves of participants started going off and I was getting closer to my start time, I noticed the turnaround buoy looked really far away and it was terrifying. When I had to jump in and tread water waiting to start, I thought, F*ck, I can't do this. I thought about swimming to the lifeguards in the kayaks to ask them to pull me out. But suddenly the gun went off and I had to swim. I thought to myself that I was not going to quit because I had already told everyone about this. I couldn't be in the water for two minutes and not try."
How did this feel different from road races you've done? "Training for three different disciplines agreed with my body because the recovery was 10 times better. I felt stronger and was shocked I didn't have the same type of post-race fatigue as road running."
What was your favourite part of the experience? "It sounds cliché, but setting my mind to doing something and following through. I did the race with five running girlfriends, three of whom were also doing it for the first time. You're going to have good races and bad races, but the group is always there to support and lift you up. The best part of the race itself was the mini cheer squad waiting for me along the Martin Goodman Trail. At one point during the run, I thought I didn't have it in me to go on, but then I saw familiar faces waiting in the rain and it brought me life."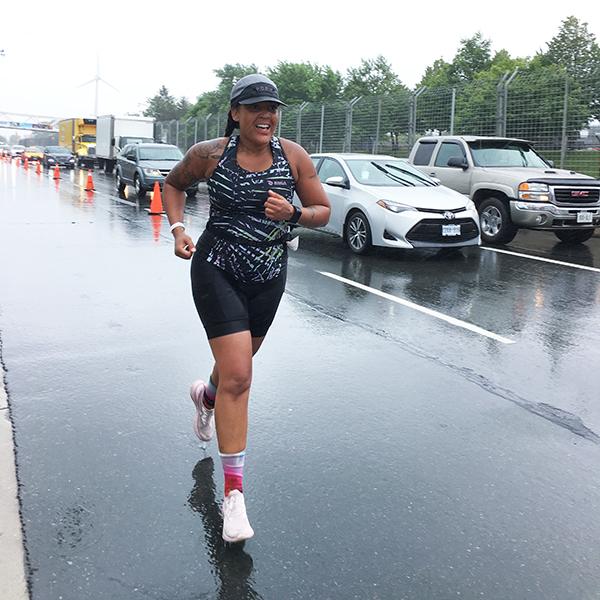 What would you tell someone thinking about trying a tri? "1) Just sign up. 2) Nail your swims. 3) Bring a friend! Recruiting buddies to do it with you really helps. We did a lot of training separately, but we still messaged each other to check in on how things were going, and we trained together when we could. It really helps to have a good network of people who understand what you're going through and who just get it."