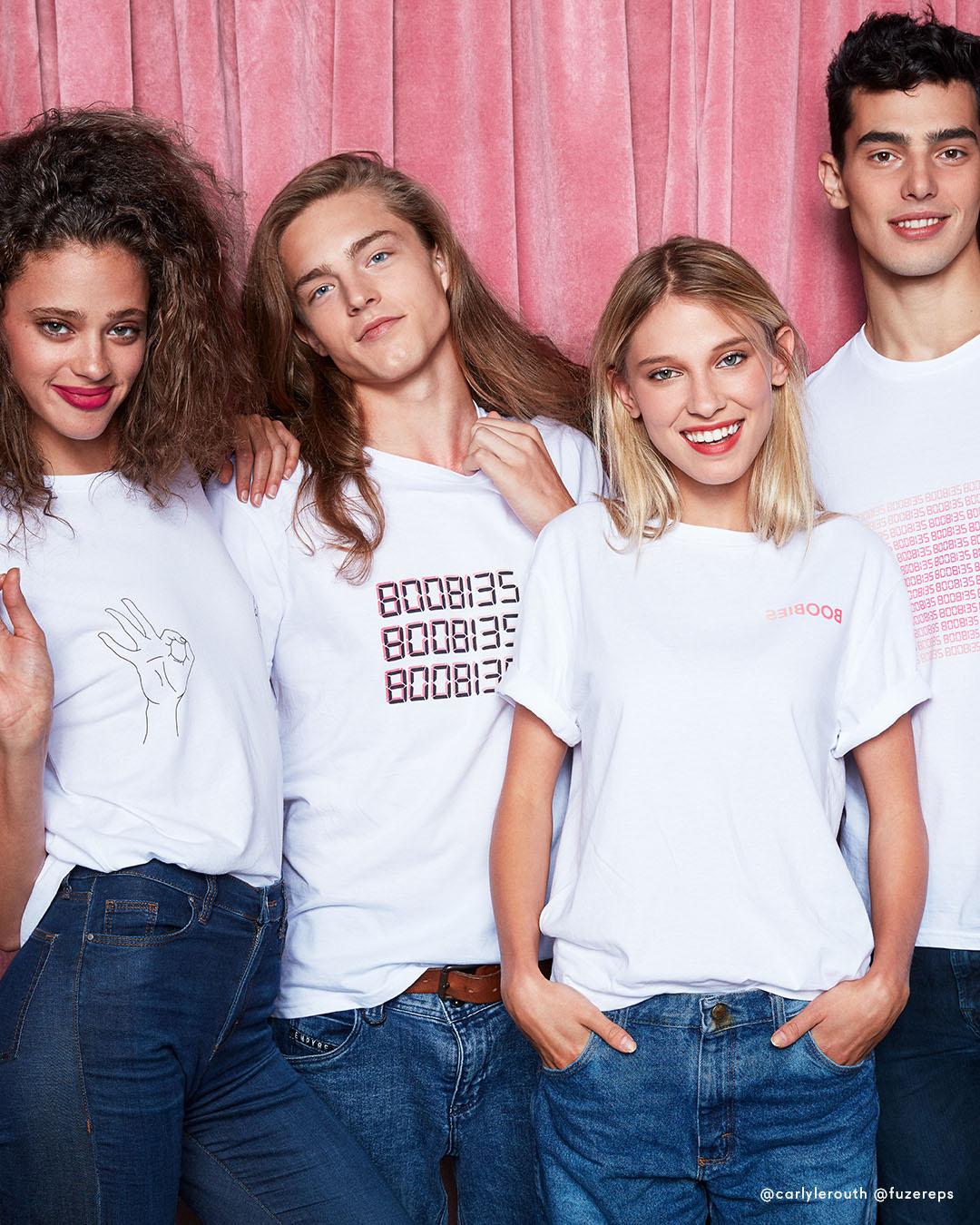 Have you noticed how yay, women tees are lately? From the celeb-fave boob shirt to Dior's "We Should All Be Feminists" tops, the T-shirts all share messages we love. But our latest cotton tee obsession has a message that just might save a woman's life.
Rethink Breast Cancer has just launched a collection of super cute shirts as part of its new #8008135 campaign—that's "boobies" spelled in numbers on a calculator—now available at select H&M stores across Canada.
100 percent of the proceeds will go directly to Rethink Breast Cancer.
The unisex tops, $18 each, help spread awareness about breast cancer risk with a saucy sense of humour. Even better, 100 percent of the proceeds will go directly to Rethink Breast Cancer.
Instead of scare tactics, the breast cancer charity is using these cheeky shirts to spread its message debunking myths and encouraging young women to know their body and be breast-aware. (Breast cancer symptoms can include: a lump, thickening or hardening of breast tissue that remains throughout a period cycle; blood or other fluid leaking from the breast or nipple; red skin on the chest; or any other abnormalities affecting the breast.)
There are five tee designs, including "tweaking hands" strategically placed over the chest of the shirt's wearer, graphic treatments of the word "boobies," and "know thy boobs" script in a crescent, giving a nod to the underboob trend.
The #8008135 tees tie in nicely with other parts of Rethink Breast Cancer's campaign. The 8008135.com site helps demystify the causes and risks of breast cancer, and pop-up retro-style phone booths will appear around the GTA to address the same misconceptions about the disease.