I'm no psychic, but I can feel an aura around Hawley Dunbar. When you meet her, you inhale the vibrancy of her trapezium cat-eye sunglasses, artful nails, patterned pants, but you exhale the controlled taste of her minimalist gold jewellery, pin-straight, centre-part hair and skin-first approach to makeup. You sense that she's always up for a good time, but on her time. And her strategy to sneaker organization and shoe storage is much the same: It's eye-catching, but doesn't skimp on the subtleties. 
Dunbar is the editor-in-chief of Sidewalk Hustle, a lifestyle site that covers music, fashion, art, and, of course, sneakers. Her shoe collection is as large as it is varied — from kicks meant to take a beating at Barry's Bootcamp to TikTok-worthy Nike Air Max 180 by Comme des Garçons. Even GQ quotes Dunbar on her shoe taste (short version: Don't bother with mids). And with about 200 pairs between her and her partner Tristan Banning (founder of Sidewalk Hustle), their loft could easily be overcome with shoes. But with that laser focus on combining bold graphic style and clean lines, without a hair out of place, you know each pair has a home. In fact, their collection has its own room, with stacked clear shoe storage boxes from the floor right up to the 17-foot ceiling. 
How scary is Barry's Bootcamp really? Find out with our review.
FS: What was the shoe that changed your mindset from being someone who wears shoes to someone who collects shoes?
I was just thinking about the shoe that started it all. They were the Nike WMNS Air Max 90 VT Tokyo Harajuku Crepe. I bought them in Pittsburgh, of all places. I wore them all the time, and on my first trip to Japan in 2016. They were cream, made out of one piece of leather and had no stitching, but they were moulded. They were from one of the Nike City Packs collections. Now, they're just an average pair of shoes. I look at them, and I'm like "What did I see in you?" But I thought those were so cool, and that's what made me want to start collecting.
FS: Tell us about your sneaker and shoe storage? How do you organize so many pairs of shoes?
We bought 140 sneaker boxes initially. They're not made of the most sound construction, but they stack nicely and allow us to visually access to our collection. That's something we'd been missing, always having to deal with the stress of rooting through hundreds of boxes each time you want to wear a pair. It's a bit of a disaster.
FS: (A "disaster" by Dunbar's standards. I'm immediately impressed by each pair in her ceiling-to-floor shoe storage of clear shoe boxes.)
This isn't even all of them, there are some in storage. We rotate through these ones [in the shoe closet], but the ones up high, we don't wear on the regular. We will pull out a selection of three or four pairs at a time, and then that'll be what we wear for that week. They'll just live in the cupboard or at the mat in front. 
We definitely need more sneaker boxes, but we don't have the space. We were debating if we should make the other wall in the room all sneaker boxes, but it closes off the space a bit. And we eventually want to add a bench to try them on. We could probably be a lot more organized, but we are constantly considering what we have so it doesn't overwhelm us.
We did put all of our shoes in a pile for a TikTok video. It was exhausting taking them out, then doing the video and putting them back. It took over two hours.
What FLEETSTREET editors are coveting right now.
FS: What kinds of sneakers do you have? Do you categorize them?
I have a pocket of Jordans. I'm still growing my Jordan collection. I have tons of Nike Air Max 90s. I have a whole row that is high tops. There's a large section of Converse, and the odd Nike Blazers. I have one section that's half Puma, half Reebok with a few pairs of Asics and New Balance thrown in.
My workout sneakers are all in a giant bin. I always have a pair of Adidas Ultraboost just sitting in the cupboard in case I needed to run out for groceries or go on the treadmill at Barry's. I know we should wear a training shoe when we're training and then wear running shoe for running. I like the Ultraboost because it's kind of a happy medium cross-trainer. Now that I work out barefoot [exercising at home during lockdowns], they're kind of all sitting there collecting dust.
On the other side of my shoe closet, I have older shoes that I just can't seem to get rid of. Some of them have sentimental value and others are just beaters. My favourite accessible beater sneakers are the Reebok Club C 86. I always have a couple pairs on the go – one for trips to the cottage and one "dressy" pair I wear with dresses and jumpsuits in the city.
I'm also a big chunky boots girl. I've been wearing my Acne Studios, trekking boots all winter and my go-to brand right now for boots is Aeydé. I love how timeless and well made they are. I pull them out on the weekend for a stroll around the neighbourhood to feel just a bit fancy and more put together. 
We found a treadmill that isn't dead boring.
FS: When you edit your collection, do you ask yourself if it gives you joy?
All the time. I did the KonMari Method in our last apartment, before we moved six years ago. The amount of stuff I had just squirrelled away totally shocked me. Tristan was away on a press trip, and I did it all at once. I ate a weed edible and was up till five in the morning. I couldn't stop until everything was highly edited and tidy.
FS: How do style yourself? Do start with the shoes as the focal point?
I'm very much a creature of habit. As someone who has always worked from home, I'm not one to wear sweats all day, even during the pandemic. I've made a point even before this to get dressed every day. I'm definitely working through a couple of uniforms.
I wouldn't say I build my outfits from the shoe up. But at certain points of the season, I have a couple of key looks I go back to that I know work with certain shoes: A pair of Off-White Chucks to wear with wide-leg pants, a neutral pair of Common Projects for days were I want a more put together vibe, or a pair of Air Max 90s for those easy going jeans and T-shirt days.
FS: So, I just got a great pair of shoes and I want to share on social. Any tips for a great photo?
It's a tough one because there are only so many ways to capture sneakers. I like to play with angles and movement, whether it's like dangling or a really drastic angle to try and capture part of the sole, which is often a part that's overlooked. Or I'm doing something with a cool background or playing off of the colour theme. Those are good places to start.
It's tough to be creative through the pandemic. We're used to having a change of scenery. I get really inspired by textures and finishes on buildings, like a tile or a really beautiful mural. That's usually where I get my inspiration from. I'm looking forward to getting back on the road and travelling.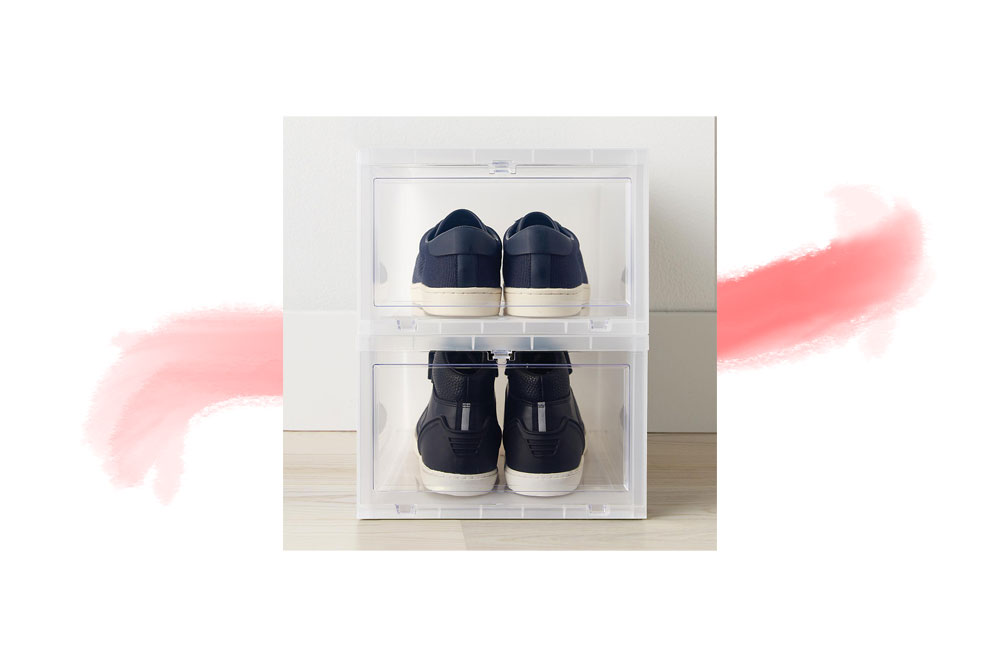 ---
Since my interview with Dunbar, I've looked at how I organize my own shoe storage. While my collection is minuscule in comparison, my running shoes (dressy or functional) have always been put into a separate storage from my other shoes. I have them lined up along the wall in my makeshift home gym – I love how it looks aesthetically and the added ease in choosing which pair to wear. I have a shelf in my bedroom to display my prettiest heels, and I have a shoe cabinet at the front door, organized by style and heel height, according to the shelf size. And the one change I've made, inspired by her collection, is creating a pristine space for a few shoes, my white sneakers and loafers that I never want scuffed. Sometimes it's not about whether the shoe fits, but making space to fit the shoes.
---
Welcome to Street Meet, FLEETSTREET's series, where we meet up with trailblazers and thought leaders to deliver unique insight and inspiration into issues our audience cares about.