You signed up for a 5K. It'll be fun, you tell yourself. Your best pals will be there. You'll feel so great after. It's a good goal. Plus, it's for charity, and maybe there's a theme. Then it hits. Pre-race nerves. But before you let those race day jitters take over, consider my tips. As a Team Canada AG triathlete, I know how hard it can be to train and how rewarding it can be, too. I'm also a partner for the SuperPower 5K, a cosplay run on Toronto Island on October 2021, so I know how important it is to have fun, too. (The all-ages themed running event encouraging participants to dress up as their favourite comic, sci-fi, horror flick, anime or gaming character, as part of Fan Expo Canada.) Here are some common questions about running your first 5K, answered. 
What's it like to run a running event during the pandemic?
Many races have returned to the streets in Toronto, and it's so exciting to see people out and taking part, too. So to keep inline with safety protocols, you can anticipate are wearing your mask in the starting coral and at the finish line of the race. Instead of a mass start where all 5,000 to 10,0000 runners take off together, people are beginning in smaller, more controlled groups. You'll find there is less of an "after party" nowadays. Most races encourage you to finish, catch your breath, and then head on your way home. One thing that's remained the same, though, is the energy and excitement. Races having always been a celebration of effort and community, and I feel that is stronger than ever, as we all begin to come together after being apart for so long.
How to make running suck less (a guide to Toronto's best run crews)
What physical shape should you ideally be in to be able to run 5K?
The great thing about a 5K race is that it really is accessible to most people. Whether you plan to run the entire distance, do a combination of running and walking, walk it or even wheelchair roll the route, it is something that most people can do with minimal training. Is no training ideal? Certainly not. It is a race. You want to get to the start line feeling confident and at your personal best. That, of course, looks different for everyone. But, say, training didn't exactly go your way, or you only registered for the event a week prior, the day of could really be a nice run or walk for you, if running full tilt isn't in the cards.
What is the fastest time for a 5K? What's a reasonable time?
The female Canadian record for a 5km road race, according to Athletics Canada, is 15:39 and that record is held by Canadian Olympian Natasha Wodak. The male 5km road race record is held by Brahim Beloua, and it's a very fast at 13:56. The Canadian 5km race-walking record is 18:39.08, held by Evan Dunfee. That's a name you might recognize, as he won the bronze medal in the 50-km race-walk event at the 2020 Tokyo Olympics.
Now, for those of us who aren't Olympic superheroes, we can only really compare our own times and efforts. It's fun to look at these numbers and compare how we might do to this amazing standard. But in the end, we are our biggest competition, and we need to keep our personal goals in mind and compare our efforts to our previous accomplishments and personal standards.
Technogym Skillmill Review: We found a treadmill that isn't dead boring to use.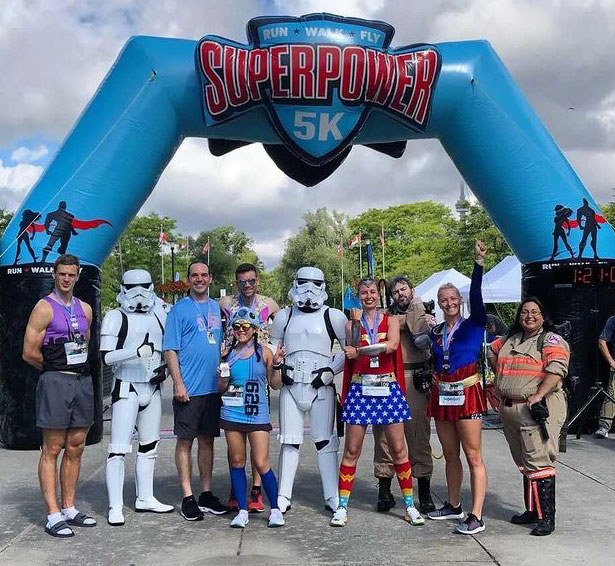 For costume races, what should I wear?
Racing in costume is so much fun. I've raced in costume at Disney World where I ran as Tinkerbelle, and at the SuperPower 5K as Supergirl. Here are a few things I've learned:
Check your mobility. With a test run, you can figure out if you can actually run in your outfit. Make sure it's not restricting around your shoulders, arms and knees. You don't want to get out on the course only to learn that you're going to have to do a weird shuffle because you can't extend your legs are far as you need to for your stride.
Check the weather. In the heat some costumes won't work. When I raced as Supergirl it was summertime. So the skirt was fantastic, but the long sleeves were not ideal. So, keep weather – and body temperature – in mind when picking your outfit.
Does your costume align with your goals. At Disney World, I was racing for fun and photo opps. I had Tinkerbelle wings, which would not be ideal if my goal was so speed – but it wasn't. I was able to have fun with my friends and take lots of photos, without worrying about my costume slowing me down.  
Interview with an icon: Kathrine Switzer on breaking rules, busting myths and being called "Just a jogger."
I've never run a race before, what's the ideal training time for a 5K?
Two months out is a great place to start if you are new to running but have a fitness level where you could walk continuously for 60 minutes. However, many new runners dive right in and want to run continuously for 30 minutes. For many, though, that's not ideal, and it is the fast track to getting injured. Start off slow with a short walk/run program, like the one I created for SuperPower 5km. That eight-week program will build endurance with running segments getting longer and walk segments getting shorter. By the end, you should be able to run continuously and feel confident an injury free.
What do you think about running 5k a day as a way to keep fit?
Anything that inspires people to move more and live a healthy life is great – whether it's running, cycling or yoga practice. Whatever gets you moving and feeling great physically, mentally and emotionally is wonderful. 
What to wear for winter running, if you're into that for some reason.
How do I motivate myself to go running? How do I make it fun?
If you are looking to connect with other runners, most free run crews in the city are back in session. Search on social media platforms to find a group local to you. If you're in the downtown Toronto core, definitely check us out at Kardia. Our free running groups meet on Wednesdays at 7 p.m. for 5K runs and on Saturdays at 9 a.m. for 10K runs.
---
Hi there! You look like someone who's interested in staying on top of all the latest wellness, beauty and fitness trends. Why not Join The Fleet?