Welcome to Class Action, FLEETSTREET's workout review series. We get sweaty at gyms and studios across Toronto and give you the low-down on what they're really like. 
The Studio
Even if you've never heard of Studio Spin, you probably know its sister fitness concepts, Studio Lagree (the most famous fan of the slow-burn Pilates workout: Meghan Markle) and Studio KO (where we recently reviewed box-fit). The newest contender on the indoor cycling scene promises to be "technique-based," building "strength and endurance through flat road and hill training and sprint drills both in and out of the saddle."
The Space
There are just two Studio Spin locations in Canada: the first in Vaughan, and the new one we checked out in Toronto, which recently opened in Riverside (672 Queen Street East). For East End spinning enthusiasts still mourning the closure of Quad East in 2015, Studio Spin is now where it used to be.
The indoor cycling studio is inside a retrofitted 3,100-square-foot space already housing Studio Lagree and Studio KO, and it's roomy, meaning the Schwinn bikes are staggered enough to get that full-arm stretch post-ride. Like most cycling studios, it's dark to set that intimate (and not intimidating) vibe, but instead of candles, it has rope lighting that blinks and changes colours with the music. There's also a Revitasize juice bar, a lounge area, lockers with motivational sayings ("You're strong!"), showers and towel service, too.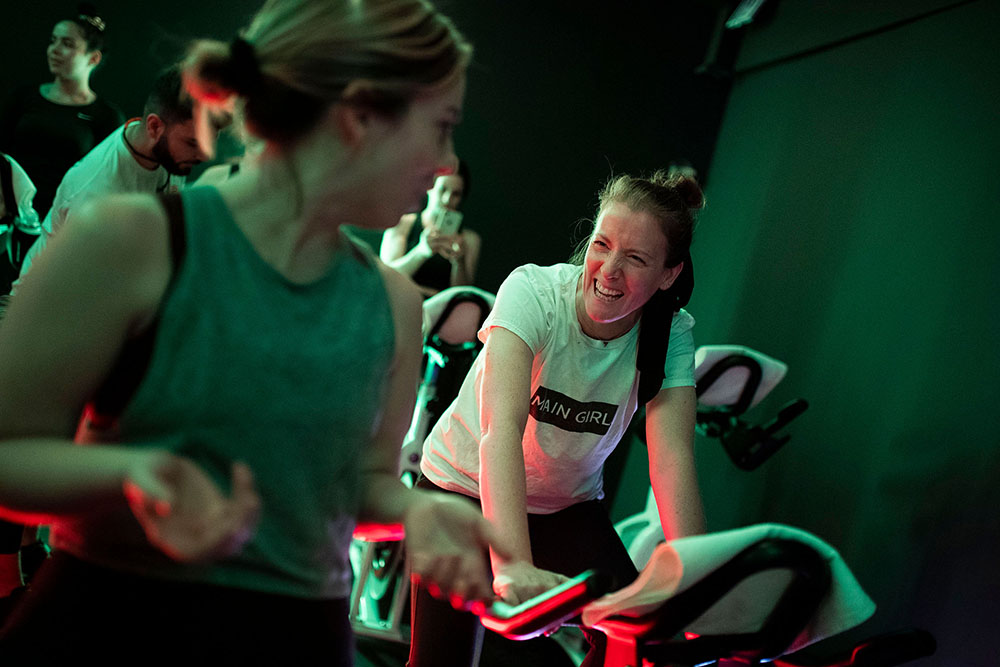 The Workout
Studio Spin offers three options, all in the same style. SSpin: A 45-minute sesh that mixes traditional cycling with the newish trendy moves (like pushups and dips). You'll be in and out of the saddle with climbs, sprints and intervals, while following the beat of the music. Power Hour SSpin: Same thing, but with an extra 15 minutes. Lunch Time Sweat: Basically SSpin, but 40 minutes, at a reduced price ($20, instead of the usual $25 drop-in), only at noon on weekdays. See the schedule to find classes by new instructors, also at a reduced rate ($15).
We Tried It
I took the classic SSpin and found it fun, with great music (easy to mark beats to pedal in momentum with everyone else) and super clear instructions. Since the instructor Steve explained what to expect before each song, I never fell behind. I appreciated having ample space between bikes, as most indoor cycling studios in Toronto ram as many as they can in the room. Another plus: The temperature didn't get as hot and heavy either. The club-like lighting took a few moments to get used to, but they really did help motivate us to keep up with the music.
The Verdict
If you're into indoor cycling and want a change of atmosphere, this slick, new studio fits the bill. The moves are straightforward, without the dancey choreography you'd find at SoulCycle or Ride Cycle Club, making the workout approachable, whether you're a beginner spinner or fit road-cycler.
Studio Spin, 672 Queen Street East, Toronto, 416.551.9246, studiospin.ca. 45-minute class; $25 for one drop-in class; package pricing available; bookable on the MindBody app.