This article on the most inspiring women we know is part of Street Meet, FLEETSTREET's series, where we meet up with trailblazers and thought leaders to deliver unique insight and inspiration into issues we all care about.
We're pretty much in awe of these eight women whose vision for an equitable, diverse and inclusive world is unshakeable. Their inspiring stories and commitment to change give us hope for a future we can now only visit in our dreams. Shayla, Eva, Jennifer, Lesley, Janet, Maxine, Bunmi, Renee – remember their names, they are the winds of change.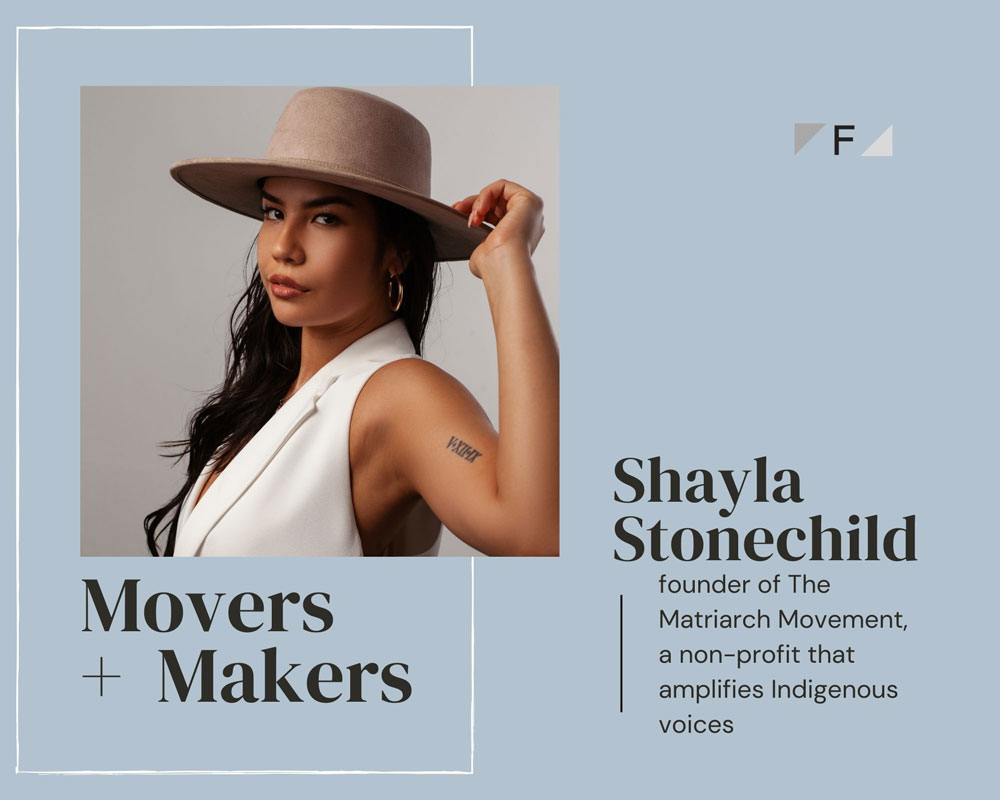 Shayla Stonechild
The Matriarch Movement came to Shayla Stonechild, a Nehiyaw Iskwew (Plains Cree Womxn) from Muscowpetung First Nations, in an early morning dream. Flash forward a few years, and she's turned that dream into a reality creating a movement to help Indigenous women reclaim their power, voices, bodies and spirits. Equally important to Stonechild's work is to shift the narrative that these women and their communities are in a state of flux and survival, to one that highlights them as inspiring, trailblazers who are the backbones within their communities.
FS: What inspired you to start this movement?
SS: I had been working in Indigenous communities providing performing arts workshops and helping women with their self-esteem. After I received my yoga certification, I thought it would be cool to combine everything and create a workshop series based on meditation, movement and medicine. The Matriarch Movement actually came to me in a dream, and I believe your dreams are messages from your ancestors and your guides, so they kind of put the pieces together for me.
FS: So, how's it going?
SS: It's been going well. In November 2020, we got our nonprofit organization status, and we've been doing lots of workshops. Over the last few months, I've been working with Seawalk and the Native Women's Wellness Centre of Toronto to provide accessible wellness workshops for BIPOC women. Obviously, it's all done virtually now, so that's changed the dynamic, but it's been really good. There are not a lot of spaces where BIPOC women feel safe and feel that they can show up and just be themselves. Hearing them say, "Oh my gosh, I need this so much for my well being during this time," has really confirmed that this work is important.
FS: You're starting a podcast in March, can you share what that's about?
SS: Yeah, I'm really looking forward to the podcast. I've been having these great conversations with my friends, conversations filled with medicine, and it made me realize that I wanted to start amplifying Indigenous women's voices. So we're launching The Matriarch Movement podcast.
FS: Looking beyond the pandemic, what's next?
SS: When I would go to various communities before the pandemic, people would say: "Oh, it's great you're doing the workshops here but, like, what happens when you leave, how can we continue practicing with you or continue learning from you?" It made me realize there was a lack of resources online for Indigenous people – no Indigenous leaders or healers or teachers. So, even before the pandemic I wanted to create an online library where Indigenous youth, specifically, could access information. So now that's my vision: to create a digital resource you can access whether you're on the rez or off, and where you're going to feel safe and supported because it's someone who like looks like you and has gone through what you have gone through.  
FS: That's amazing. And are you hopeful for the future?
SS: I am. It was actually written in prophecy (Indigenous spiritual teachings) that Indigenous youth and Indigenous people would begin to rise up and demand that their way of life be respected, and that others would actually be more eager to learn and listen. And I feel like that's starting to happen now So, I am hopeful. But, I also realize it has taken seven generations to get to this point and it is going to take seven generations more for us to heal and restore all the harm that we've done to the world.
We've got a lot of work to do! But, that's why I feel like my work with The Matriarch Movement is essential. You have to heal yourself before you can really build the land and help the people.
—Beth Thompson
New to yoga and to meditation? Check out our newbie guide for stress.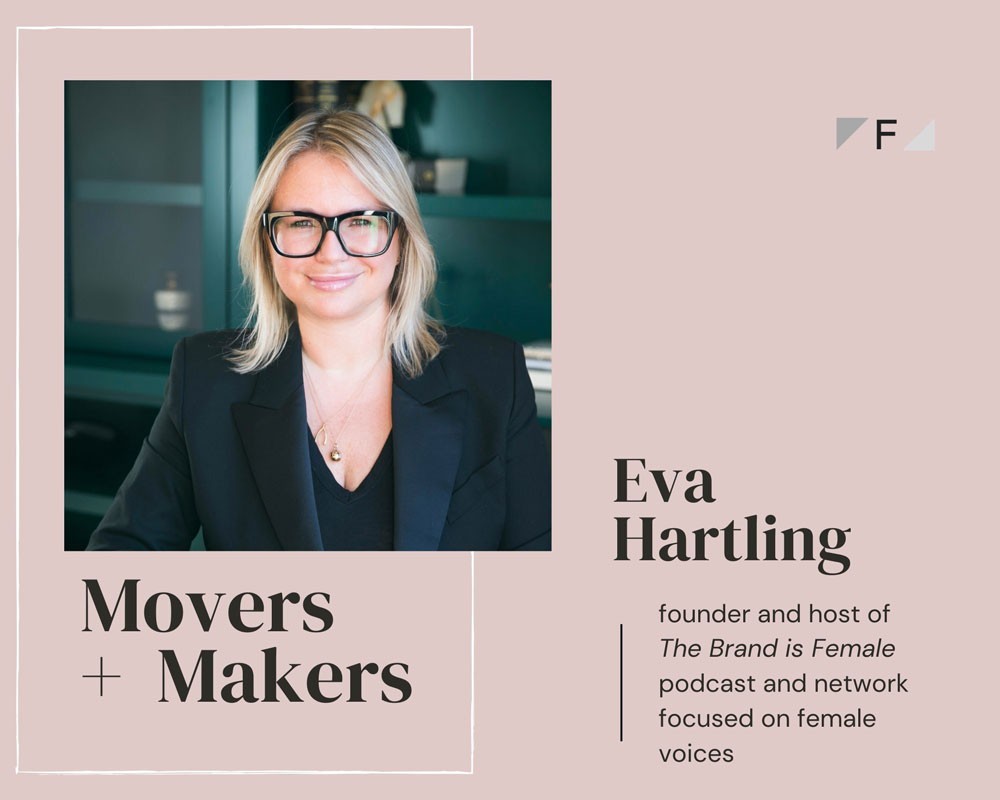 Eva Hartling
After close to two decades spent in Canada's corporate sector as a communications and marketing strategist, Eva Hartling was ready for a change. A big change: To focus solely on supporting women – business leaders, founders and women entrepreneurs. It's a dream she has brought to fruition through her company, The Brand Is Female.
FS: What inspired you to start this business?
EH: I have a lot of women doing very interesting things around me, and I wanted to be able to support them and offer services that would help them grow whatever they were dreaming of building. It was really a desire to help give women a voice, to help them tap into their full potential. Over my two decades in the corporate sector I'd seen firsthand that corporate culture wasn't always the most supportive of women. So it was important for me to be able to create conversations that would lead to change and real impact.
FS: So, how's it going?
EH: When you have an entrepreneurial project, you have to be flexible about your mission and your activities because there's always going to be new opportunities that take shape. For me, for example, what I didn't foresee becoming such a big part of my business was The Brand Is Female Podcast. It was going to be just a little side project for fun, but I soon realized that there was an audience that was really hungry for this type of content where women leaders could share, inspire and empower others. So this is something we do today – we produce and distribute podcasts by women. It's always interesting to see how things can evolve in a direction that you can't always plan for in advance.
FS: Acknowledging that you can't always plan, what do you hope for the future of your business?
EH: We have some new projects that we're activating this month, specifically the Women Changemakers Network, which is a hub for women leaders in various industries and from different backgrounds with a goal of getting visibility, partnerships and engagements for them, so that their voice and work is discovered.
So, we've made the switch from working mostly with brands in a consulting capacity to working with women leaders specifically to really generate opportunities for them to create change and enable real conversations to get us that much closer to gender equity.
FS: Let's talk about gender equity. Is that the ultimate goal?
EH: That would be a really lofty goal! I would say that we're hoping to contribute as much as possible, but gender equity is something that is only achievable if enough women and allies are rallying around the same goal. I think there are so many organizations doing work now and our consciousness has been elevated in that regard, but there's still so much work ahead of us to get to gender equity.
FS: Are you hopeful that change will come?
EH: That's a tough question. There are some days I see progress. There's been so much great work done by women, but I also see the number of companies backed by VC (venture capital) funds, and realize that female founders are only getting a really tiny part of the pie. The same thing is true when we look at workplace culture, and the low number of women promoted at the C-suite level, or to CEO positions. I want to be hopeful but I'm also very conscious that there's still so much work ahead of us to really make a change and, unfortunately, sometimes there are areas where we go backwards.
FS: Do you have an example of going backwards?
EH: When we look at VC stats, the number of funds going to female-founded companies is a really good one. That number is not moving in the right direction. And, in our country's largest publicly traded companies, only 4% have a female CEO – that's nine women out of 223 companies. Another stat, 73% of companies listed on the Toronto Stock Exchange, don't have any women listed as executives. And when we look at BIPOC women, the numbers get even smaller. So, it's still a boys' club.
FS: Is there anything that does make you feel good, keeps you motivated?
EH: Yes, it's women's support of each other, and the fact now that there's this growing sense of community where women entrepreneurs and women leaders are rallying for each other, offering support. And there are some new VC funds that have the mission and goal of supporting women entrepreneurs and female-founded companies specifically. So, we are seeing women leaders step up and give back to the community of other women, to be able to make a change in the right direction. That's something that really gives me hope.
—Beth Thompson
Read how this entrepreneur launched a spin fitness program across the country.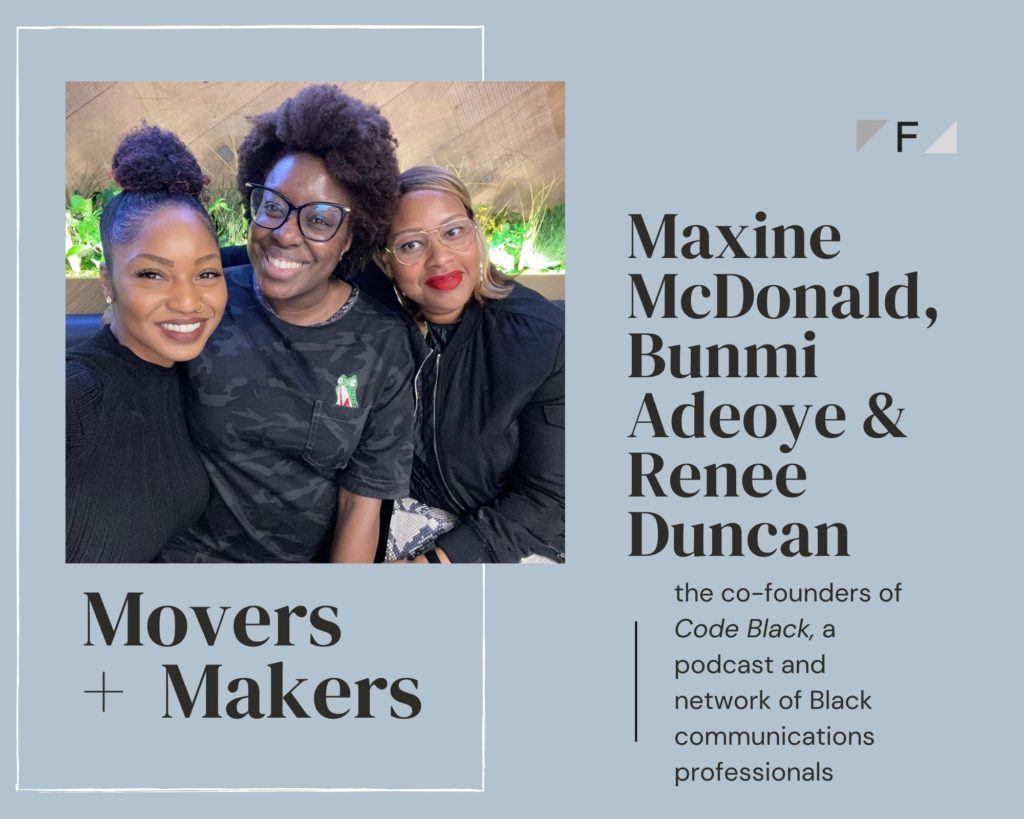 Bunmi Adeoye, Renee Duncan and Maxine McDonald
At red carpet events, Bunmi Adeoye, Renee Duncan and Maxine McDonald would smile in acknowledgement at seeing each other. It was nice to see someone like themselves. Because, back in the office and in boardroom meetings, being a Black public relations professional was too rare. Finally in November 2017, the three met for dinner and chatted about possibly launching a Facebook group, connecting Black communicators for networking and support. But, as they soon discovered, their community is bigger and more engaged, and a social media page wasn't going to be enough. They launched Code Black Comm Network, hosting regular events, a bimonthly podcast, countless media interviews, a job board on LinkedIn, a Code Black manifesto and, now, a solid board of directors. The three women have bigger plans, and that means making an even bigger impact. 
FS: What inspired you to start this movement?
RD: When we got together for dinner, we just started talking about the gap in communications, in terms of not seeing people who looked like us as we sat in different meeting rooms over the years. And we thought, what can we do about that? Short answer, we said we'd create a Facebook group and get Black communicators together and provide a community for them to exchange ideas and mentor some junior people.  
MM: We didn't know what it was going to be. We don't really see a lot of us. And that's an issue. My niece was going to school for PR at the time and she was like, "I have a lot of friends in my program who follow you [on social media.]" And I was like, "Why? I'm a regular person." But I understood in that moment what representation means. I want to see things go differently for young Black professionals coming into the field. And, as Renee said, maybe it's creating a Facebook group that is a safe space for us to connect. And from the very first event that we did – which was supposed to be a temperature check of bringing people together to see what they would find most valuable – we were blown away by the response. We thought 15 people would show up and we had over 60 people sign up that we had to close registration because we were using my condo party room and we thought we were going to get kicked out. That was an inspiring moment to see what it could be. The event let us know that we were aiming too low. 
FS: So, how's it going?
MM: We are in an exciting time. We learned a lot over the past three years, on evenings, weekends and early mornings. Now we are in a place where we've built out a board of directors. We've tripled our capacity, in that we have a group of other accomplished, passionate Black professionals that are joining us. We are in a place where we are formalizing our structure but we're also dreaming bigger in terms of what we want to accomplish in the next year. 
BA: When people attend our events, they naturally connect and create their own relationships there. So, we see an opportunity to formalize the membership and offer benefits. We will continue to hold events, addressing needs expressed by our community. Clearly, because of the pandemic, the way our events look has really, really changed. But it has opened up a lot doors for us that we didn't necessarily have before when we were doing physical events here in Toronto. We have had people able to attend our virtual events from across Canada. And it has also opened up the opportunity for guest speakers from all over the world to attend. There is a lot coming in 2021,  in terms of our podcast, our social media, and more. It's a question of if we have the capacity to do it. But now with a board of directors, we really look to them to help take us to that next level. 
RD: First and foremost, we are always thinking about Black communicators and what will resonate the most with them and what they really need. And I really think as we continue to build our organization, we are looking to build partnerships that will provide that support, the programming and events for our community. It's us looking at the evolution of Code Black with partnerships and funding, and what that looks like for us to really be able to drive forward. It's the ability to leverage our board of directors, ourselves and the feedback of our community to steer the organization. That's definitely a big focus for us this and next year as well. 
FS: What's inspiring you?
BA: I don't know if it's an inspiration or a desire. But my biggest pet peeve is seeing greatness not rewarded or not recognized. And when I look at Code Black, I see it providing an opportunity for people within the Black community to see their greatness recognized and given tools and mentorship that we didn't necessarily have. That's what is motivating and inspiring me. It's seeing people really excel in their chosen career and being properly set up for success. 
RD: What inspires me is Maxine and Bunmi to be honest. There is definitely a passion for what we do with Code Black and there's an innate love for it. But it hasn't always been easy. We have lives, families and jobs. It's challenging to get everything done and feel like we want to do this on the podcast, but we have an RFP that's due. The ability to work with women who are doing such great work every day and are such great humans. We push each other along. They inspire me on a personal perspective, professional perspective and as humans. They are my motivators.
MM: What the three of us have built and what we've built in the larger Code Black community is a beautiful thing. From people who attend our events or listen to our podcast, we're creating a space for people to be encouraged, educated and inspired. It's important to create a space where people can have conversations that are helpful. Sometimes it's just about them being able to unpack experiences they've had or navigating their professional journey. We love the community and seeing the impact of the space, that's super inspiring. 
FS: What kinds of impacts are you making or want to make?
RD: Looking around and seeing more black faces in comms and ultimately helping to propel that. I'm super passionate about all the areas of impact that we continue to have. Also to impact youth and for youth to recognize comms as an option. The ability to see that increase would be amazing. And hopefully that is a direct impact of the work we are doing. That is a focus for us this year and moving forward to motivate and inspire the next gen of Black communicators. 
MM: What continues to be clear is that there are impacts on so many levels. It may be someone having an experience at work where they're like, this was kind of weird and I don't know how to feel about this. That's typically what happens when people experience microaggressions; it's the stages of introspection. Having a place where people can talk it out, be validated in their experiences and get advice on how to address the situation. I think back to when I was more junior in my career and I didn't have anyone I could speak to about it. I had to work get around the situation. And when I think I think about the space we're creating for people to talk those things through, find community and encouragement, it's extremely powerful. But on the other side, there are those larger but not more valuable types of impacts, like our event with Tracy Moore and Marci Ien. We bring together 150 Black communications professionals. We're providing opportunities to network and mentor, and that is incredibly important. Or when we brought together over 60 people for a townhall on anti-Black racism in the height of the Black Lives Matter uprising. There are so many different ways that we're seeing an impact that we don't even realize at the time. But it's incredible. 
—Lisa Hannam
This woman shares how she accomplished the hardest challenge in her life.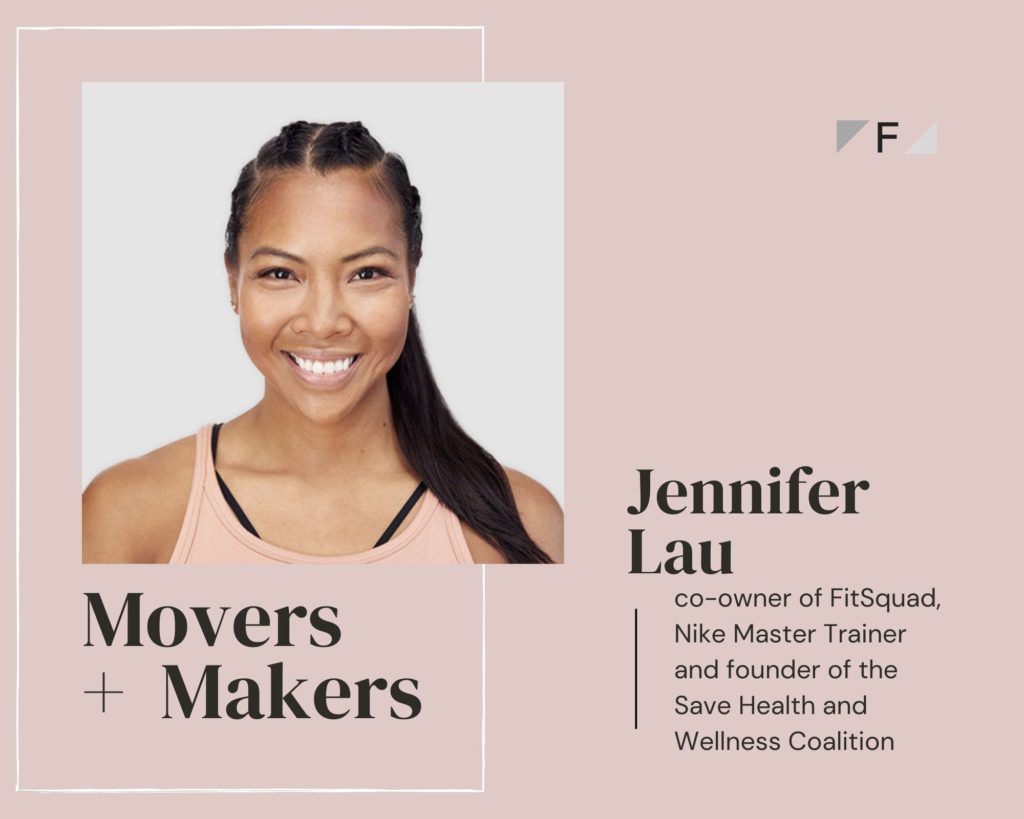 Jennifer Lau
When the pandemic hit, and everything shut down, Jennifer Lau did what most of the fitness industry did: She and her boutique fitness studio crew at FitSquad went digital with workouts on Instagram to keep their community motivated. But what Lau and other personal trainers, fitness instructors and small gym owners quickly realized, the pandemic's effects would be much deeper. And free workouts weren't going to keep their community together with rent relief programs not being taken up by landlords, as well as the loopholes on trainers/instructors getting income subsidies (they don't often work 40 hours a week for a single employer). She and a handful of Toronto gym owners felt it was time to have a louder voice. And they launched the Save Health & Wellness Coalition, along with a petition and viral video with over 30,000 views. In addition to speaking with a ton of media, she also met with NDP Leader Jagmeet Singh to gain his support for their efforts. Soon after the rent subsidy program shifted to the small business renters and the pandemic's financial support widened its scope to include the self-employed and more. Now, nearing the end of the second shut down, Lau has shifted focus to encourage better science to back reopening gyms and the language around their capacities. 
FS: What inspired you to start this movement?
JL:  The Toronto fitness industry is small, and everyone is one-degree of separation from the next. There were six of us on a group chat checking in with each other. All of a sudden, our competition became our allies. The first shut down was an equalizer. At first it was a way to vent our fears and concerns. As much as it felt supportive, it also felt anxiety driven. Then it was, how do we transfer this energy into something more productive. The health and fitness industry doesn't have large stakeholders with lobbyists fighting for them at the government level. We needed a way to voice our concerns as an industry. We were asking for considerations for rent, wage subsidy. Our frustrations were in that our goal is to help improve people's mental and physical health and wellbeing. We could arguably say we should be considered an essential service. We treat people with rehab. We work with youth. We work with seniors. We work with people fighting diabetes. These are things we really need to educate the government on. That's the biggest thing that drove the coalition. We were completely forgotten. We had to make some noise to get some recognition. 
FS: So, how's it going?
JL:  People understand what we're saying and what we stand for. That's very positive. We were able to connect with some lobby firms who also felt very connected to what we were asking for to help perpetuate and push the conversation with government officials. It's just a little challenging when our premier is pushing donuts as opposed to health and wellness. Unless you have skin in the game, it's hard to advocate for those things. We've been able to create a strong and engaged community. The video felt like a win for us. Fortunately, we're still talking to media about the struggles of small business owner and continue to share the messaging. We've definitely made a lot of headway. Trudeau mentioned personal trainers in some of his addresses. We had our voice heard. Right now, it's about supporting small business owners coming out of the pandemic. 
Listen, this is the first time we have all been here. I mean, the government is doing their best. It's just sad when people fall through the cracks. We're seeing a ton of small business close in our industry. It's sad. It's hard to watch. Hopefully this is the last time we will have to fully shut down. 
FS: Looking beyond the pandemic, what's next?
JL: There are things that we will continually push for, like tax credits for health expenditures. It's about, how do we strategize for the future. We've just learned in the last year that there is a lot of education that needs to be had and that the government needs to step up and support this industry. We are part of the line of defence against the virus. Making sure people are taken care of physically and mentally is part of the fight against the virus. It's not coming from a selfish place. Like most small business owners, we're not millionaires. We are committed to improving the lifestyle and wellbeing of our members at the end of the day. 
With the advocacy and the community coming together, there needs to be an organization for our industry that the government comes to when they make decisions about our industry. 
Our industry has gone above and beyond knowing that all eyes are on us. Business owners have spent tens of thousands of dollars on PPE before it was even mandated. To be honest, gyms should be that clean anyways. 
—Lisa Hannam
Get ready to be inspired: Three moms share how they find the time during a lockdown to stay fit. (And we have their workouts, too.)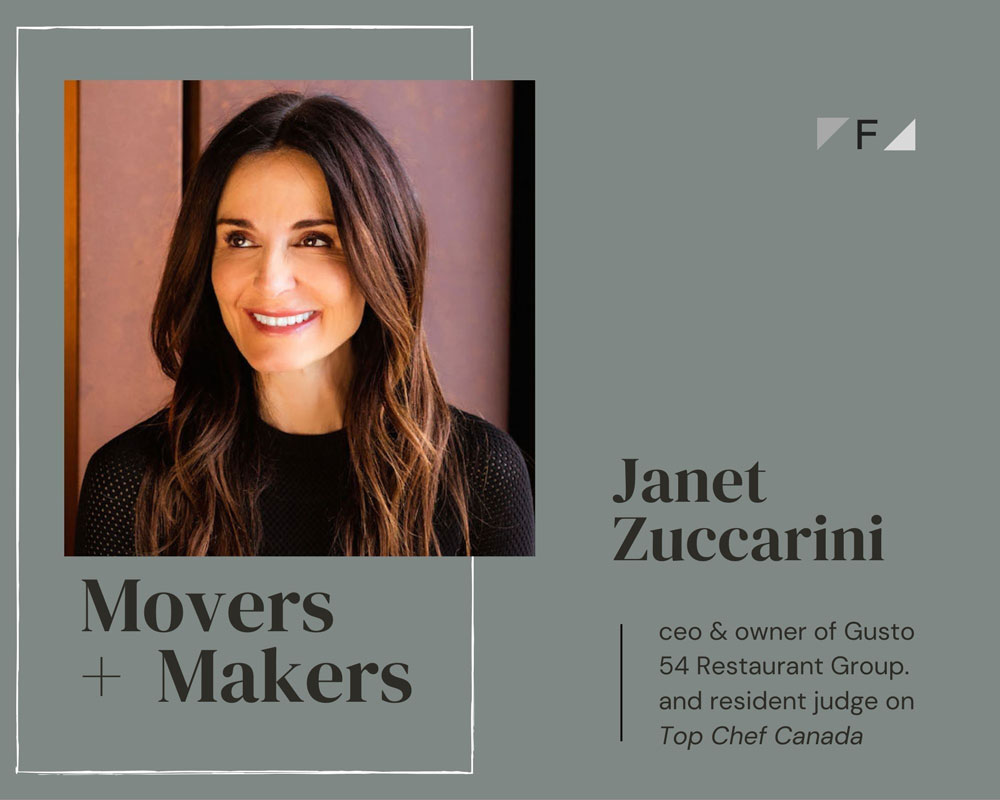 Janet Zuccarini
If you live in Toronto, chances are Janet Zuccarini has a hand in one of your memorable dining experiences. As the CEO and owner of Gusto 54 Restaurant Group, she's at the helm of an extensive roster of the city's most beloved spots to nosh – including Trattoria Nervosa, Gusto 101 and Chubby's Jamaican Kitchen. She even opened the award-winning Felix Trattoria in Los Angeles. Turns out, building an empire in a highly-competitive (not to mention male-dominated) industry is simply a matter of hunger.
FS: What inspired you to get started in the restaurant business?
JZ: When I was 18, I moved to Italy to pursue my MBA from Boston University. When I'd walk home from class, I'd pick up a few fresh ingredients from the farmer's market. I really embraced the farm-to-table lifestyle and started cooking my Nonna's recipes for my friends. They would all say, "You need to open up a restaurant!" Right after university, I flew back to Toronto for a friend's wedding and the opportunity to be in the restaurant business fell in my lap. The rest is history.
FS: Why does your work (both your business and being a judge on Top Chef Canada) matter to you?
JZ: I was able to marry two of my passions – business and food. As a restauranteur, you have to expect challenges, and you have the passion to keep pushing forward. If you have a genuine love for the work you do, no roadblock or setback will get in the way of your goal.
FS: As for being a judge on Top Chef Canada…
JZ: It's like a dream come true. I'm being paid to work with incredible people and eat amazing creations by young and talented up-and-coming chefs. 
FS: What has helped you to stay motivated during the pandemic? 
JZ: Working with an incredible team of people, around the clock, to get to the other side of this nightmare. Gusto 54 opened three new concepts during COVID-19, which was a miraculous feat, considering how many restaurants have closed permanently. We have two more concepts set to open in L.A. which will be our focus over the next 24 months.  Finally seeing the light at the end of the tunnel, with the vaccine rolling out, has made a huge difference on my outlook as well as my motivation.
FS: How do you hope to make a difference for other women in the restaurant industry?
JZ: Female executive chefs and owners make up only 5% of the entire industry, globally, so I hope to inspire more women to enter into the industry. We need gender equality and although we are headed in the right direction, we have a long way to go before there is balance. 
FS: Any advice you can give to other women trying to succeed in a typically male-dominated industry?
JZ: As Sheryl Sandberg has famously said, "Lean In". Women have to stand up for their rights and be treated as equal. If that's not happening, stand up and stand your ground.
—Courtney Reilly-Larke
These chefs share their favourite restaurants on this list.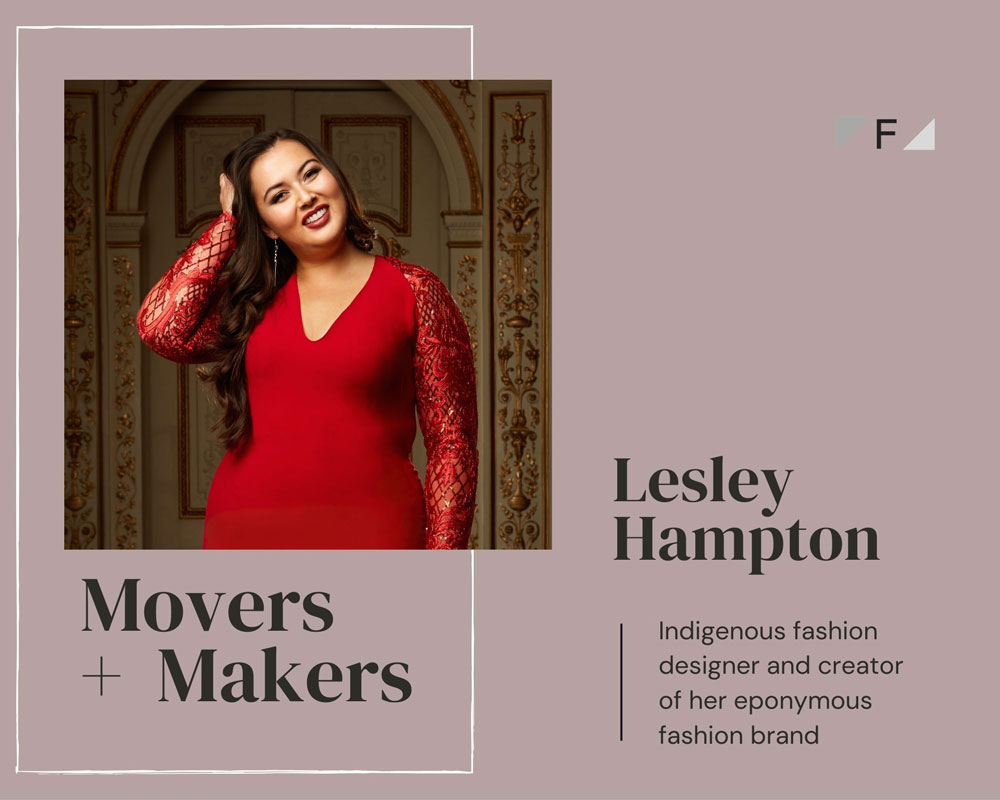 Lesley Hampton
Founded in 2016, Lesley Hampton's eponymous Toronto fashion brand is Indigenous-owned, size-inclusive, and female-founded. Plus, Lizzo likes to wear her gear for a sweat sesh. And that's not the only way the brand is inclusive: They make everything from evening-wear to athleisure with some lofty social justice goals at their seam.
FS:  What inspired you to build your clothing brand?
LH: Our aim is to decolonize euro-centric standards in the fashion industry and create a space for all to feel empowered and represented. 
FS: What do you hope to achieve in the near future?
LH: I hope the new normal we develop into after the pandemic allows space for self-care. I also hope that health, both mental and physical, remains at the forefront of all the work we do.
FS:  How do you hope to make a difference for other women in the fashion industry?
LH: As a female-led brand, I hope to inspire youth to unapologetically take up space in this male-dominated industry. 
FS: Any advice you can give to other women trying to succeed in a competitive industry?
LH: Know your messaging. Know who you are and what you stand for. And use that to guide you with every decision in this industry. Remember that you can say no when you don't feel like something is a good fit for your brand, and then move on to the next one.
FS: What has helped you to stay motivated during the pandemic? 
LH: The pandemic has given me time to self-reflect and increase my self-care, and that shift in my consciousness has motivated me to better manage my business and personal life.
—Courtney Reilly-Larke
All interviews have been edited and condensed.