The whole point of lip gloss is that it looks like your own lips, but better. But to even be considered a gloss that FLEETSTREET editors would recommend to our friends and dear readers (yes, you!), it would have to be a gloss that doesn't evaporate everytime we inhale, gets goopy in our hair or leave our lips dry – or worse, peeling – gross. So, we rounded up our favourite glosses that meet these requirements:
☑️ Offers high shine, and maybe even a touch of colour that looks good on all skin tones
☑️ Is easy to apply with Goldilock's consistency, so it isn't super goopy or too thin
☑️ Smell and/or scent that is absent or lightly pleasant
☑️ Has hydrating ingredients, like a plant-based oil 
☑️ Comes from a brand we're happy to support 
The best mascaras: Our ride or die picks for gorgeous lashes.
Best lip glosses for dry lips
Here are our picks for the best hydrating lip glosses available right now. 
Beth's pick: Best flavoured lip gloss – and it has organic oils
Bare, but better! Think, cherry popsicles on a hot summer day – the gorgeous stain that it leaves on your lips, the subtle sweetness that lingers. That's just one of the reasons I reach for this gloss. What I love the most is that the pigment is formulated to react with your own pH, so the shade becomes the "perfect" one for your skin tone. Plus, it contains organic botanical oils – jojoba, hazelnut and rosehip star extract oil that strengthen the skin barrier function while providing a nourishing sheen to your pout. And, if you choose the honey-coloured version, you can wear it as an overnight mask. Sweet!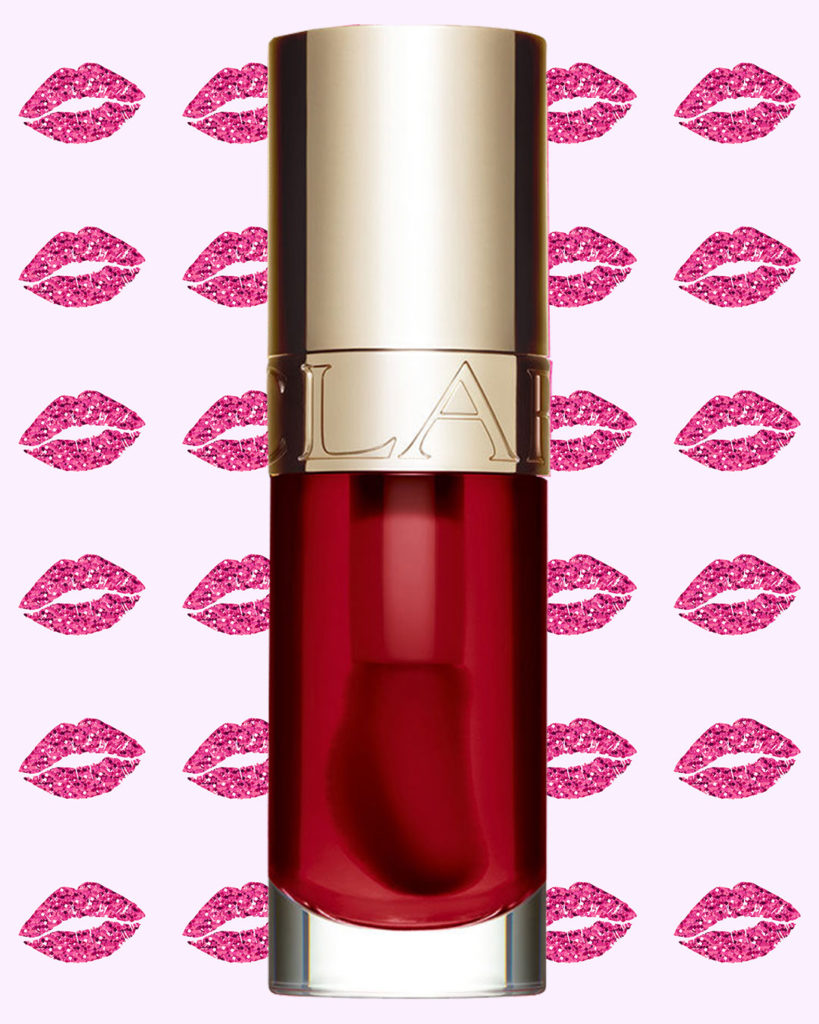 From clear to tinted eyebrow products – our picks for the best brow mascaras.
Danielle's pick: Best lip gloss for plumping – and it's non-sticky
ICYMI, Ariana Grande has a beauty line called r.e.m. (like the sleep cycle) and everyone on TikTok is losing their minds over this gloss. And, I can attest. It makes your lips look like glass and it's not sticky or tacky. If you like sweet smells, this gloss is for you (it smells like vanilla). I don't personally like sweet scents but I do love a good shine with a plumping effect. Layer it over your fave lip colour or wear it alone for the ultimate wet look.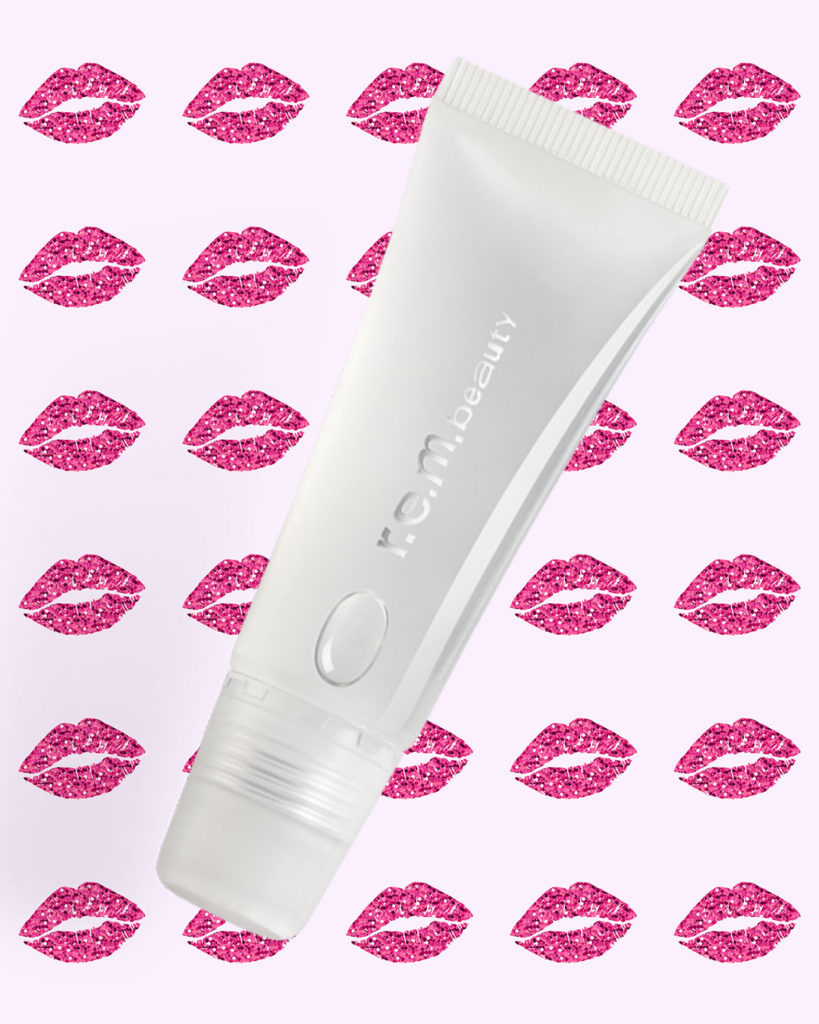 r.e.m. Plumping lip gloss in Utmost Importance, $28 at rembeauty.com.
The best cleansers for every skin type.
Lisa's Pick – Best lip serum for dry lips (and a shiny finish) 
As someone who, admitedly, has dry skin all year round, I could just wear lip balm all day, every day. But I want to wear lip gloss, tooooooo. With all the lip products I've tried, this is hands-down, lips-puckered, the most hydrating lip treatment for my dry lips. (I blame my love for hot showers). And, it looks like a lip gloss and is packaged like a lip gloss, but the skin-soothing ingredients give it an oil-balm texture, including shea butter and the oils from peppermint and cannabis sativa and other plants. Colour and shine can be a trade-off, but not with this lip serum/lip gloss. This cruelty-free and dermatologist-tested lip product almost looks like two products, as the neutral pinky tone underneath the glistening gloss that frames the lips, making them look fuller and pretty. Plus, I love that Evio Beauty sales support domestic violence shelters across North America. 
Background graphics by rawpixel.com.
The winter shower gels helping us tolerate the cold weather.
What is lip gloss made of?
Lip glosses ingredients are as wide-range as the brands on the shelf. There are a lot. So pucker up, here's the breakdown.
Your kisser becomes dry when the air pulls moisture from the top layer of the skin on your lips. Generally, lip gloss isn't like a moisturizing skin cream, and most glosses add a thick waxy or oily layer of product on the lips. But do their ingredients hydrate your lips?
They do if they contain the right ingredients. According to the The University of California, Santa Barbara, lip gloss ingredients can be segmented into hydration, texture (think waxy, sticky), colour and shine, and scent. Of course, some ingredients can do more than one thing. For example, texture ingredients can seal in moisture, and pigment can also impact the flavour.
So, how do our picks above stack up? While our top lip gloss picks are experiential based, we also checked the ingredients, too.
Clarins Lip Comfort Oil ingredients
Hydration: Jojoba seed oil, rosa rubiginosa seed oil, caprylic/capric triglyceride, hazel seed oil, diisostearyl malate and tocopheryl acetate.
Texture: Polyglyceryl-2 isostearate/dimer dilinoleate copolymer and dilinoleic acid/butanediol copolymer.
Colour: Castor oil/ipdi copolymer, yellow 6 lake, red 33 lake, red 7 lake and red 27.
Scent: Vanillin, and parfum and fragrance.
r.e.m. Plumping lip gloss ingredients
Hydration: Trihydroxystearin sodium hyaluronate.
Texture: Dimethicone, ethylhexyl palmitate and glucomannan.
Colour: n/a
Scent: Vanillyl butyl ether, and flavour and aroma.
Evio Beauty Lip Serum in Be Blunt ingredients
Hydration: Diisostearyl malate, hydrogenated polyisobutene, octyldodecanol, cannabis sativa seed oil, octyldodecanol, polyglyceryl"2 triisostearate, shea butter, hydrogenated polyisobutene, bis-diglyceryl polyacyladipate"2, caprylic/capric triglyceride, sorbitan sesquioleate, maltodextrin and water.
Texture: Caprylic/capric triglyceride, dextrin palmitate, silica dimethyl silylate, dehydroacetic acid, hydroxystearic acid, candelilla wax, ethylcellulose, montmorillonite, dehydroacetic acid, citric acid, titanium dioxide and anthocyanins.
Colour: Iron oxides.
Scent: Menthol, peppermint oil and limonene.