This Netflix/Nike workout review is part of Class Action, FLEETSTREET's workout review series. We get sweaty to give you the low-down on what the workouts are really like. 
The Brands 
Netflix 
Are there fitness videos on Netflix? I've wondered that for years, waiting for when the streaming service would get into the wellness game – and not just on a Life Fitness treadmill screen at the gym. In fact, I wrote about it for CanadianLiving.com, getting a trainer to create workouts around my Netflix habit. Netflix was the only app that isn't fitness- or wellness-related on my smart TV. I have Peloton, Alo Moves, Movement MN, YouTube and a few others, all set up to watch in my home gym ever since the pandemic happened. And I added the series and movie app when I saw programs like The Fittest and The Headspace Guide to Meditation launched on Netflix Canada. 
I won't dive deep into Netflix's brand, as it's as mainstream as you get. The streaming service has over 73.4 million subscribers in Canada and the U.S., which is roughly one in every five Canadians and Americans. It almost begs the question: What are the other four watching?!
Nike
Seriously, Netflix is big. Almost as big as Nike. (Netflix had $30 billion in revenue in 2022, and Nike had $47 billion.) And there's no denying the brand awareness of that swoosh!) Nike launched the Nike Training Club (NTC) app with splashy group workout classes in Toronto way back in 2013. I was the health editor at the now-defunct Glow Magazine, covering the NTC app, product launches, and free classes across the city. Trainer and life coach Eva Redpath was Canada's first-ever master for the brand. And she didn't shy away from getting us to lift heavy, drop dead from cardio, dig deep for motivation and then get us to wipe our brow for a #sweatyselfie. The once-to-twice-a-week workouts were the hardest I had ever done, and it showed on my body. I was the strongest I ever was (and since, to be honest). And I had fun, too. I also rounded out my workouts with the app, too.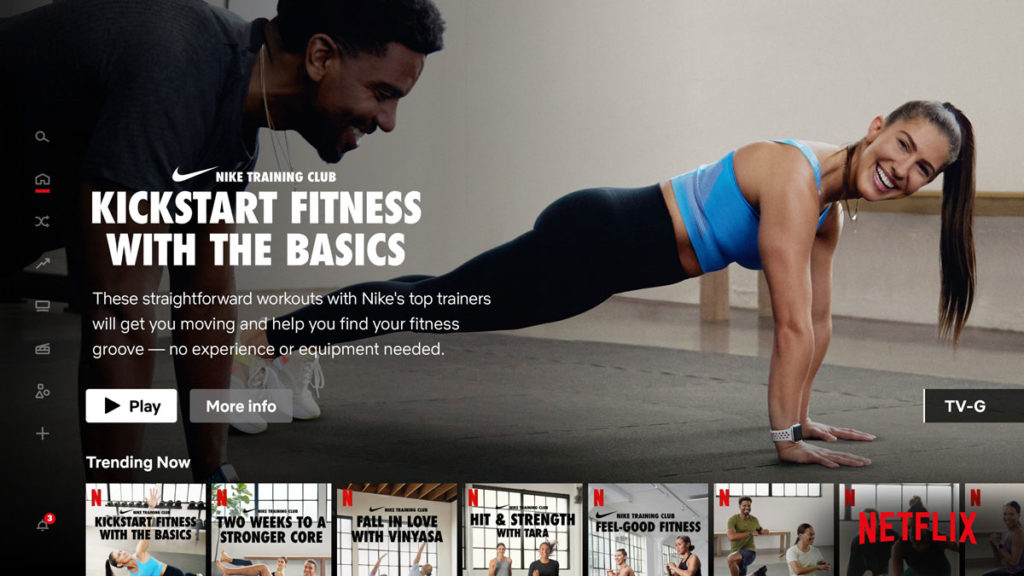 The NTC workouts are straightforward with moves simple enough to understand with a quick demo by the trainer on the NTC app. Each exercise was timed, so there was no confusion with counting or feeling like you were behind in class. And the best part: the workouts were all designed to show your progress since the one before. When you noticed a move got easier, you would be pushed to hustle harder and faster. Before I tried NTC, workouts were punishing. The entire NTC community showed me how movement was good for me and not just something I would guiltily do after, say, an indulgent holiday season. 
So, was I excited to see Netflix x Nike pop up on my screen? You bet your Volt-yellow swoosh I am!
Workout pants that don't roll down – you're so very welcome.
The Workout Program – Netflix X Nike Training Club Collection  
On December 30, 2022, Nike Training Training Club 20 Minute Workouts launched on Netflix Canada. It's a series of 10 workout videos that include strength (with hits of cardio) and yoga, with a couple of classes targeting the abs. All you need is your own body weight. You don't even need fancy kicks like the trainers wear; I did the workouts barefoot at home. 
The series is part of a larger launch of workout videos for Nike x NTC, though. There are 10 viewable series in total right now, including Kickstart Fitness With The Basics, Two Weeks To A Stronger Core, 10 Minute Workouts, Bodyweight Burn, 30 Minute Workouts, Fall In Love With Vinyasa, High-Intensity Training, Hit & Strength With Tara and Feel Good Fitness. (The timed series uses fitness videos from the other series. Eg. 20 Minute Workouts is curated from other series.) That's 112 episodes/workouts (with some repeats). Not too shabby for Netflix's first streaming workouts. 
According to the Nike press release, only minimum or no equipment is required and the workouts are suitable for all fitness levels ("made for every body"). They are also viewable in 10 languages and have subtitles for viewers who require them. This is the first release of workouts and more workout series are expected later in 2023. The workouts are searchable via the term "Nike." Netflix says the videos are viewable for all Netflix subscribers and plans.
Netflix star and ballerina Kylie Jefferson talks about strength and having diamonds in your collarbones.
The Workouts – Nike Training Club 20 Minute Workouts
What kind of fitness styles can you expect? It's a mix, and everything is in there, such as compound movements (squat jumps and mountain climber walk-outs), Pilates and barre (bridge walks and relevés), primal movement (bear plank/crawls), boot camp (high knees and dead bugs), and so much more. Even the strength workouts have yoga moves, too (baby cobra, child's pose).
All the strength and core workouts are clearly structured. Like the NTC app, the Netflix x NTC workouts are timed for EMOM (every minute on the minute), AMRAP (as many reps as possible), and tabata (quick rounds, short rest) tempos. Since the workouts are relatively short at 20 minutes, you can expect to do two to four rounds for each circuit. 
If you're a fan of the NTC app, you will recognize some familiar faces, including Tara Nicolas, Alex Piccirilli, Kirsty Godso, Maricris Lapaix and David Carson for strength, and Jonah Kest, Branden Collinsworth, Trisha Fey Elizarde and Maria Wada for yoga.
You will also notice, like the app, that the series builds upon each workout, slightly advancing from one to the next. So if you think the first workout isn't for you, you may want to keep going and treat the first one or two as a warmup, if you're at more of an intermediate or advanced level of fitness. 
Lagreeing At Home Review: One of the few virtual workouts that won't let you cheat.
We Tried It
Netflix has data on me, and I know this. I know that from the recommendation categories I'm prompted with, like "strong female lead." But Netflix has no idea of my fitness level. It likely hypothesized that many of its subscribers are on-the-couch viewers, so a beginner level is best to appeal to its wide-wide audience. 
Why would I think that? Well, all the moves are demonstrated at a basic level, and are encouraged to make the move more challenging at the second, third, or last round of the exercise. Most of the planks are shown on the knees, for example. 
The strength workouts were dead simple to follow. The moves were easily understood with a quick five-second demo by the trainer. Since I did the workouts on my TV and not on my phone, I wasn't always able to see the instructor-led moves when I was on the floor doing mountain climbers, walk-outs or planks. Since there was no timer ding, bells, or whistles, I didn't always know when the round was done. And sometimes the instructor would talk about things other than form when my eyes weren't facing the TV. There was chatter about not judging yourself or when to be motivated to go faster or slower when I needed proper form reminders or just a countdown of the round. 
That said, I really enjoyed the workouts. They went by super fast. I ended up doing the first four 20-minute workouts in a row for one workout.
Class Action: We try Triple Sweat at Sweat and Tonic
The Verdict
If you're wanting to try streaming workouts, and you already have Netflix, this is a no-brainer. These 20-minute workouts from Nike are essentially free – since you were already paying for Netflix. Plus, NTC is a free app anyways! So once you finish a series, you may as well download the NTC app so that your workouts can count toward your fitness rings/score on your phone. 
Are the Nike workouts on Netflix as hard as on the NTC app? I didn't think so. In fact, I wore my Peloton Heart Rate Band and found that the 20-minute workouts weren't nearly as challenging (heart rate-wise) as my regular workouts. I did four 20-minute classes to get the equivalent of a 60-minute workout that I normally do.
The Netflix X NTC 20 Minute Workouts are fun though. I never found that I was looking at the clock since the longest bout (that I remember!) was 40 seconds long. I did do the more challenging versions when offered, even when the instructor didn't show them. And if you're a bit more advanced, the pace of the strength, circuit, and yoga classes allow you to either increase intensity or focus on form. Something we should always be doing anyways.
I do think Netflix is playing safe with more of a beginner approach. But that's OK. I just ended up doing the next workout in the series – just like how I binged Emily in Paris frankly. 
Funny though, Netflix didn't ask me if I was "still working out" by the time I got to episode four. 
Netflix, 100 new workouts, 10 series with multiple episodes to be used as exercise programs, $6 to $21 a month (depending on the package you select); NTC app downloads available at the App Store and Google Play.