I never used to be a snacker, except for maybe a square of dark chocolate here and there—a tell that I was a health editor at various women's magazines in Canada. But days spent working from home since the pandemic have me getting up from my #wfh desk and going to the kitchen multiple times a day, instead of walking around my office building. Hello COVID weight gain. I was talking to a friend about my new snacking habits (a bowl of potato chips after lunch—who am I?!) and she said a few of her friends recently lost weight by cutting out snacking. So, I had to do some research.
The salad recipe for people who don't like salads!
Can packaged snacks be healthy?
Yes, and well, no. The research on snacking flips more than a gymnast. In fact Harvard University's T.H. Chan School of Public Health states: "Snacks have been associated with both weight gain and maintaining weight, as well as with a lower or higher diet quality." 
Confused? Don't be, as it's the type and quality of snack that will show which side of that statement your snacking habits put you. Fruit, veggies, nuts, yogurt, and so on, are good snacks—that's obvious. As are snacks that are good and excellent sources of fibre, good fats and are low in calories (ahem, not high in sugar). 
So, that packaged snack you're wondering if it's healthy or not? Check the label. 
What is a snack? 
You already know it's a bit of food you eat between meals. But what's the purpose of snacking? To keep your energy levels from dropping and to keep your metabolism buzzing along. It's also a good way to get your nutrients if you're not getting them from your three meals or if your job doesn't permit you to take breaks for full meals.
How to keep food fresh for meal prep – advice from a meal kit pro.
How to snack in a healthy way
Opt for snacks that contain nutrients that you may be lacking from your meals, which can include macronutrients (carbs and protein), vitamins (A, Bs, C, D and E) and minerals (calcuim, iron, magnesium, phosphorus, potassium and thiamine). Also, consider not eating right after or before a meal. Snacking shouldn't impede on your hunger to eat balanced meals. And limit snacking to twice a day, so you're not adding extra calories to your day.
Easy ways to eat green, all year long.
What are some healthy snacks to buy?
Next time you're in the health-food aisle wondering what healthy packaged snacks taste good, consider these that have been taste-tested by your's truly.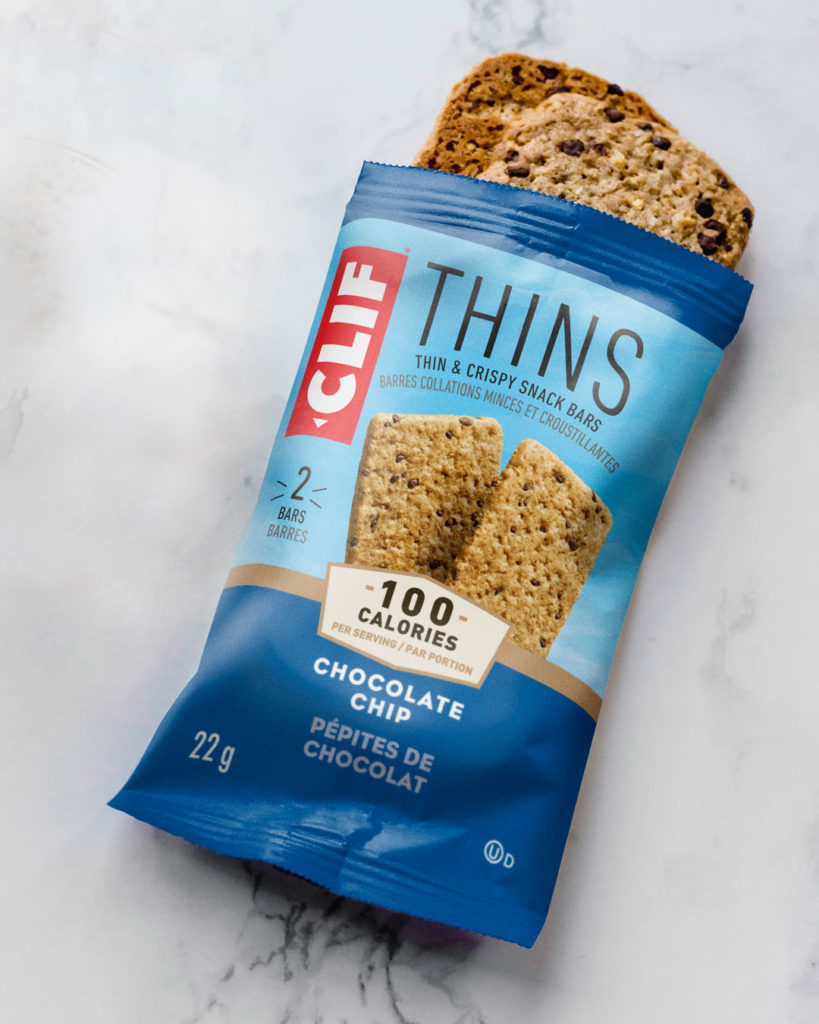 Clif Thins Chocolate Chip
The label: Made with plant-based ingredients (70% of which are organic), 5 grams of sugar per serving and 100 calories per serving.
What's good: The crunch is perfect. I worried that it might taste like a stale cookie, but it's more like a sweet cracker, which isn't weird, surprisingly. I like that it comes in two pieces, so I pause in my snacking and it's not a mindless treat. It's also low in sugar, sodium (95 mg) and fat (3g). The ingredients list is straightforward, too: Sugar, oat flour, rolled oats, rice flours, sunflower oil, unsweetened chocolate, sea salt, cocoa butter, soy lecithin, baking soda and cinamon.
What's not-so good: I wish it had a bit more fibre – it has only 1 gram.
Meal prep for high-protein dishes that actually taste good!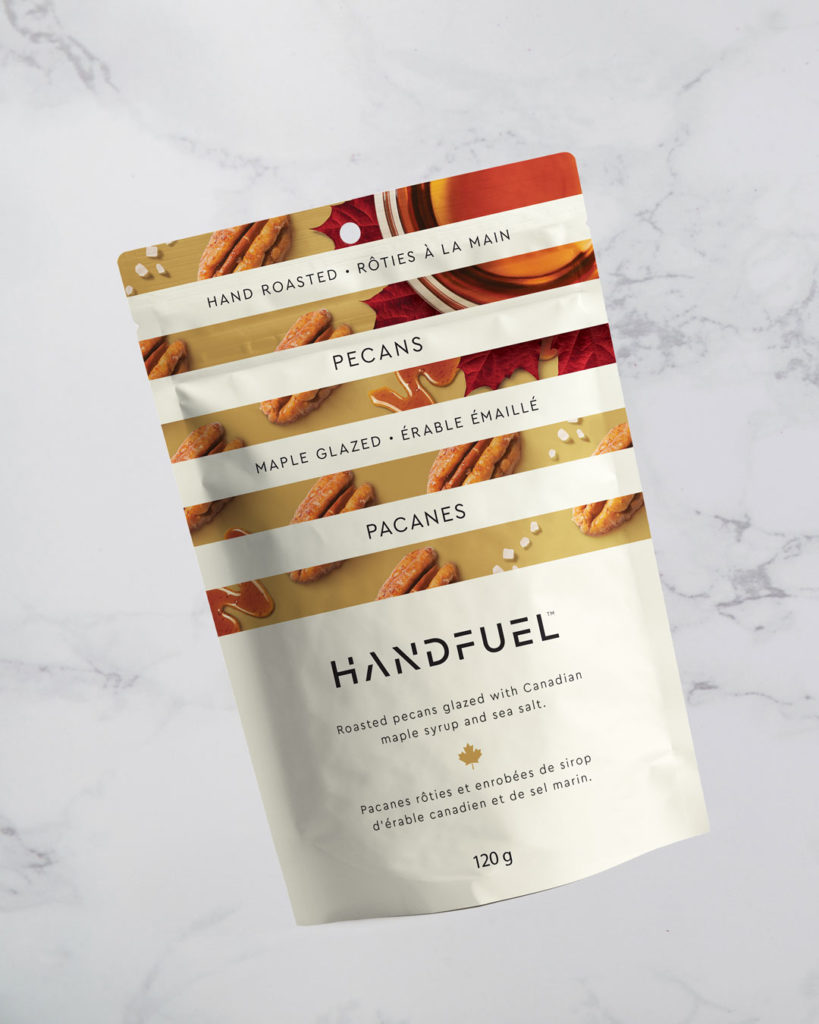 Handfuel Maple Glazed Pecans
The label: "Roasted pecans glazed with Canadian maple syrup and sea salt."
What's good: I love that the clean packaging doesn't over sell itself! It is what you get: Whole pecans with a lightly sweet maple-syrup coating. Often these types of packaged snacks come with nuts broken or in pieces – but I enjoyed a bagful of whole pecans. This is gluten-free, non-genetically modified ingredients, and is made without preservatives. It also has 3 grams of protein.
What's not-so good: While the resealable bag is much better for the environment than individual snack packaging, you will have to measure out a third-cup to know how much you're eating according to the label. You may be limited on where you can snack on this or who you share it with, though, it may contain tree nuts and peanuts. 
Here's how to eat more nutritous fish.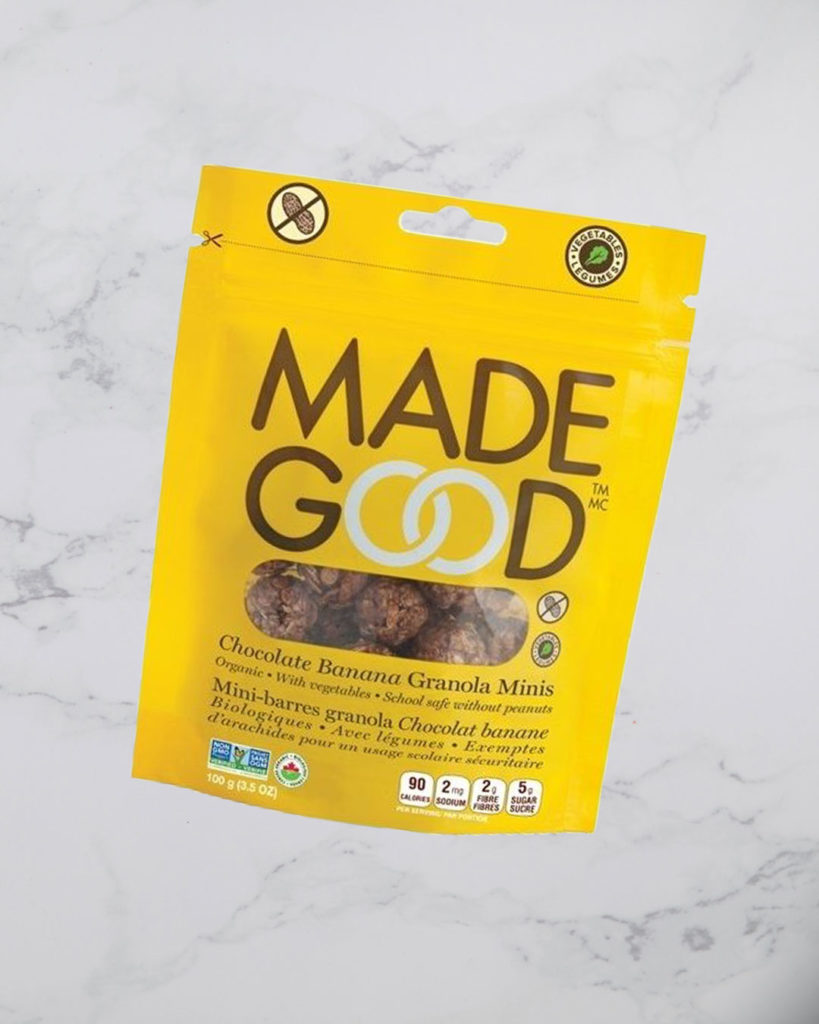 Made Good Chocolate Banana Granola Minis
The label: Made in Canada at a nut-free facility, with organic ingredients and is a source of vitamins C and D from vegetable ingredients. 
What's good: I was expecting these to be dry energy balls, but I was pleasantly surprised by their chewy texture. The banana flavour was nice and light, and went well with the oats and chocolate bits. If you're looking for vitamins in your day, you'll like that they contains vitamins A (22% DV), C (20%), D, (20%), E (20%), as well as thiamin (21%) 
What's not-so good: This packaged snack has the longest list of ingredients of the snacks featured here (13 in fact). The vegetable sources are "extracts," so that's why we're not seeing as much fibre as you might expect from a food made with spinach, broccoli, carrots, tomatoes, beets and shiitake mushrooms. 
Three cookbooks every Canadian kitchen needs.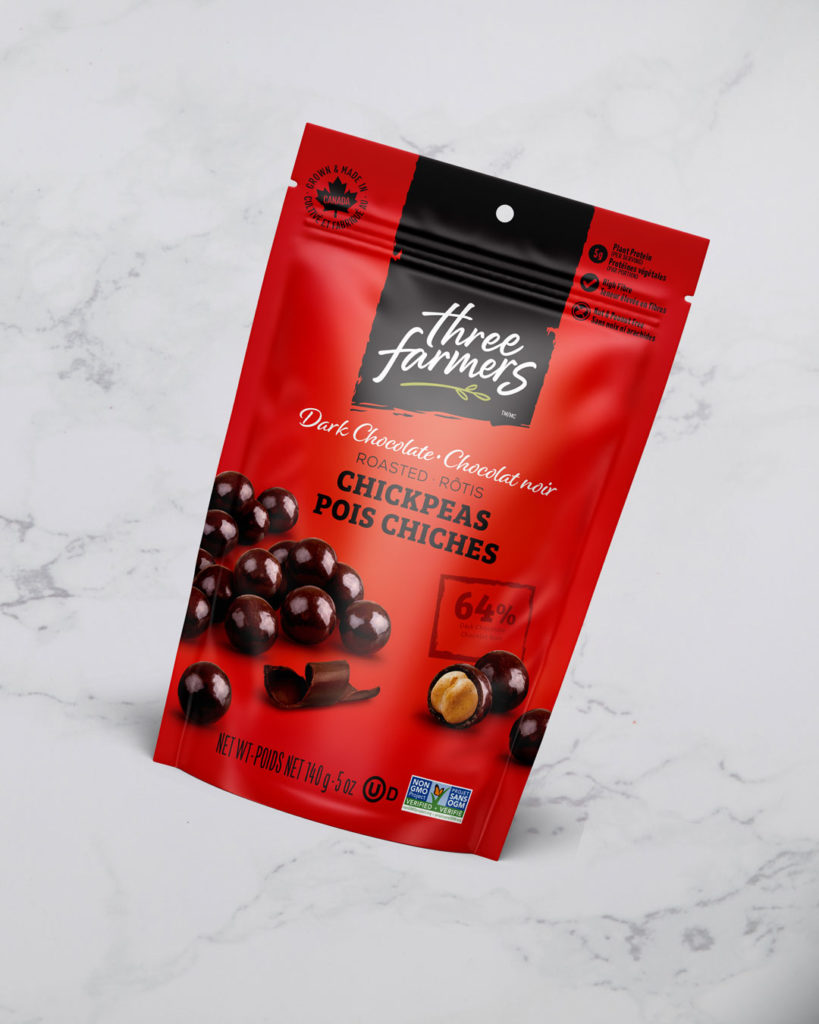 Three Farmers Dark Chocolate Roasted Chickpeas
The label: Canadian made and grown in a nut- and peanut-free plant, with 64% dark chocolate, 5 grams of plant protein per serving, high in fibre, and is a verified non-genetically modified project
What's good: The chocolate is tasty – it's the good stuff covering these crunchy roasted chickpeas. My mind and mouth kept expecting to taste chocolate covered peanuts, even though I knew exactly what I was eating. So it took a bit of getting used to. It does taste "healthy" but the chocolate and crunch satisfy. It only has 2 milligrams of sodium, and it has 5 grams of fibre and 5 grams of protein per serving, and 17% of the daily value for iron (a nutrient many women are low on). And, you can scan a QR code on the back of the bag to see how the snacks are made. It's also gluten-free, vegan and made without artificial ingredients and flavours. 
What's not-so good: Again, this packaged snack comes in an environmentally resealable bag but you have to measure out a quarter-cup serving to eat according to the label. But I guess that's a good thing for mindful snacking. One serving does take up 30% of the daily value for saturated fats, though.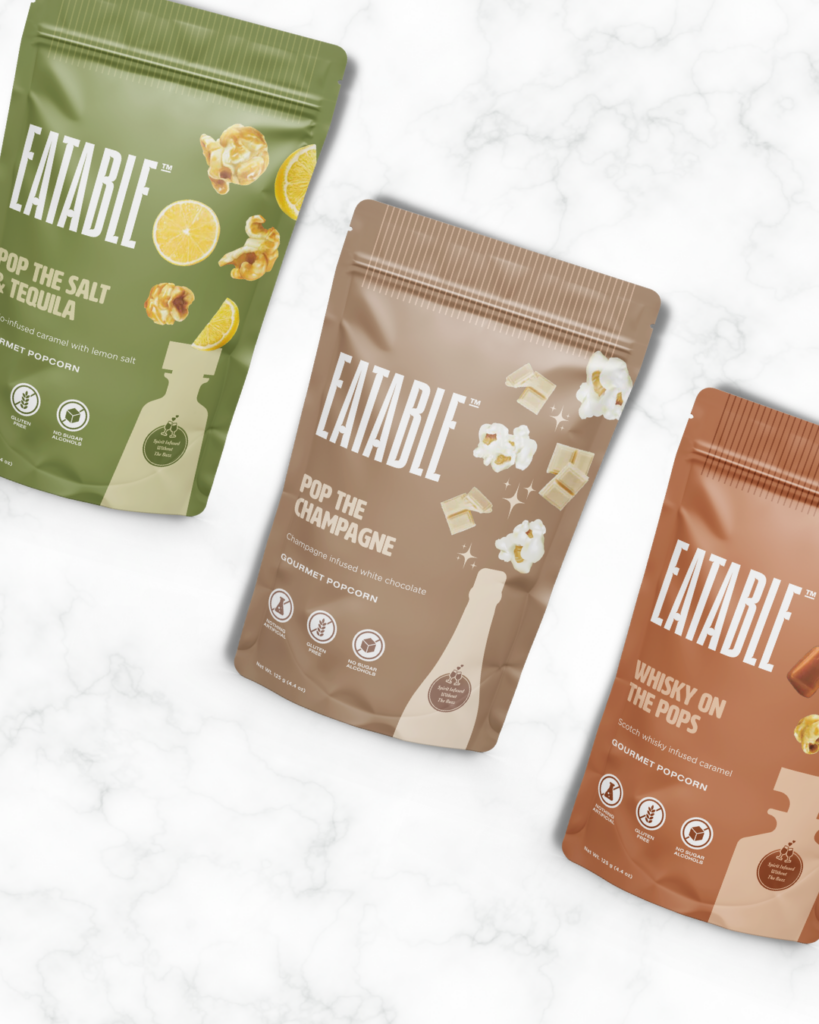 The Label: Toronto-owned EATABLE™ popcorn is a delightful fusion of your favourite classic snack with the nuanced flavours of your cherished wine, spirits, and cocktails.
What's Good: Their popcorn is meticulously crafted to be free from common ingredients found in conventional confectionery products, including high-fructose corn syrup, palm oil, vanillin, caramel colour, confectioner's glaze, and titanium dioxide. Plus, it's a treat for your taste buds, offering the familiar crunch of popcorn paired with the sophisticated twist of your favourite drinks. Oh and it's gluten-free, vegan, and devoid of artificial additives and flavours.
What's Not-So-Good: While EATABLE™ boasts the captivating essence of your beloved drinks at happy hour, it's worth noting that some might find the residual flavour notes from the alcohol infusion an acquired taste.