This cute elastic waist pants article is part of our Shop The Street series. Our editors curate collections of new and noteworthy products (and let you know why you should add to cart). Know, though, when you buy something through our retail links, we may earn an affiliate commission. Tap for more info. 
---
I love my thick, fleece sweatpants. They are a dream woven into reality. And the stretchy waistband has shown me more emotional support than I ever could've expected over the past 18 months from a garment. But it's time my wardrobe grew up. As the world opens up – sounds like the name of a pandemic soap opera – I've returned home with regrets (and a few indents) every time I've worn bottoms with a button and zipper. In a quest for style and comfort, I've put together this list of pants with an elastic waist that are more appropriate to wear in public than my faithful sweatpants and in many cases, more stylish than whatever I was wearing pre-2020.
This brand is new to Canada – and you do not want to miss out on this sports bra.
Elastic waist pants and jeans (and fleece ones too!) – stretchy bottoms for every mood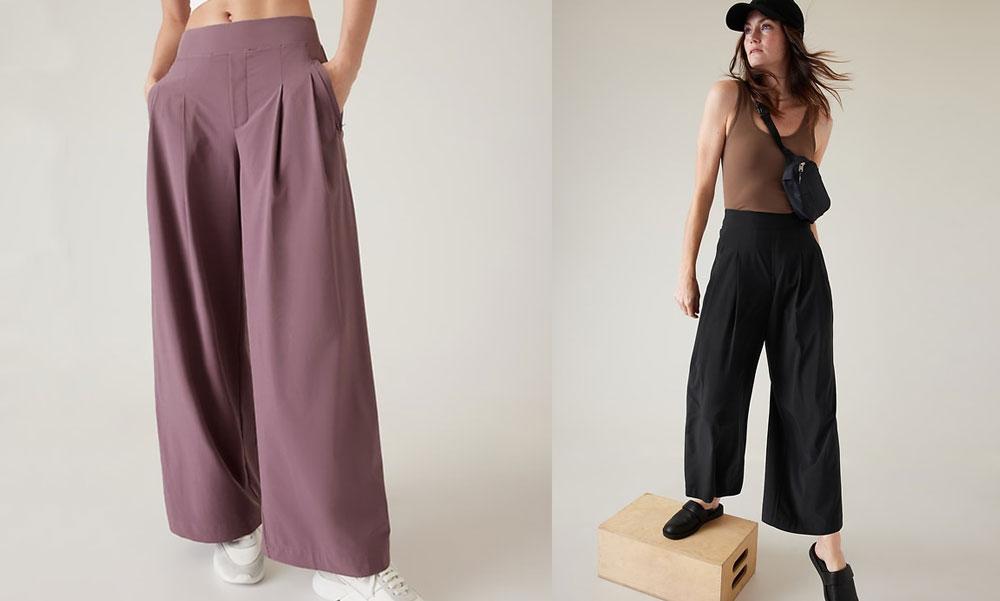 Trendy wide-leg pants with a forgiving waist – yes, please. You know these are going to be comfy when you scan the product description and your eyes fall on the words "feels light as air." The shape will make you look supermodel tall, and the stretchy waistband will make you feel yogi cool. Made of wrinkle-resistant fabric, these trousers are sustainably made from recycled polyester, so you can feel good about your purchase, too.
Yes!—25 one-shoulder sport bras, sorted by support.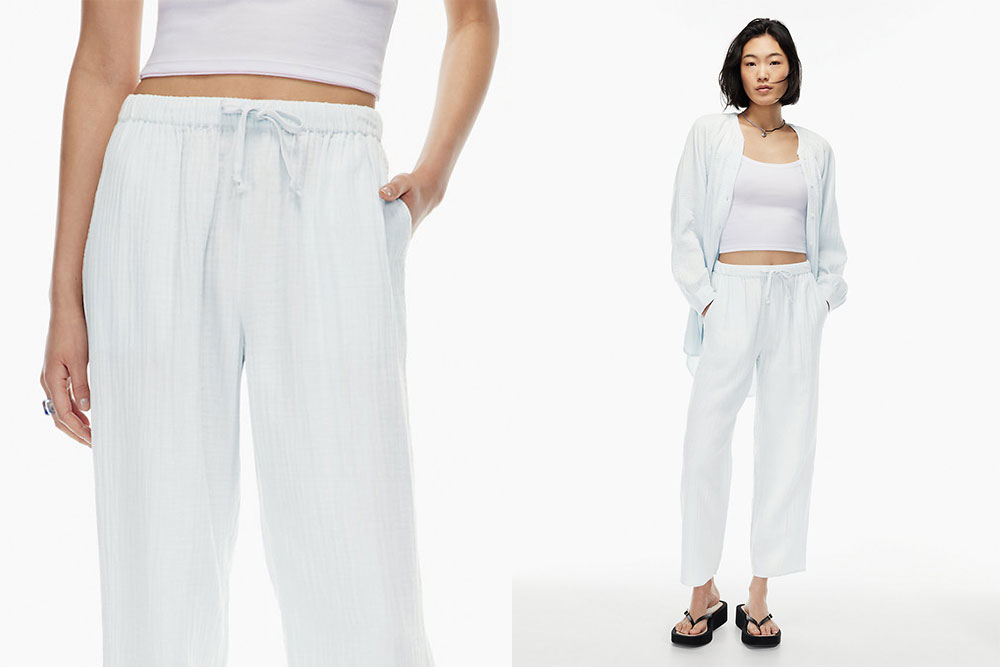 Aritzia, you had me at drawstring. This pair blends the best of at-home and office style: Luxe fabric and a knotted-drawcord waistband. Made with 100 per cent organic cotton, the cinching style would look great with chunky white sneaks, a strappy heel or those ankle boots you haven't worn in two years. Also… there's pockets!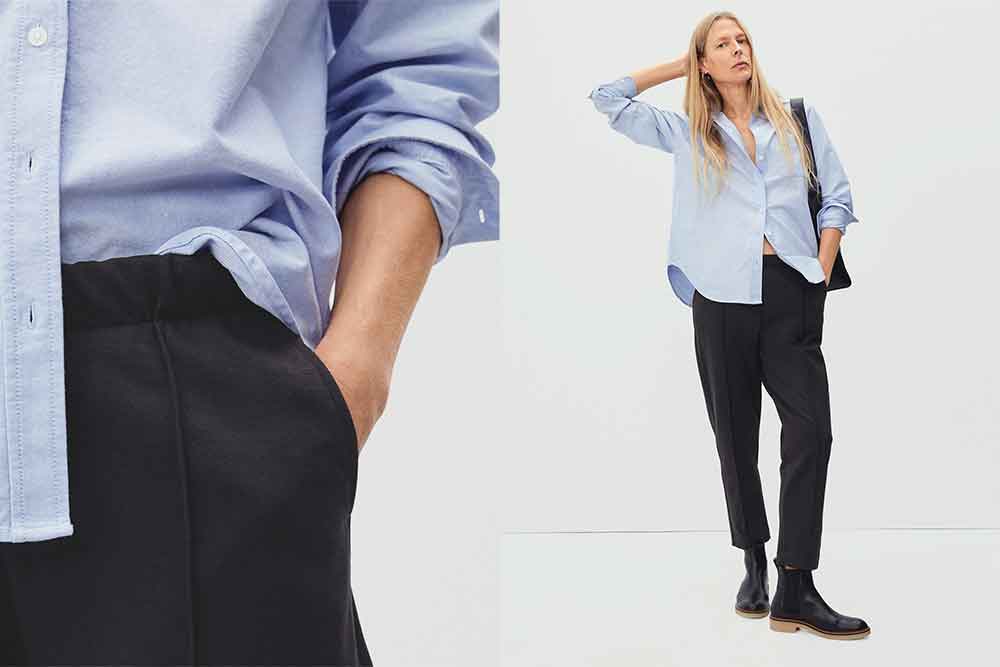 Whenever I'm at a press event and compliment another editor on something they're wearing, high chance it's from Everlane. It's the clean tailoring that reminds me of the original J.Crew catalogues. These pintuck front, elastic waist trousers have a flat finish that make anything you wear with it look polished (if someone wants to test this theory with a big, old concert t-shirt, we welcome it). Plus, the website says they're "comfortable enough to nap in." Sign me up.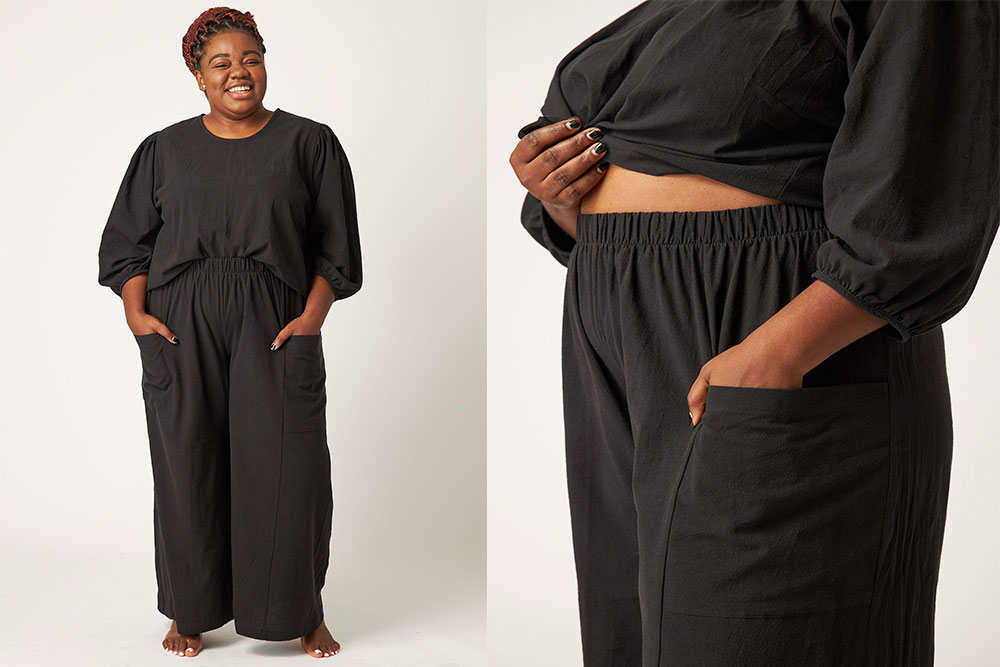 Even from this still photo, you can imagine how these pants move with each step. Handmade in Canada, the drapey pants with elastic waist are made from a blend of Tencel and spandex. Plus, the Kelly-green colour is gorgeous.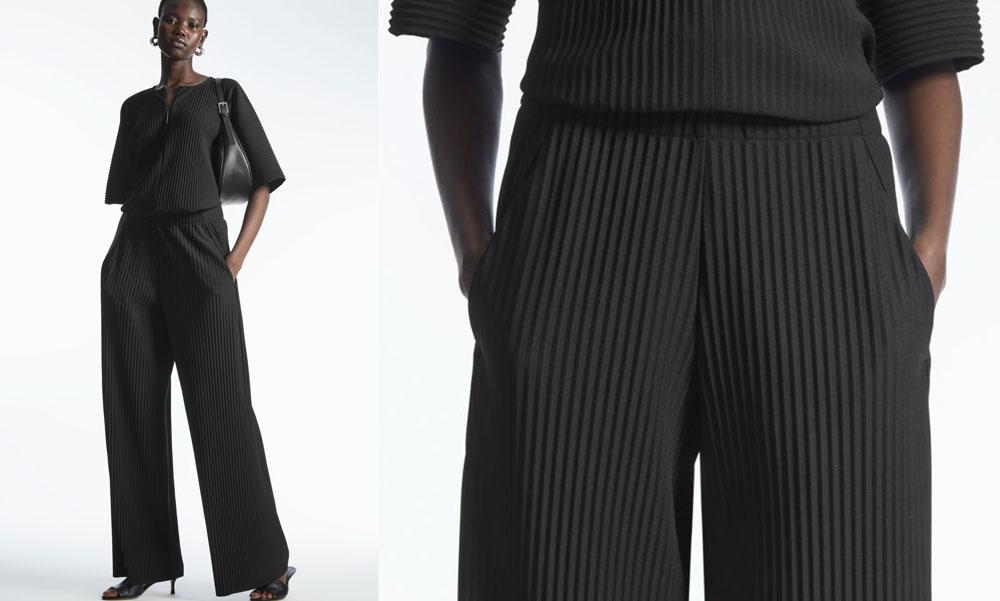 Ever notice that black pants are always in style? It's just the silhouette that changes. I have a small edit in my closet, from five-pocket denim style, joggers, leggings, flares, you name it. But a a micro-pleated pair with elasticated waistband is missing from my collection. These are made from recycled polyester to feature the straight-line silhouette. But it's the repetitive pleats that give these trousers their charm.
Such a weekend-weekend look. But when paired with a blazer, these pants command boardroom attention. These super soft cotton-poly blend pants offer a bodycon shape, thanks to the flare treatment. They are so flattering. But can we talk about this colour? I've never seen such a pretty luxury textile.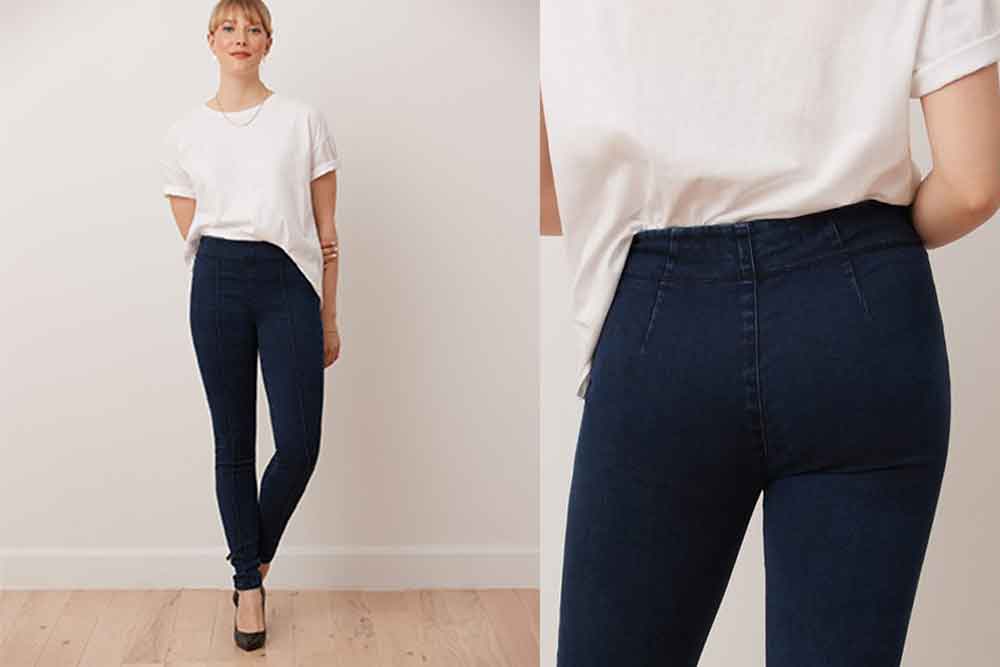 Jeans with an elastic waistband? I thought this was a fashion myth or a feature only regulated to maternity pants. No more button digging into your tummy when you sit! This pair is made of quality denim to hold you in, thanks to its four-way stretch. These are basically what all jeggings should be.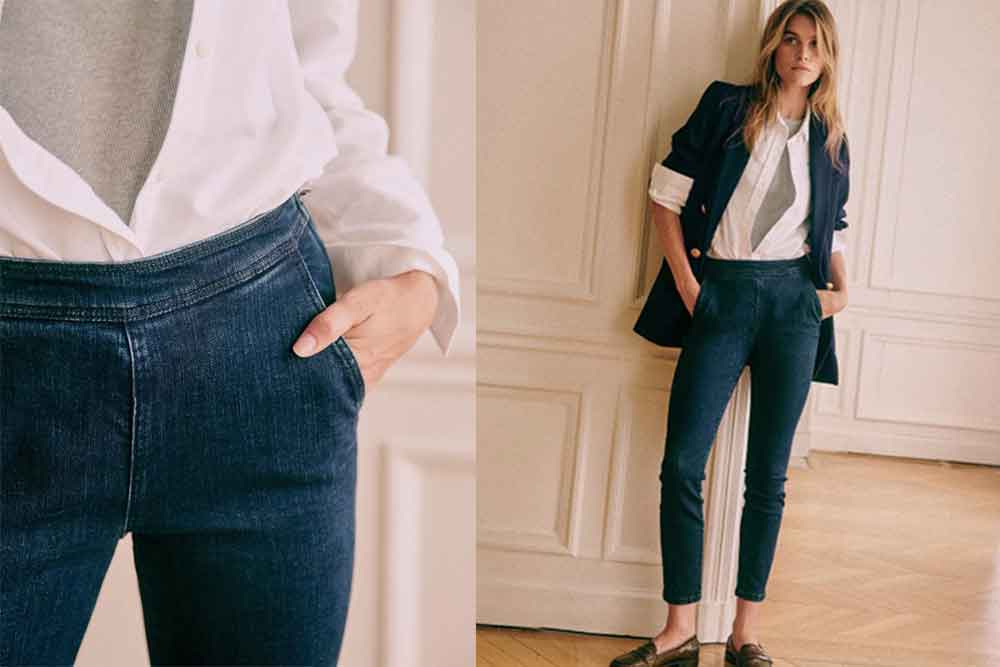 Why limit yourself to one pair of jeans with an elastic waistband? That's like saying, you're only going to eat one potato chip. Here's another denim option from Instagram-friendly brand Sézane from France. They do have a zipper up the side, but the flat front with Italian front pockets, made from a cotton blend that includes a recycled polyester and elastane, give these jeans their forgiving stretch.
For those days when you want to feel fancy AF and relaxed AF, these decadent flowy pants with a slight flare have an elastic waist that sit high in the hips. But this whimsical draping is just perfect.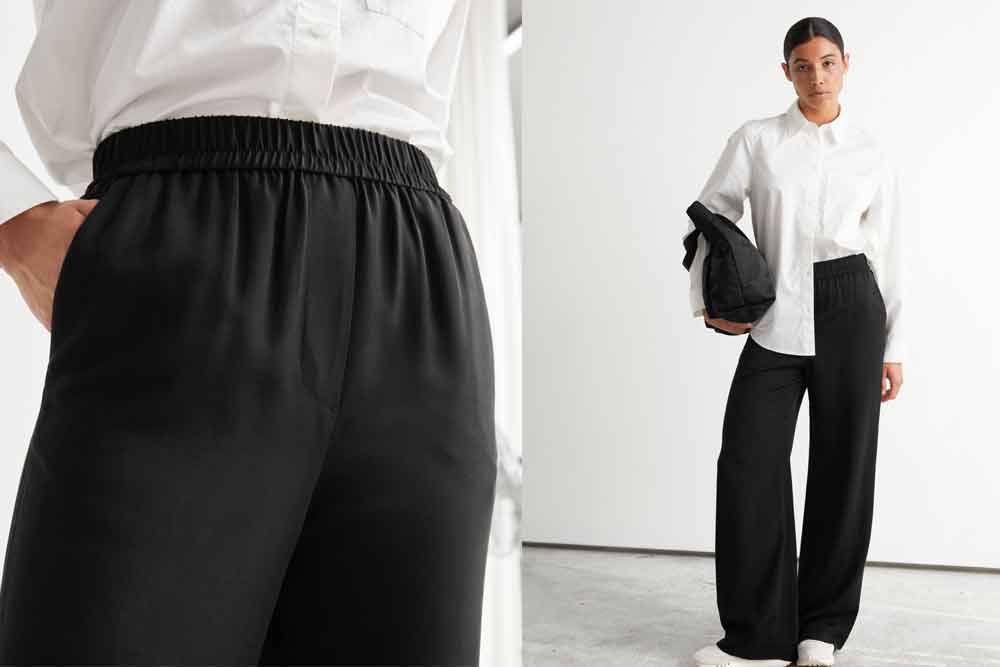 I've never been so joyful to see a style come back. The wide-leg pants from the skater days have grown up into these pull-on trousers. And the dramatic cinching of this stretchy waistband will make you want to show it off. And with that, here's a video link to help you perfect the French tuck.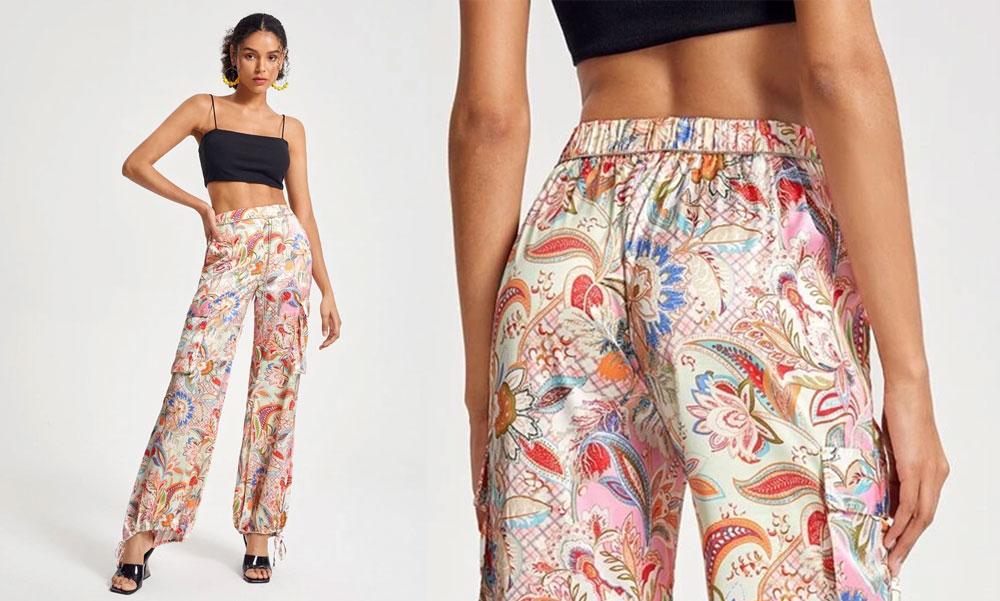 This pant has all the current trends. Cargo pockets. Check! Boho silhouette. Check! Drawstring cuffs. Check! Florals for spring. Groundbreaking. These trousers are good for a night out or brunch with friends. Pair the pair with a structured blouse or racerback tank. They are comfortable, but it's up to you how casual you want to be.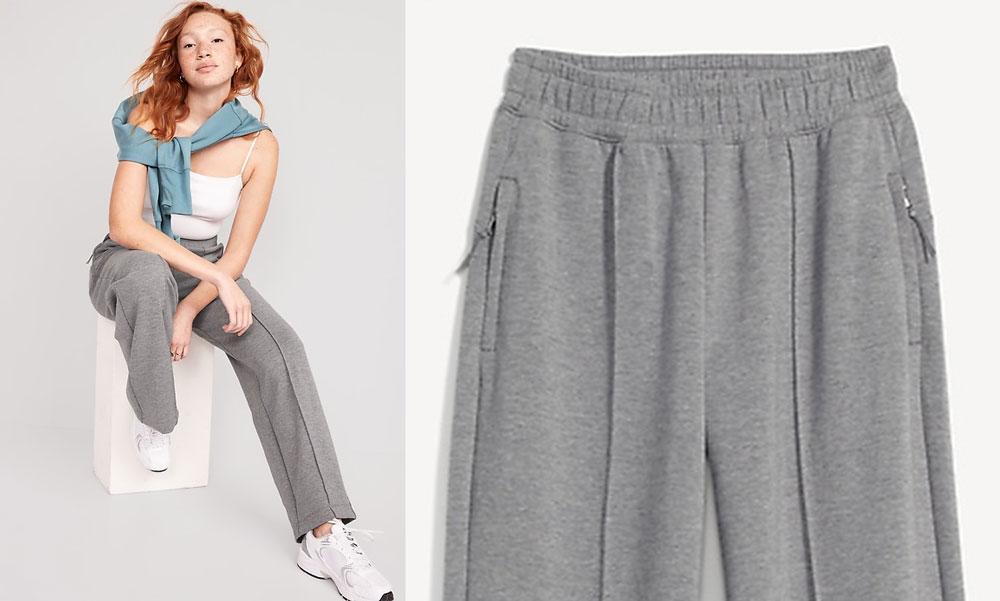 I know, I know. I said no sweatpants, but technically that means I'm allowed to show you one pair! (Get it: Sweats versus sweatpant!) And this lounge pant is worth the departure. The elastic waist and heather grey fabric may say sweats, but the cut of the leg gives me dress pant vibes. Plus, they're made with a cotton-stretch blend, and have straight-leg cut that elevates them. Just add an oversized knit turtleneck and blazer, and no one will know how ridiculously comfy you are.