"She's lovely." "She's so great to work with." "She's just so nice to be around." I would love the compliments. Who wouldn't? But imagine this being a women's fitness brand. I don't have access to any branding materials from women's fitness wear brand Athleta. But it's not hard to see why people sink their money into the softest leggings ever. (Plus, they have pockets!)
Exhibit A
Athleta athlete and US gymnast Simone Biles withdraws from the team final event in the 2020 Olympics in Tokyo. Some trashed her decision. (Can Bobby Moynihan please revive Drunk Uncle just to read Piers Morgan tweets? He's only relevant in his irrelevance.) But Athleta responded with a statement and a heart emoji.
"We stand by Simone and support her well-being both in and out of competition," Kyle Andrew, chief brand officer for Gap's Athleta line, said in the release. "Being the best also means knowing how to take care of yourself. We are inspired by her leadership today and are behind her every step of the way."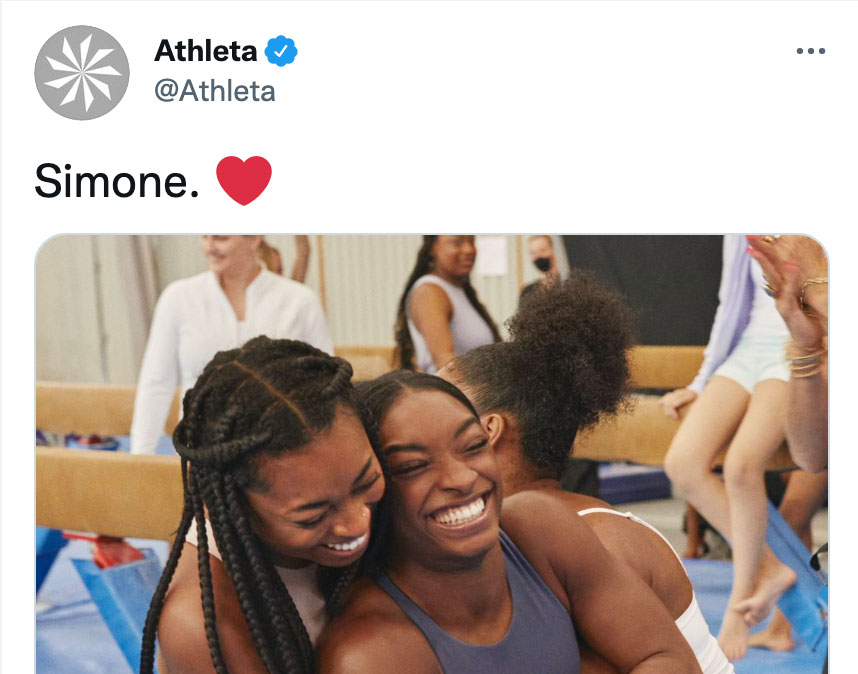 It's like Athleta was her work-wife, followed her to the washroom to wipe away the tears, and said, "I got you."
How to tap into your inner voice.
Exhibit B
Our interview with Casey Schumacher, senior director of design for Athleta.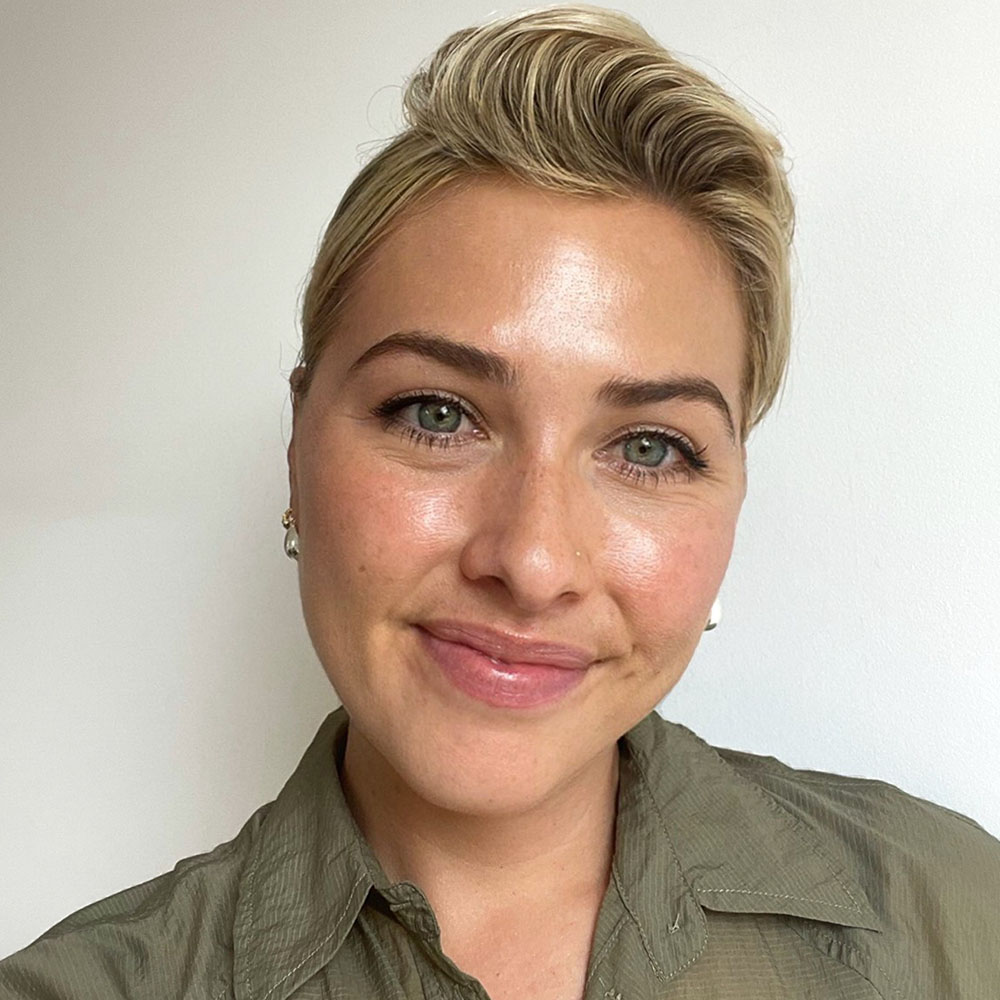 We got the opportunity to chat with her, as Athleta launched in Canada. A store opened in Vancouver, and we now have Canadian-wide shipping (sans international duties). She shares, how as a designer, Athleta's goodness comes from the inside out.
What about the design of Athleta makes it different than other fitness brands? What do you want Athleta to be known for?
"As a purpose-driven brand, Athleta's values are authentic," says Schumacher. She points to the range of clothes with an "inclusive by design" approach that focusses on luxe-feeling fabrics, comfortability, tailored fit and a well-made quality. It's also a B-Certified Corporation, for its inclusivity and sustainability.  "We can be bold. We can also be versatile. The beauty is in the balance."
Where this designer goes when she's in Toronto.
"Designed by women" is a message recognizable by Athleta fans. How does that transfer down to the leggings and sports bras? What are some nuances in the clothes that show that it's designed by women?
"We approach function by being empathetic and curious, which allows us to create solutions for all women in motion," she tells FLEETSTREET. "Working collaboratively as a team of women allows us to really understand customer insights, ideate around solves, and test product ourselves – we take action on what works and what doesn't." And that means that the fit quality is consistent through the range of sizes and shapes for all the collections, from performance to lifestyle clothes.
"We're dressing today as active women," she says. "We demand more of our clothes. As we head back out into the world after a year and a half of elastic waistbands, this is really addressing the transition women are asking for."
I, myself, notice details on a few Athleta pieces I own, like the no-slip trim a workout top and that my sports bra band doesn't dig in or flip up during crunches, and even my one-shoulder sports bra provides more support than I'd expect. "We want all women to experience optimal support in bras, adjustability in waistbands, non-chaffing seams and thread, easy on/off solves, quality materials, and tailored pieces that are cut to allow her to move but feel sharp."
The elastic waistbands you need to embrace rn.
You mentioned size range. What design elements or details do you use for a good fit experience?
"Size range is very important," exclaims Schumacher, adding that the fits go from XXS to 3X. "It's also important that we're authentic and thorough in the creation and development process, as well as how we market our collections to women. Our breadth of product, inclusive shopping experience, and brand DNA set us apart and give Athleta a right to make an impact in this space."
It's also about the shopping experience: "As well, all 5,500 Athleta store employees are bodySTRONG certified. This means that existing and new associates receive mandatory training on inclusive sizing and fit, body positivity, plus identifying and avoiding unconscious bias, to take proactive steps to ensure a positive customer interaction."
Old Navy designer shares what it's like to design athletic wear for a range of body types.
Fit review: Athleta Solace sports bra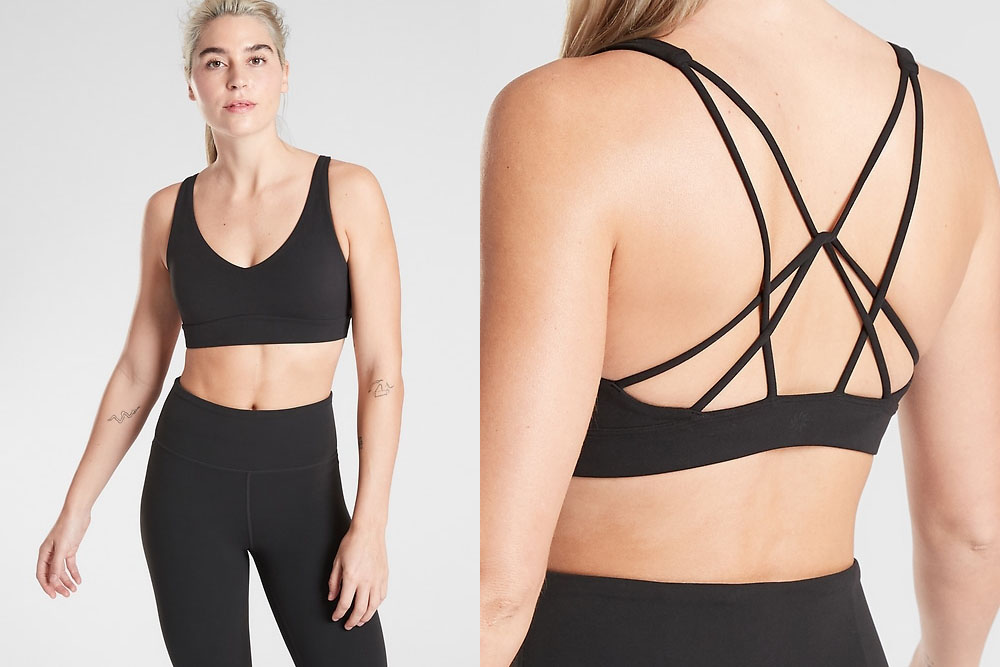 I have more sports bras than any other piece of clothing. With two dresser drawers filled, I have to pat the bras down, just to push the drawers away. I categorize them mentally into two categories: Feels cute/must take off later and comfy enough to wear half a day. Not one is comfortable enough to wear all day. So, my expectations are low when it comes to the comfort of sports bras.
To me, the Athleta Solace sports bra looked typical of a studio, low-impact sports bra – a nice neckline and strappy straps. But I didn't learn its true value until I had unknowingly worn it from 7 a.m. until 10 p.m., a day that included a lunchtime Zoom workout, 10 hours of WFH desk time, a 30-minute sesh on my Peloton bike, as well as hunched over on my laptop until late in the evening.
I didn't have red marks or dents in my skin when I lifted up the straps or bands to inspect the damage. And I realized there, in the mirror, I didn't have to readjust the band from flipping up from floor exercises. I stood in front of the mirror mimicking a standing crunch/roll-down, with my eyes watching the band. It didn't move. It stayed put.
This bra challenged my theory that sports bras had to have wide bands to be comfy. This sports bra is on the the top of the pile in my dresser from now on.