A one-shoulder sports bra is the little black dress of sportswear. It's flattering and always dresses up. It feels special. So special that many women opt to show it off, and not cover it up with a T-shirt. An asymmetrical sports bra "the perfect combination of cute and sexy," to Crazy, Stupid, Love. I mean, I found a scalloped trim bra for this list… But if you've done your fair share of burpees, you know that not all bras are created equal. Some are meant for looking cute at a low-impact workout, like Pilates or barre, which is more than fine. And others are meant to keep stuff in place when you're sprinting on a Peloton Tread. But when it comes to looking good, every one-shoulder sports bra here has that that checked off the do-do list.
Peloton Tread review: Is it worth the money?
Why such a range in function? It all comes down to the design of the sports bra. Some are sweet shelf bras, meant for low or light support. Then there is medium or mid support, with more functional details, like thick non-slip bands and padding inserts (a necessity that can become frustrating, come laundry day). And then for full support, you have the longline asymmetrical sports bra, with its mid to high front rise and longer bodice, sometimes even hitting the waist. But above all, for a balanced look, a well-made one-shoulder bra has good compression where you feel your mid-body moves together when you jump or run.
In my research, looking for the best sports bras, I've found that not every brand offers this asymmetrical style. And those that do, most carry light support. It usually says so on the tag, but you can tell based on how well the stretch snaps, and the thickness of straps and the chest band. Mid/medium to full support offers more coverage (higher up top and/or on the bottom), sometimes moulded shape and a strong stretch that you know won't let you move.
Definitely try on the one-shoulder bra if you can. All bodies are different, and so are sports bras.
Workout pants that don't roll down – you're so very welcome.
Want faster access to the different types of support? Just tap and read.
One-shoulder sports bras with light/low support
Lightweight and more style than function, these sports bras are for holding in place with straightforward movements. You could wear this every day or to low-impact workouts classes, like walking, barre, Pilates and indoor cycling, if it doesn't have a lot of seat jumps.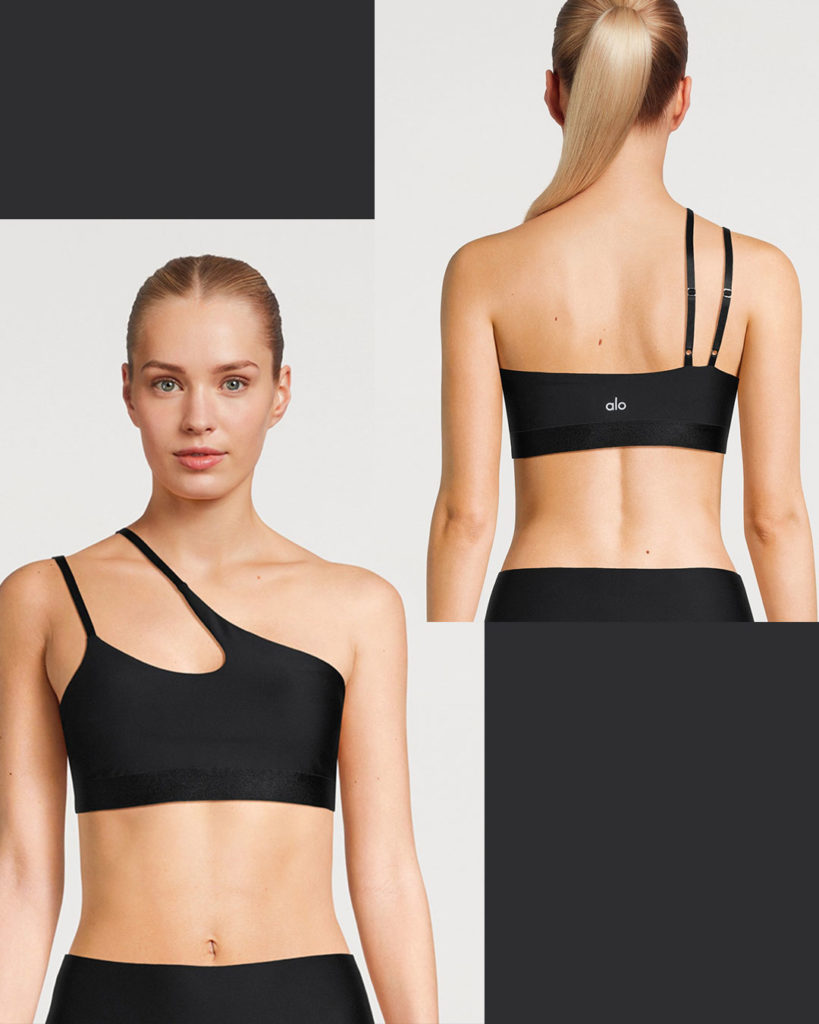 The function is right there in the name: It's a going out top! But if that's not how you roll (maybe you're like me and roll into bed around 10), then its other function is a low-impact workout. The two spaghetti straps are adjustable in the back just like your everyday bra, with chrome apex adjusters (that metal part that slides to change the length of the strap). We love the bit of shine to the polyester and spandex blend fabric. According to ALO, this fits true to size.
ALO Moves HIIT Flow review: Christa Janine sneaks power into 30-minute yoga workouts.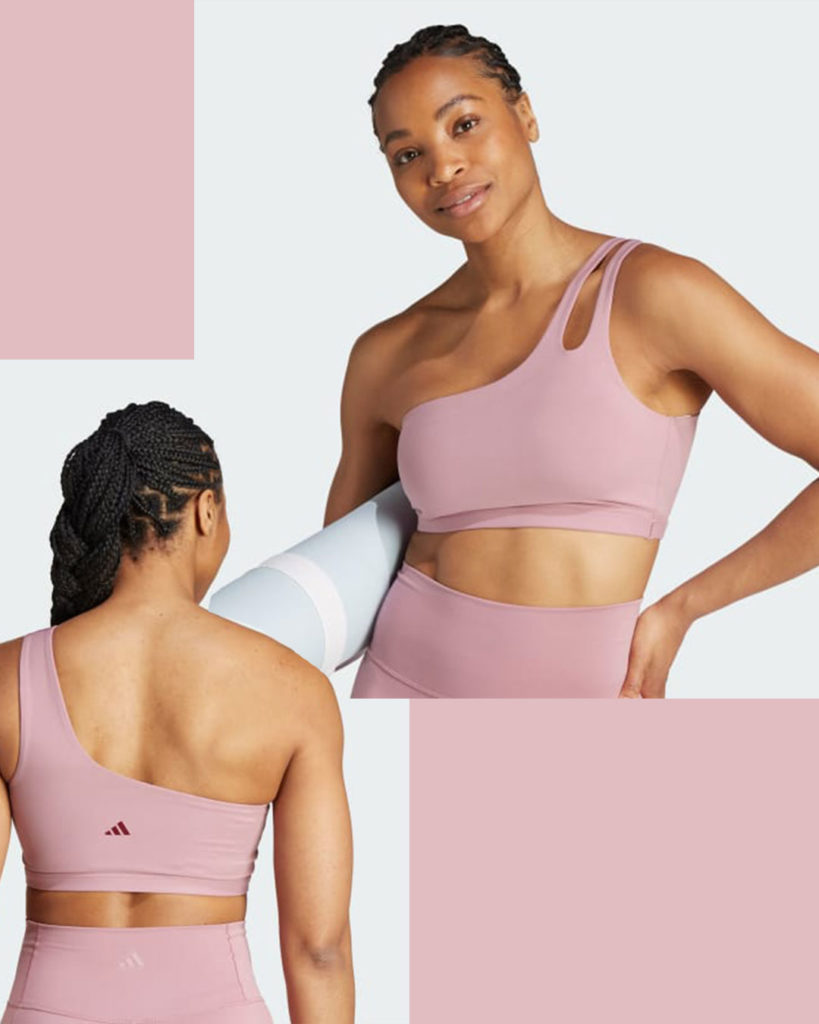 Adidas took the lightweight style and gave it full coverage. We love the cute cutout detail in the single shoulder strap, which is deceivingly supportive, thanks to the strap width and chest band. It's made of recycled polyester (79%) and elastane for a compression fit. The padding is removable, too. And how pretty is this colour.
I did a two-week Pilates challenge–and here's how it changed my body.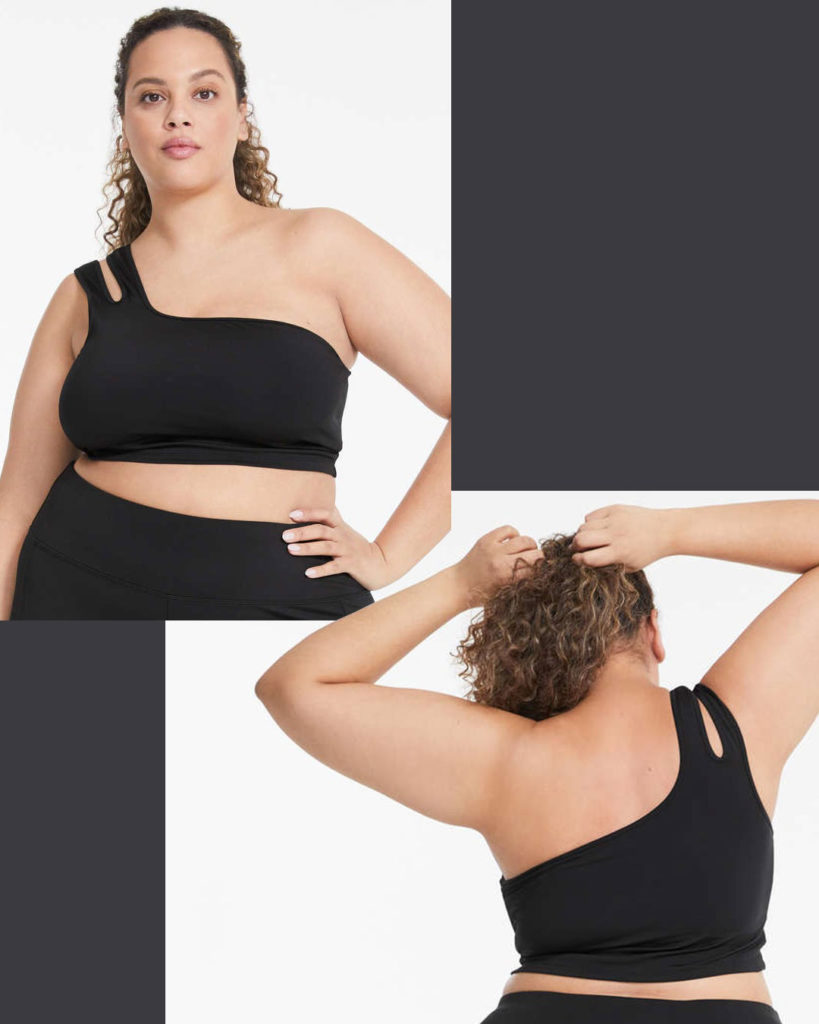 How fun is this one-shoulder design? Made with a double-knit four-way stretch, it has a spandex lining and a recycled polyester blend shell. The pads are removable too. The single strap features a cutout running from the front to the back. Sizes range from XS to 3X.
The monochromatic sneakers and running shoes your workout wardrobe needs.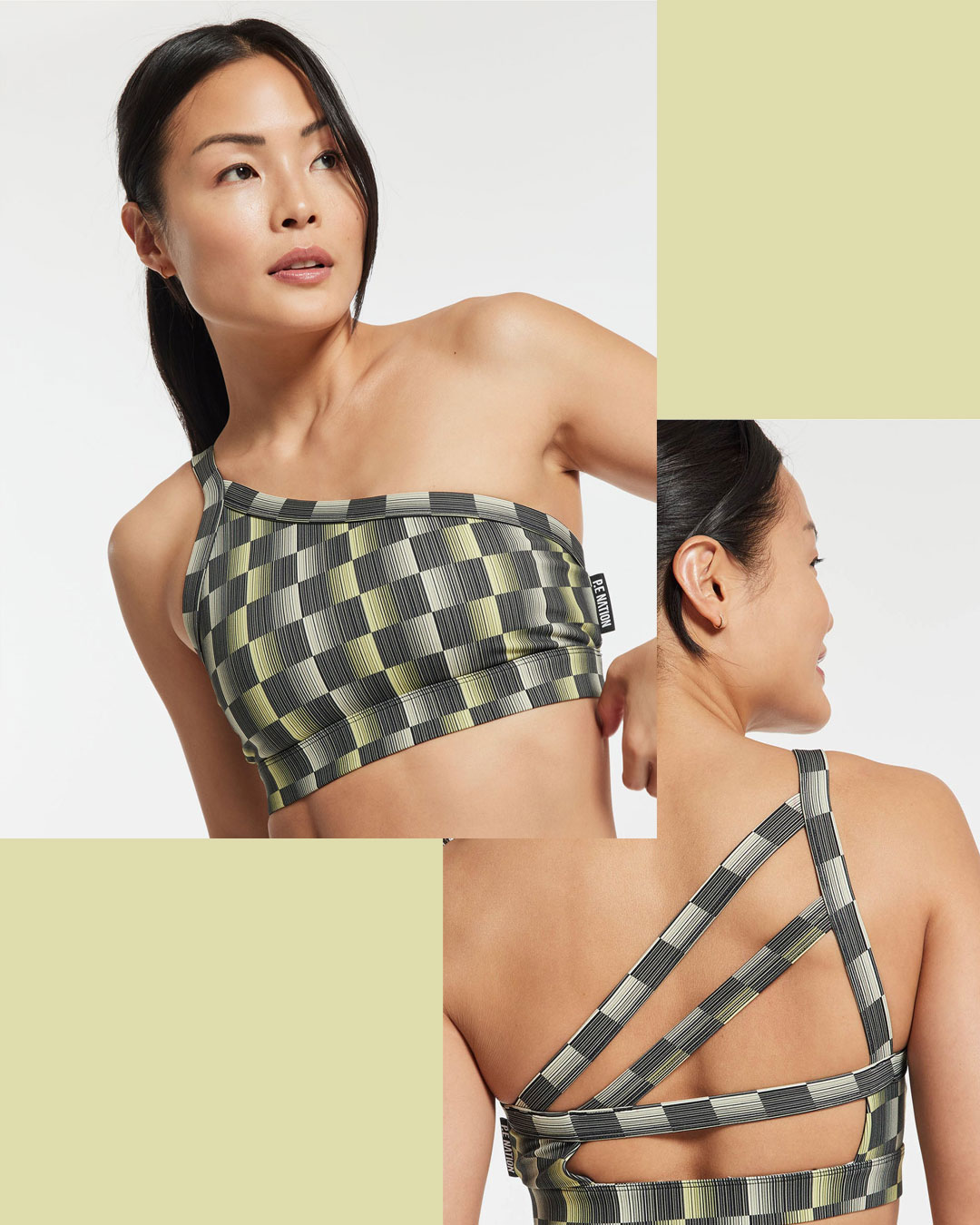 Bandier is a fashion-forward athletic brand, so it's no wonder they would take the classic asymmetrical design and flip it on its digital pattern, multi-strap head. Made with a recycled-nylon and elastane blend, the bonded straps promise to stay put for low impact activity (consider your risk with burpess, ladies). The finish is matte, and pads are removable. While we're picturing these with our favourite black leggings, imagine how cut these would be with a pair of flared jeans.
I did 50 burpees a day for 30 Days—& here's what happened.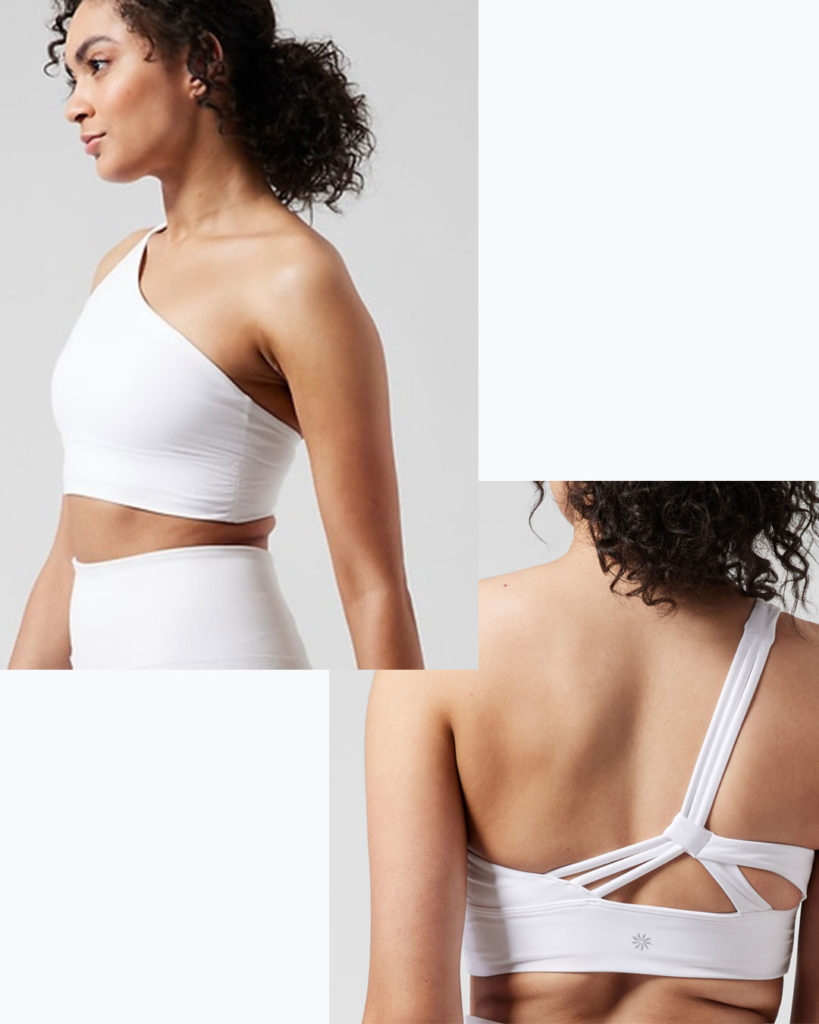 For those that want a bra that not only moves with them but allows them to be flexible and stretch, they'll appreciate the back of this one-shoulder bra. It's like a net that shifts as you move through your flows. The front is quite high, and I've worn it to many types of workouts, but it's recommended for low-impact workouts, like yoga, barre and Pilates. (However, I've worn it for a trampoline workout and survived it comfortably.) It has that soft feel you'd expect from Athleta, but has a compression fit – that's because of the nylon-lycra blend.
Behind Athleta's design, the pockets are deep.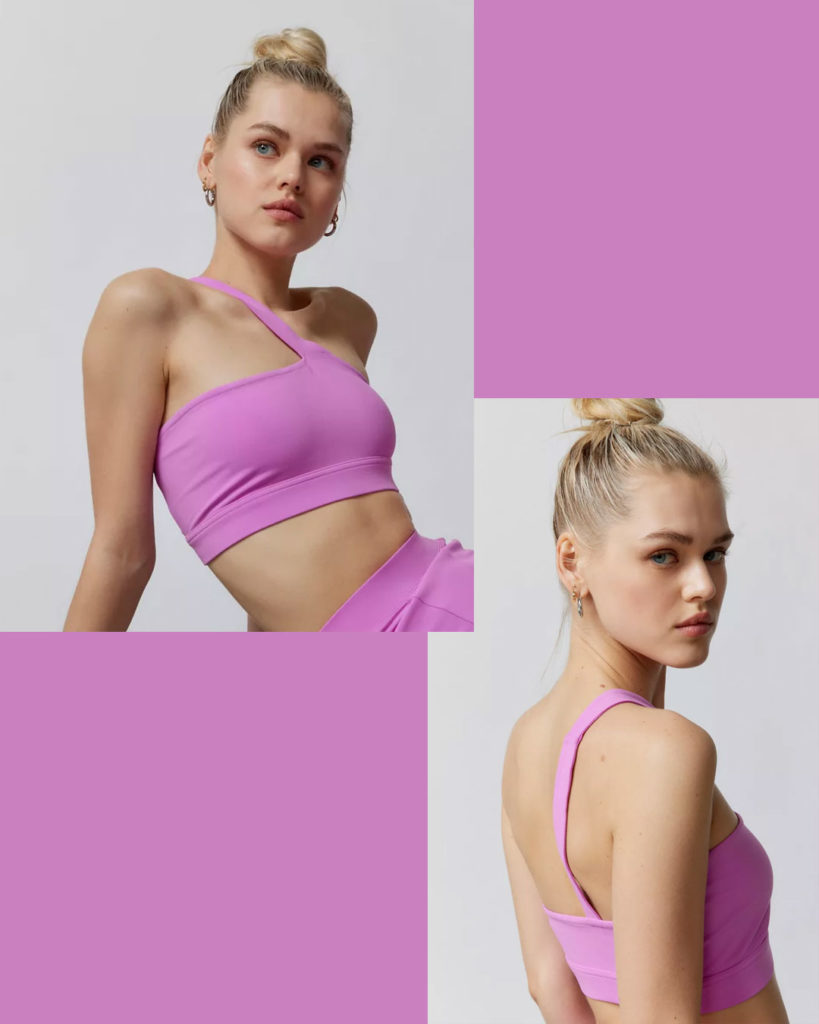 Love how the strap of this asymmetrical bra top crosses the suprasternal notch of the neck. It's a subtle design detail that elevates the already stylish style of bra. Add the Barbie pink, and it notches another trend. This one is also made of recycled polyester, as well as spandex for a compression fit.
The cute elastic waist pants you need to embrace (and no, they're not sweats).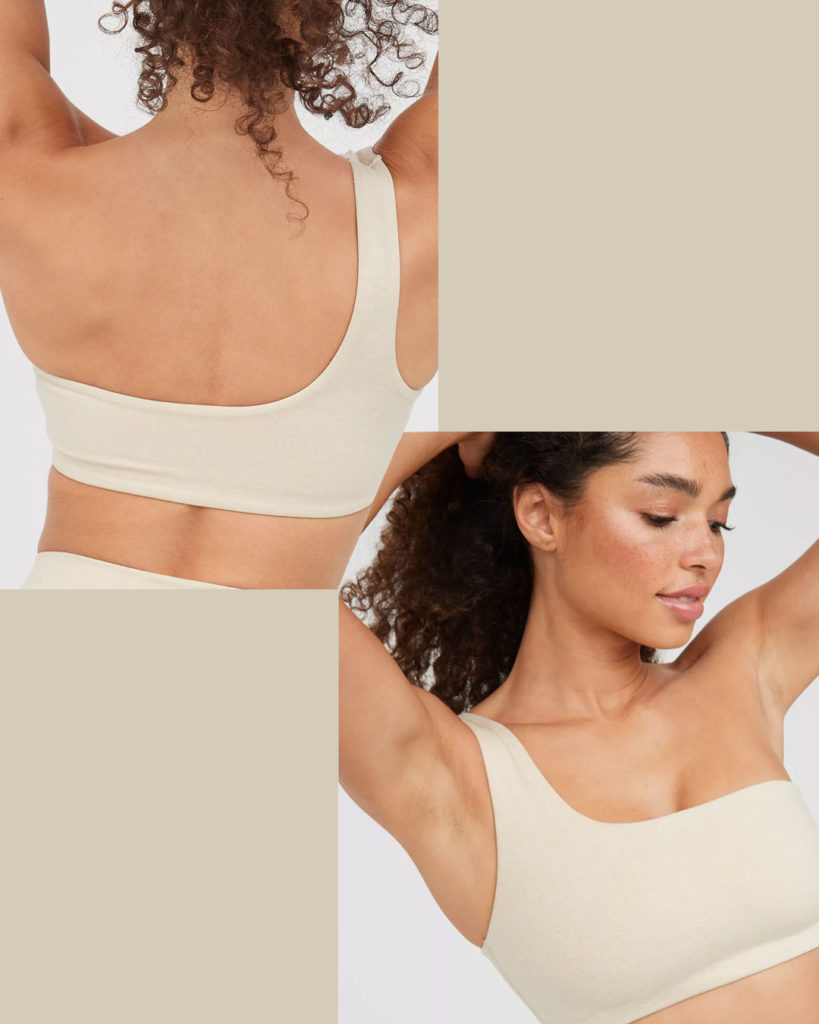 This is the ultimate in comfort, thanks to the brushed fabric that's oh-so-soft. It looks like what a zen yoga or meditation class would require students to wear. Plus, you'll be comfortable knowing the polyester is recycled (along with elastane for support) and has removable pads. Brings new meaning to "breathe easy."
I did a two-month meditation challenge—here's how it changed me.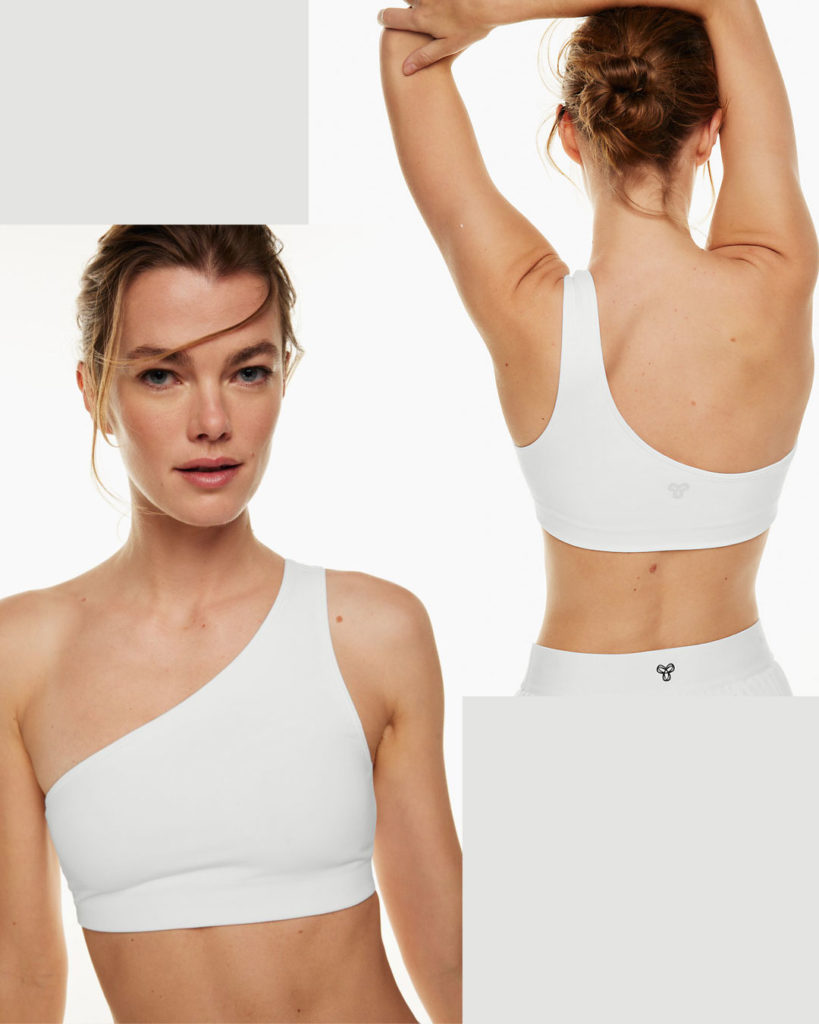 This asymmetrical one-shoulder sports bra hugs the body for support. And while the nylon and elastane make up the bra, the lining is made of polyamide and elastane, it feels cottony soft. The pads simply slide in and out of the shelf bra. And the white looks so expensive and clean. Thankfully it's easy to wash. Just toss it into the wash with your other workout clothes on a gentle cold cycle (or performance wear, if your washing machine offers it).
How to clean your exercise mat, boxing gloves, running shoes and other stank stuff.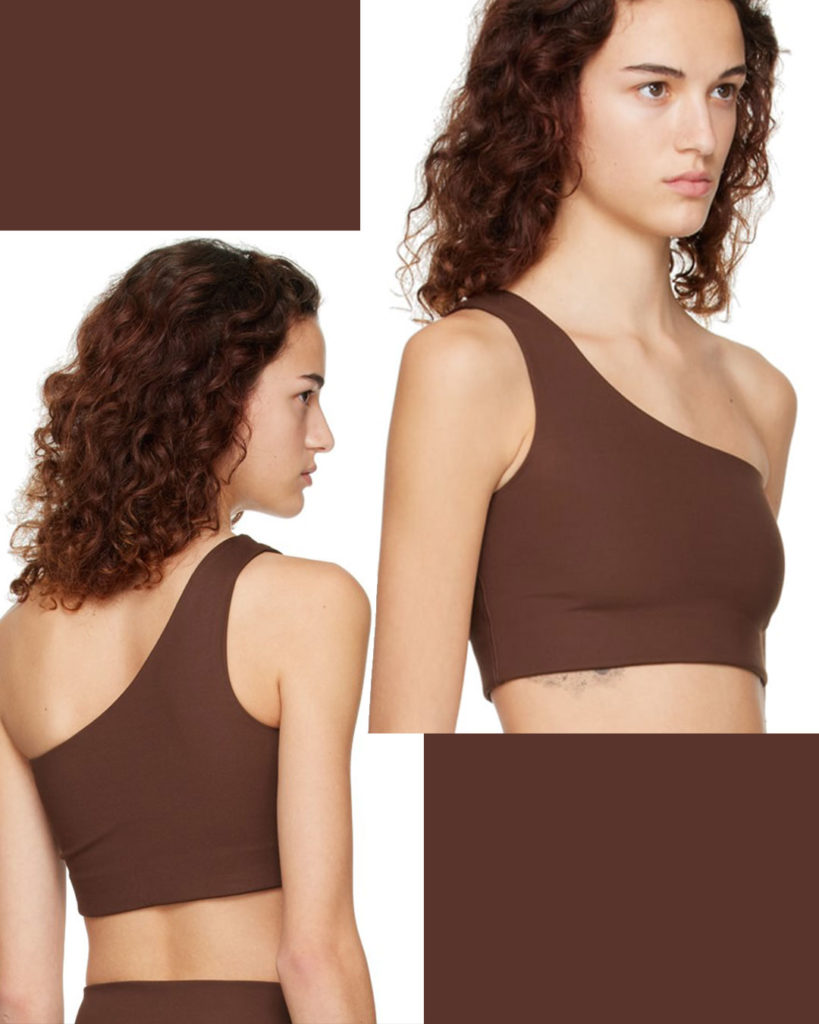 The cut gives this one-shoulder sports bra its support, which you can see with the single thick strap and long body. But what makes this a light support bra for low-impact activities is its so-soft jersey knit (yes, just like what's in the most comfortable dress in your closet). Made of a recycled polyester blend, this bra is fully lined and has elasticized hems. Plus, this brown shade is just begging to be added to your workout wardrobe capsule.
Fitness capsule wardrobe—never think about what to wear to the gym again.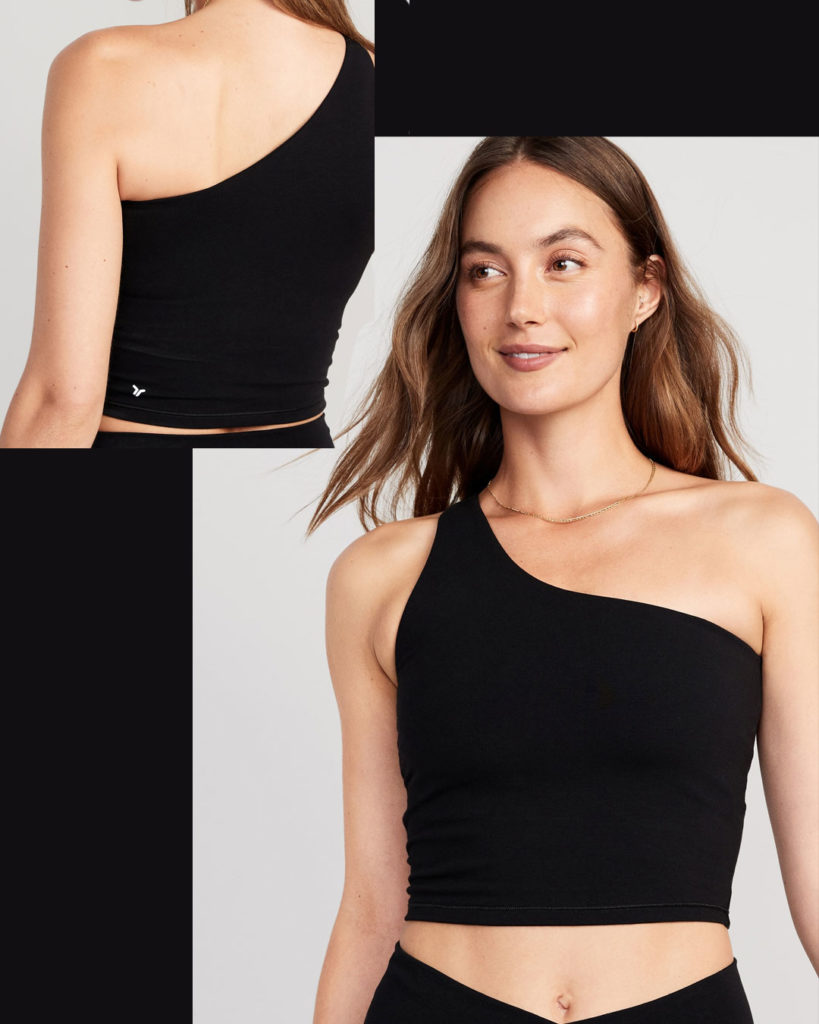 Part tank, part sports bra, this is perfect for a flow or restorative yoga class. It's comfortability lies in the tucked-in body, high neckline (thank you downward dog), and shelf bra with removable cups. Suitable for yoga, dance, Pilates and barre classes and for A to C cups.
Preloved Fitness wear: The active duo behind the seams.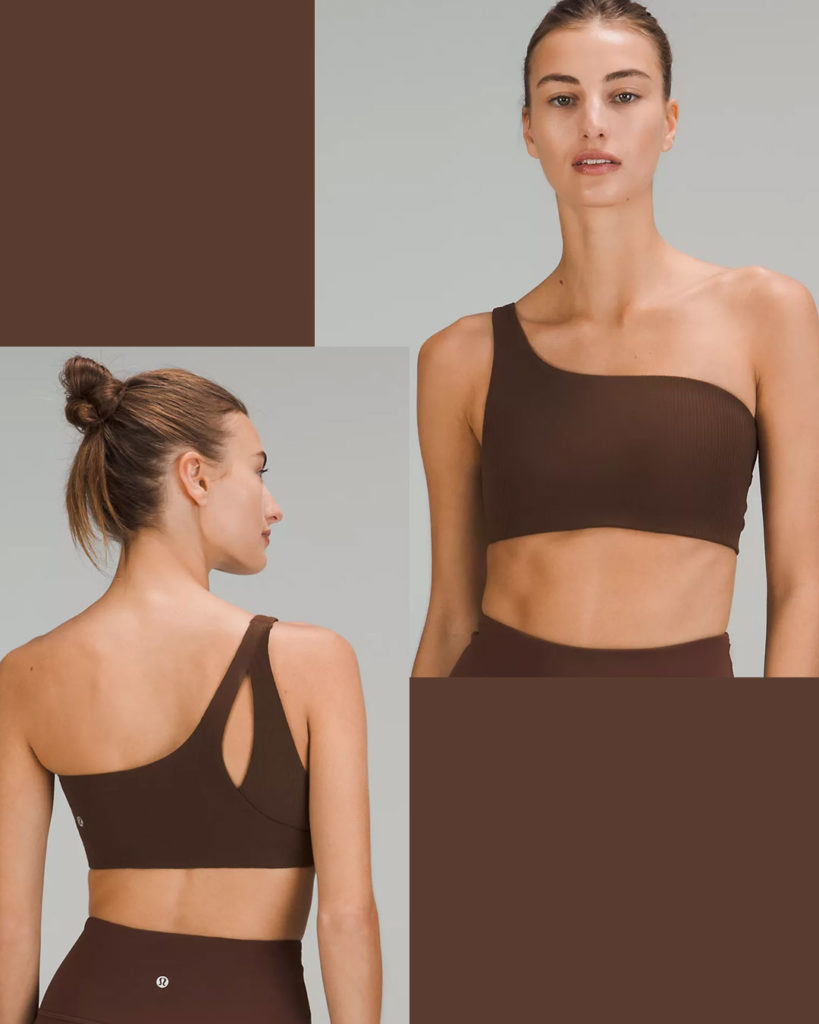 Well, this is different… a keyhole in the back!? Lululemon always knows how to surprise. But there are things you know to expect with the brand, including a yoga-focus design, removable pads, soft fabric and always stylish. The ribbed knit feels amazing to the touch. It's only available in A- and B-cup sizes.
Fit date: We sent two single strangers to yoga—will they go with the flow?
Brazilian designer Camila Coelho designed this asymmetrical sports bra that blends two qualities she loves: boldness and strength. She designs her pieces to be danced in. Unpadded and made of recycled nylon and spandex, it features a ribbed chest band that's not meant to budge – whether your sambaing or moving through flows.
The stressed-out newbie's guide to meditation.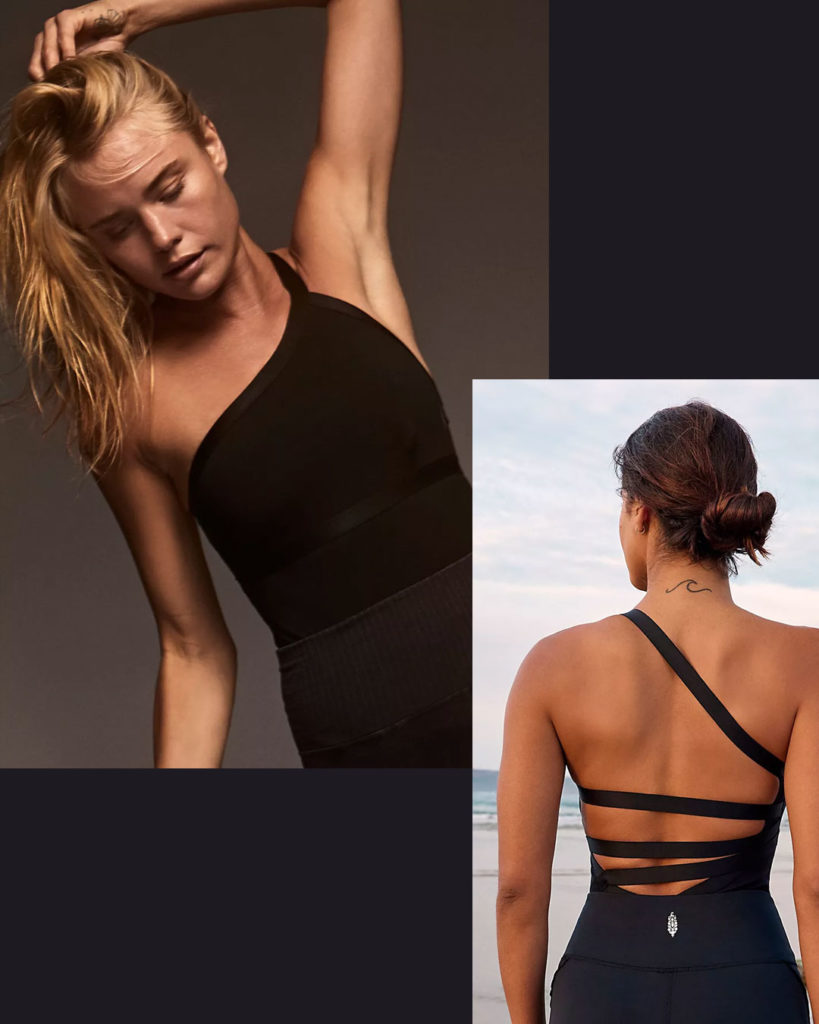 This is the dress of athletic wear: You have one decision on what to wear. Deciding to work out is a tougher choice. It not only supports the ladies, but the entire bodysuit is form lifting, thanks to its nylon-elastane blend fabric. We would keep this to yoga (not hot yoga though). A sports bra is enough to take off after a sweaty workout, let alone an entire unitard. Ha!
Peloton Barre review: It's not your typical barre class by any stretch or plié.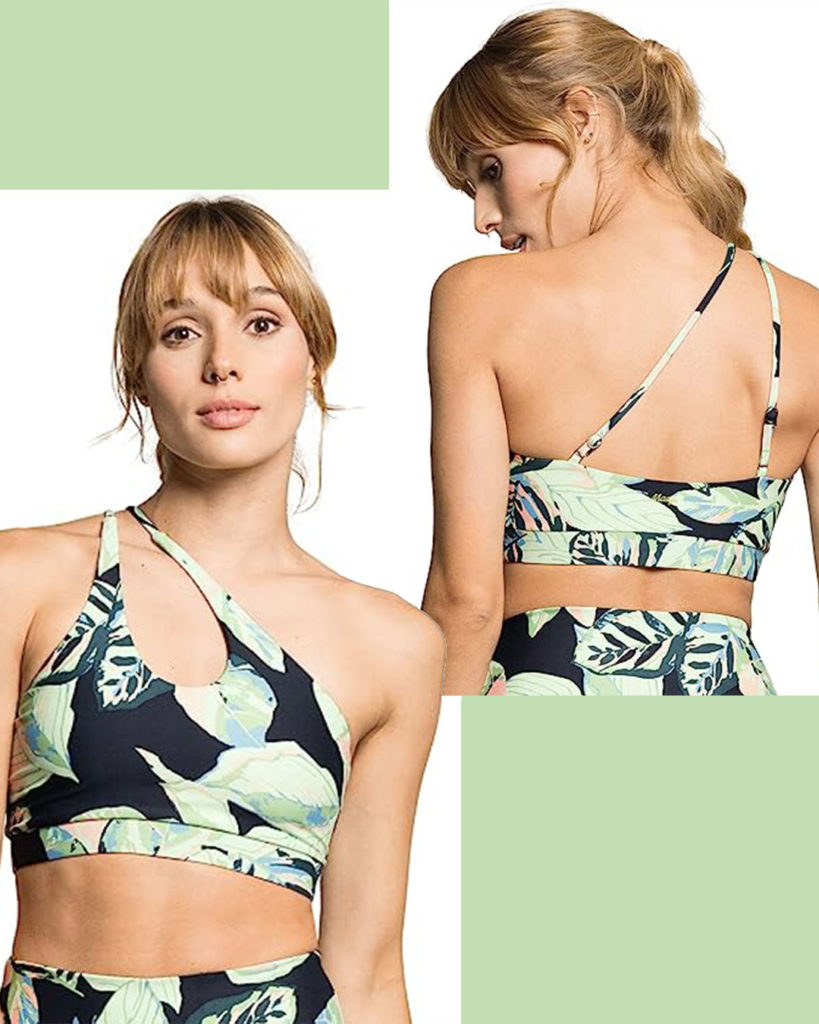 This print looks as refreshing as a mojito on a hot day. The deep key-hole cut-out you see… that's actually two straps (which are adjustable btw), so it can be worn like an asymmetrical sports bra or with two straps the regular way. How fun. The polyester-spandex knit and thick chest strap are what give you light support, perfect for low-impact fitness activities. Know, though, that this is hand-wash only.
Detox teas and liver cleanses: Scam or a sure thing?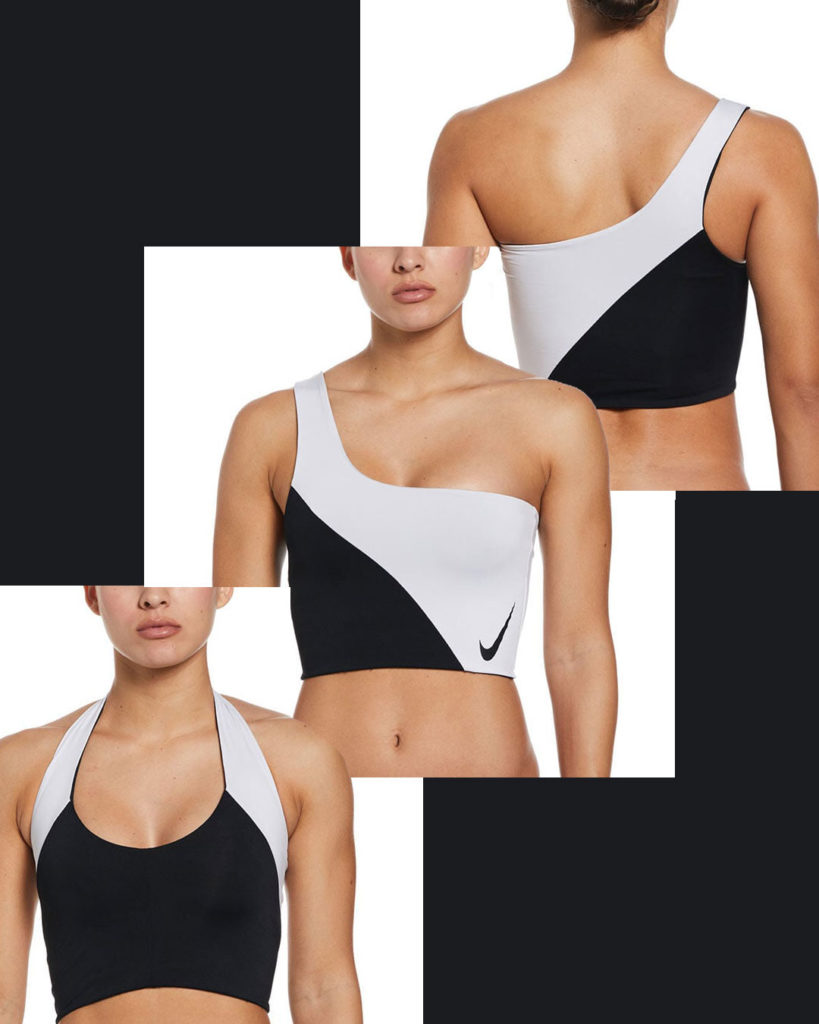 Halter or one-shoulder? That depends on how you wear this Nike top, and you can even decide which shoulder you want the strap to sit on. That's ingenious! Lined for low-impact water activities, the bra is made of recycled polyester and spandex soft jersey.
Hidden dangers of summer workouts.
Medium support one-shoulder sports bras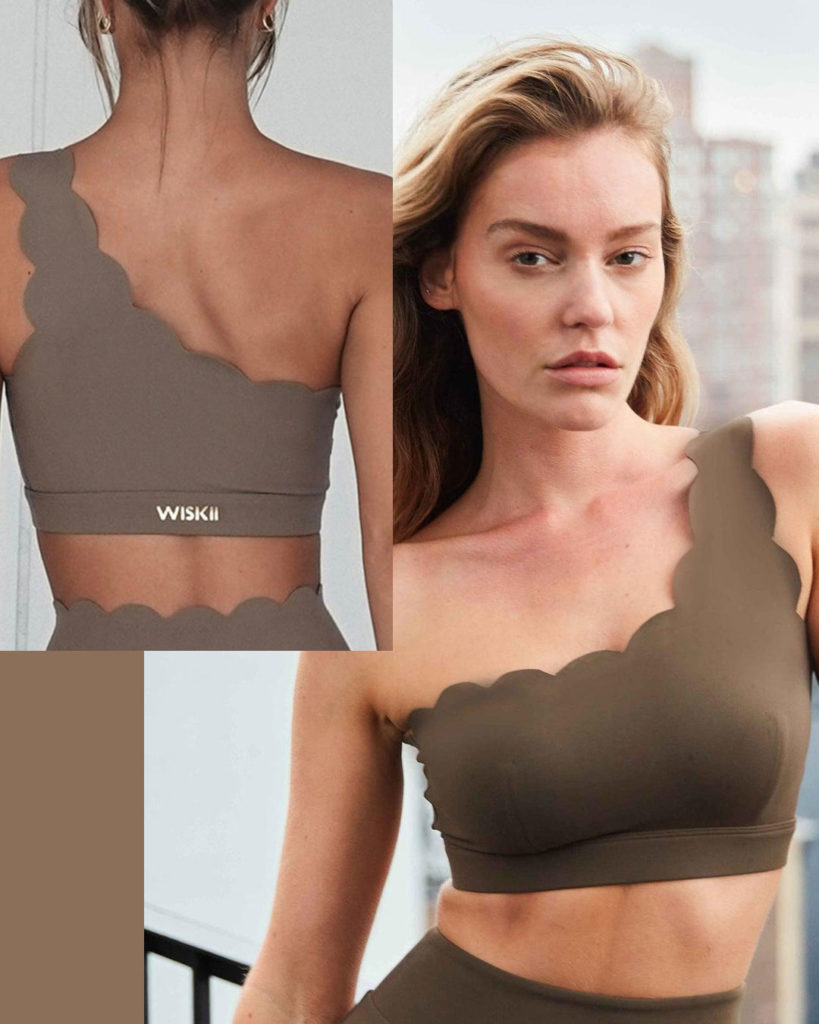 How adorable is this? The large scalloped trim is feminine and pretty, but the four-way stretch, flat dart fit and thick chest band makes it functional, too. We like that it comes in 11 colours, and not just the expected black. It's unexpected that something so fashion-forward would have such a pretty design and be able to handle its way through a boot camp.
One dress for 10 days? Challenge accepted!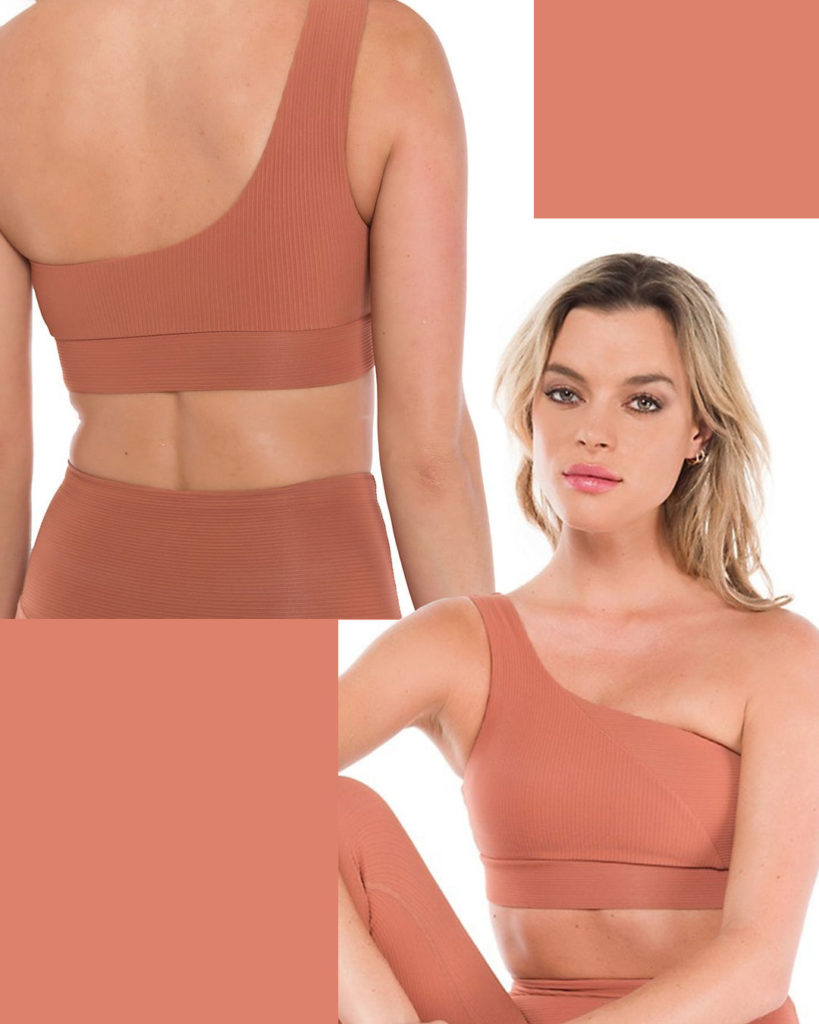 The ribbed fabric makes this asymmetrical sports bra stand out. You can tell it's designed well, based on the well-fitting panelling and the thread direction across the top and on the chest band. Smart, right? And according to the website, this supportive garment is good for "perfect for tennis, golf, lacrosse, badminton, pickleball, running, outdoors, sports, activities, hiking and shopping." A sports bra for shopping? There you have it, it does count as exercise.
Trinny Woodall visits Canada and leaves us with comfy style and gorge skin advice.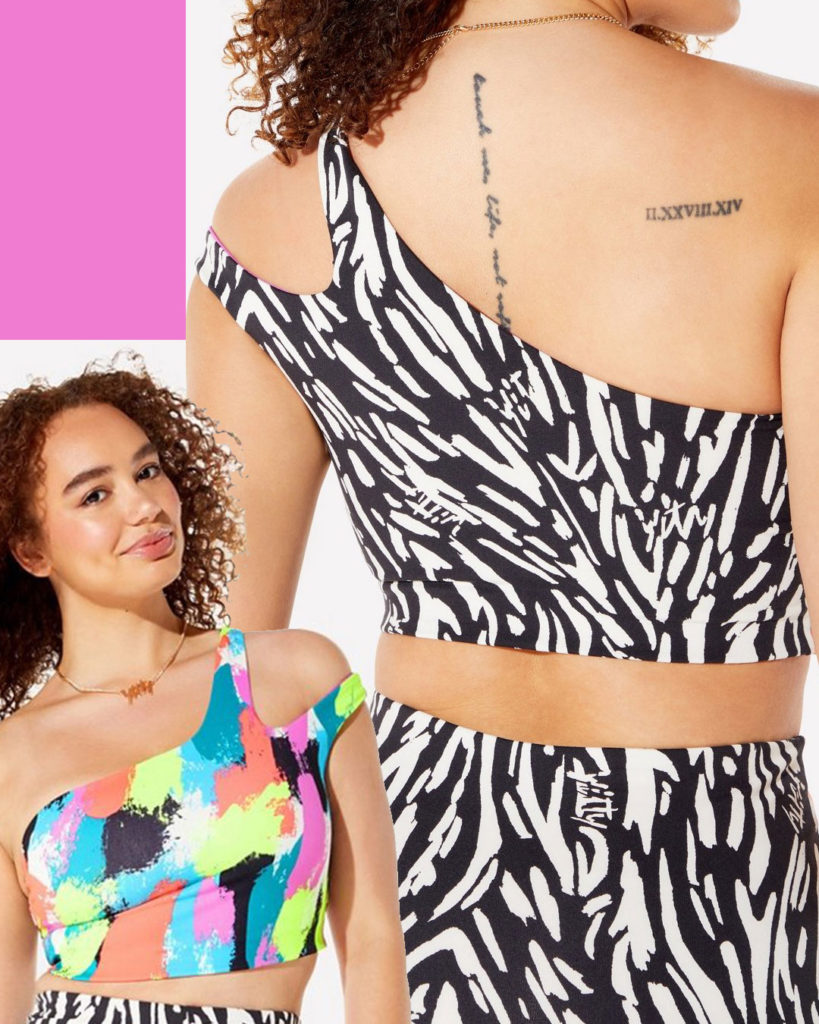 A stylish asymmetrical bra that you can style? Yes, please. Just widen the double straps on one shoulder. And there's more creativity, too. The front and back have two different patterns: paint splashes on the front and zebra print on the back. It's like a double-party mullet of a bra. But here's what you don't see: medium-support compression, back smoothing panel made of recycled polyester and elastane, breathable fabric with four-way stretch and built-in support (no looking for removable pads with this one).
The essential packing list for your next vacation.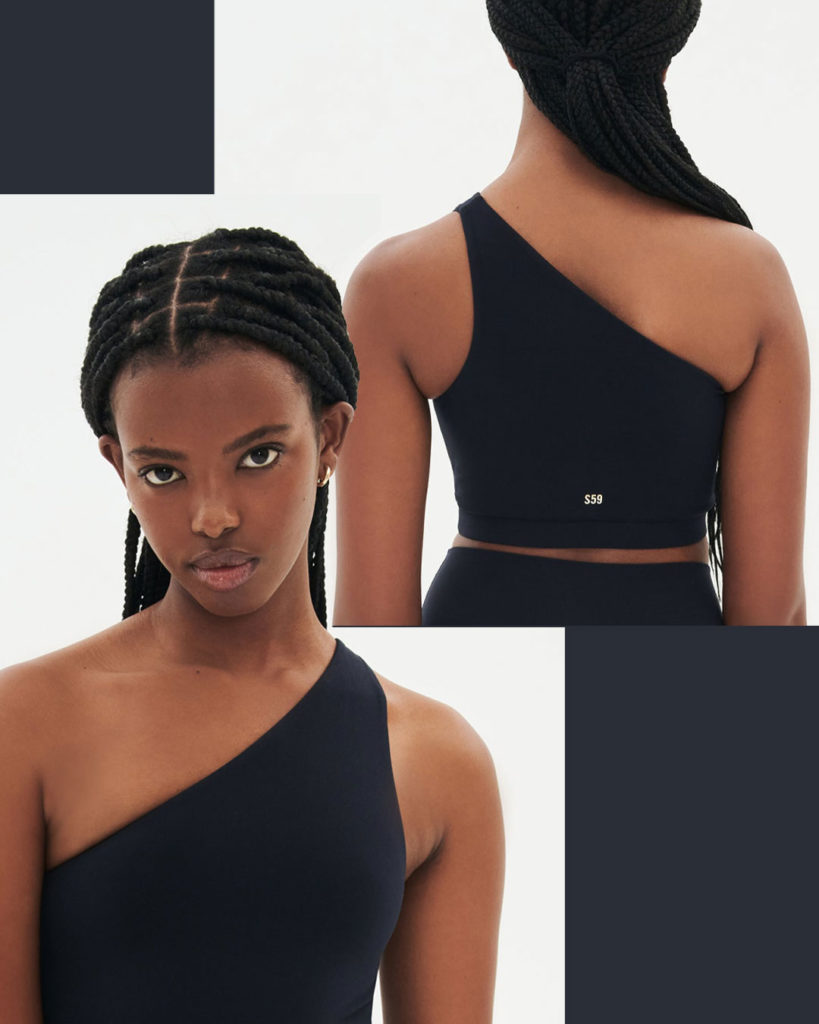 The design with its longline and wide band looks supportive, but it's the fabric that is deceivingly light. Its super soft hand feels like you're not wearing anything. Which is kind of a mind mindscrew, really. But the nylon and spandex have your back… er, rather your front.
Top bronzers: Our go-to prods for sun-kissed skin.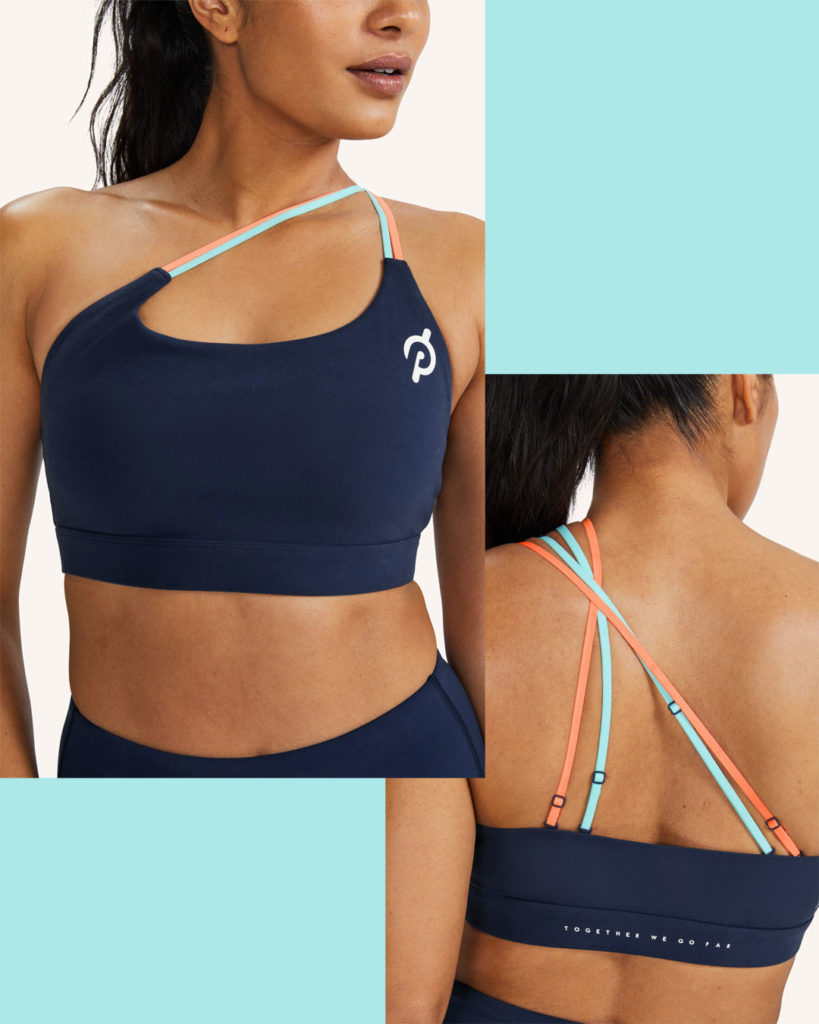 Love us a convertible bra. This one has four straps that can be worn many ways, including – you guessed it – as a one-shoulder bra. The tri-colour way, metal apex adjusters, and four straps give this mid-compression, polyester-elastane sports bra that something-something that makes getting dressed for a workout motivating. Of course, Peloton recommends it be worn with workouts you can do using its app, including biking, rowing, strength training and yoga. Sizes go from XS up to 3X.
How to advance your fitness with the Peloton dashboard.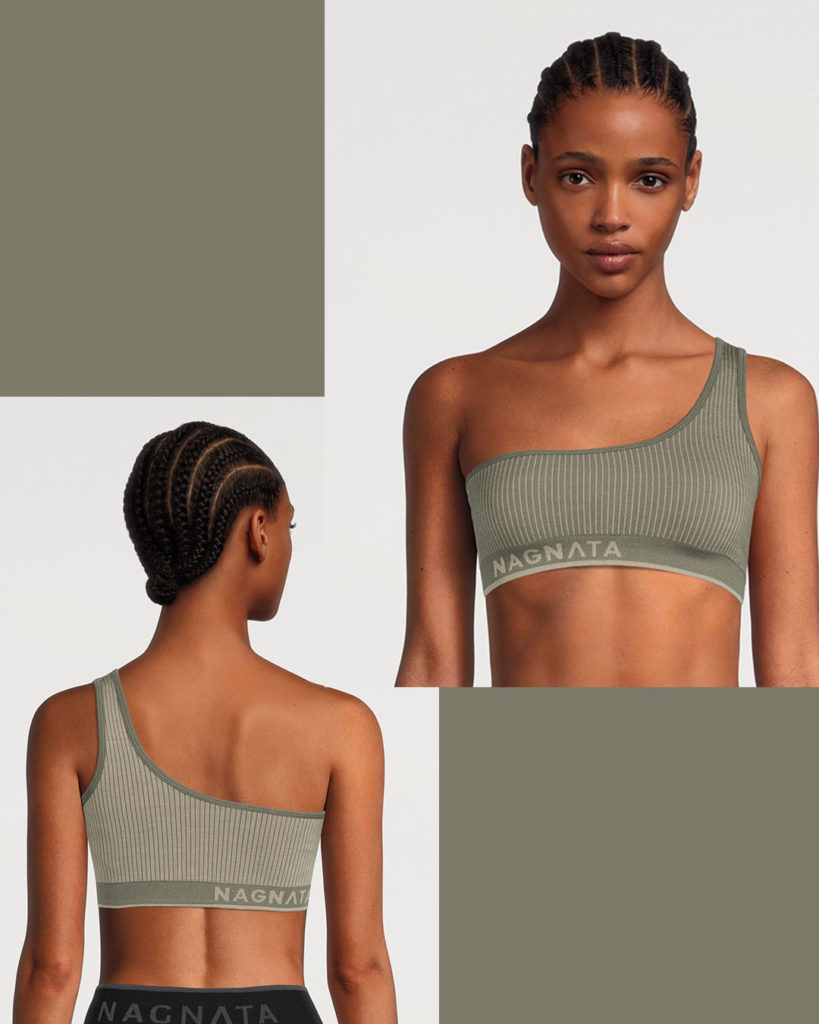 Here is something you might not expect… this asymmetrical sports bra is made of wool. YES, WOOL – 69% Merino wool, 28% polyester and 3% elastane. Created with a circular motion knit, the snug compression fit features with a two-tone rib look, and uses silicone jelly tape used in the underarm areas to help it stay put as you move. It can work for hot workouts and medium-impact activity. And we love that it's RWS certified, meaning the wool comes from progressive farms that take measures to respect land and animal welfare.
Let's make some Noize for a vegan brand.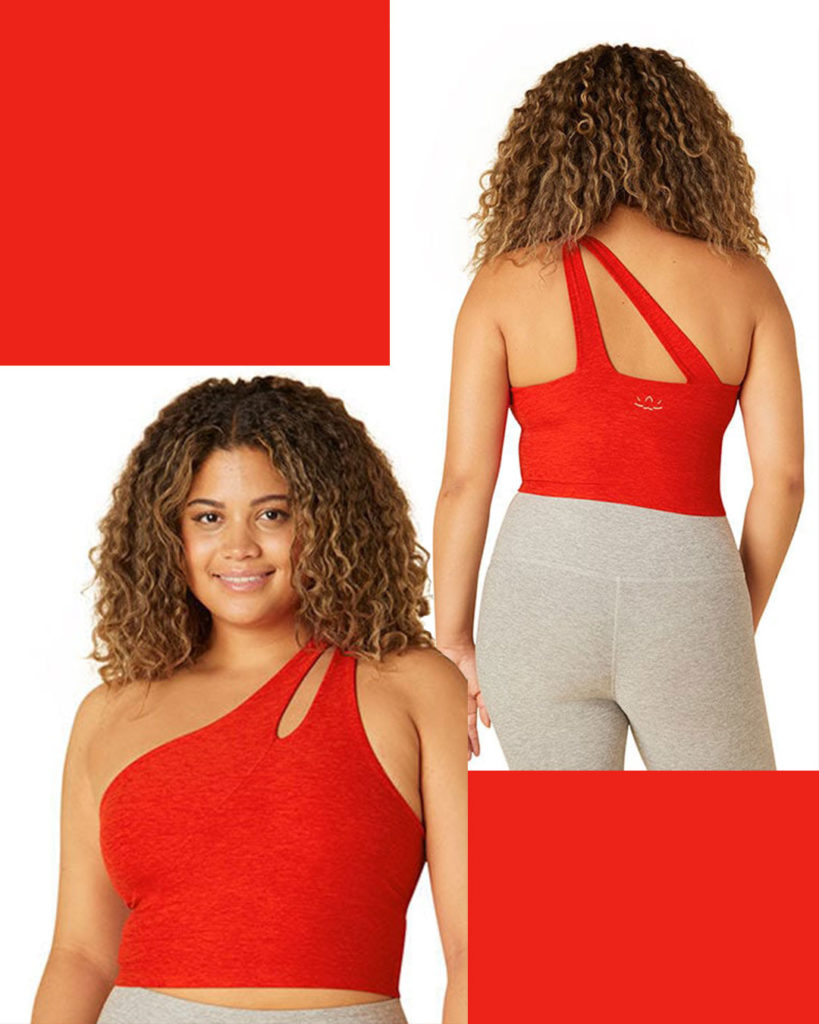 They may not see you coming, but they'll love to watch you leave. Just look at the dramatic back strap that supports both sides. If you love the coverage, you'll love the height across the neckline and the cropped tank style. Made of polyester and lycra, it offers four-way stretch and lots of support.
From sports bras to inspirational quotes: Azur Fit founder Erin Ward-Williams talks creativity in fitness.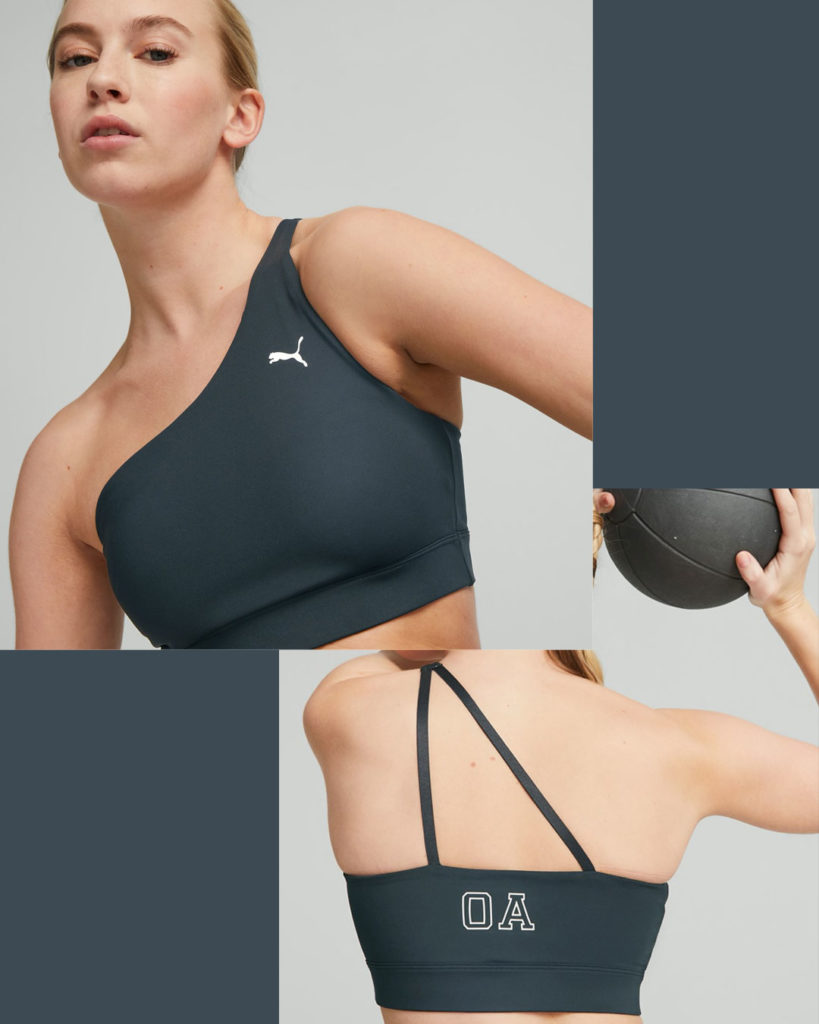 Usually, the more coverage and support you need the thicker the fabric, but not with this single-shoulder sports bra design. Puma used its Ellavate fabric for sheer coverage for mega movement. It does come with removable pads and is made of a polyester-elastane blend for a tight fit. And you may recognize the OA branding if you are a Peloton fan. Olivia Amato teaches bike, tread and strength training on the app.
What is the Peloton Guide? Should Canadians add to cart?
Full-support one-shoulder sports bras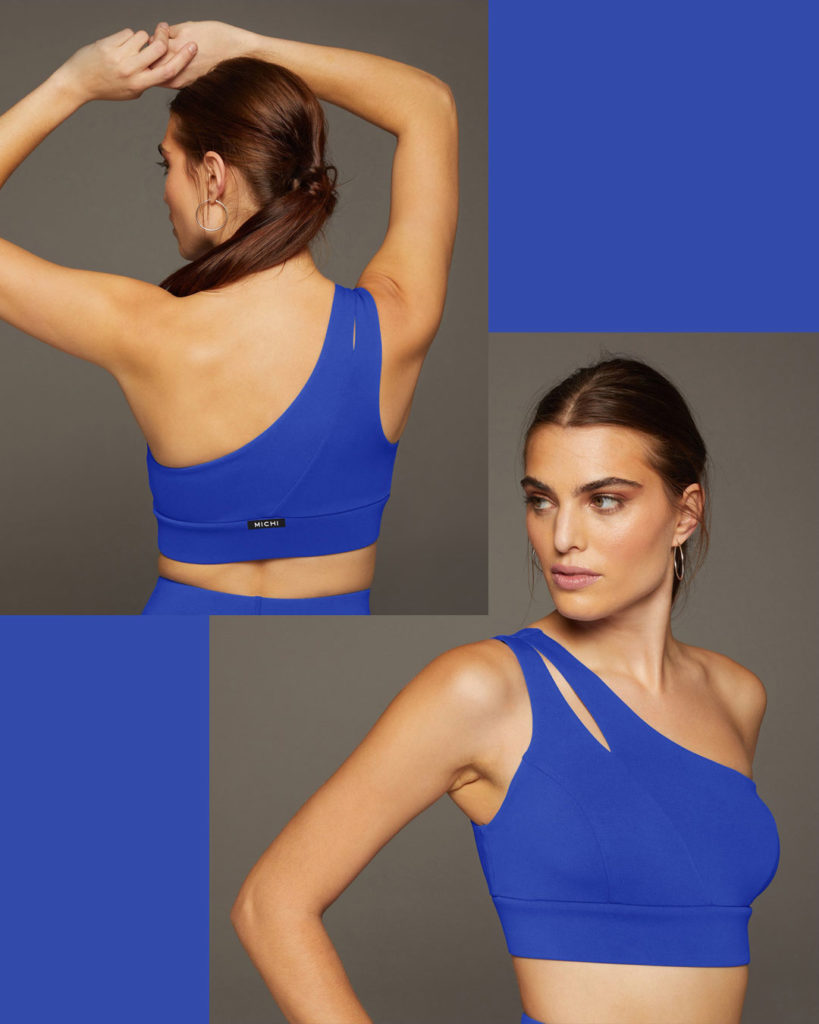 What makes this made-in-Canada sports bra a standout among the keyhole one-shoulder looks? Where it sits on the body and the trim. High under the arms and held up with the thickest chest band on this list of best one-shoulder sports bras. Impressive, right? It has a well-tailored fit, and you can see the extra-supportive shaped panels if you look up close. This was the first asymmetrical sports bra we tried that convinced us it wasn't just a barre look. You can also wear it outside. The nylon-spandex fabric is sustainable and Oeko-Tex certified and offers UV protection.
Michi designer Michelle Watson's favourite places in Toronto and NYC.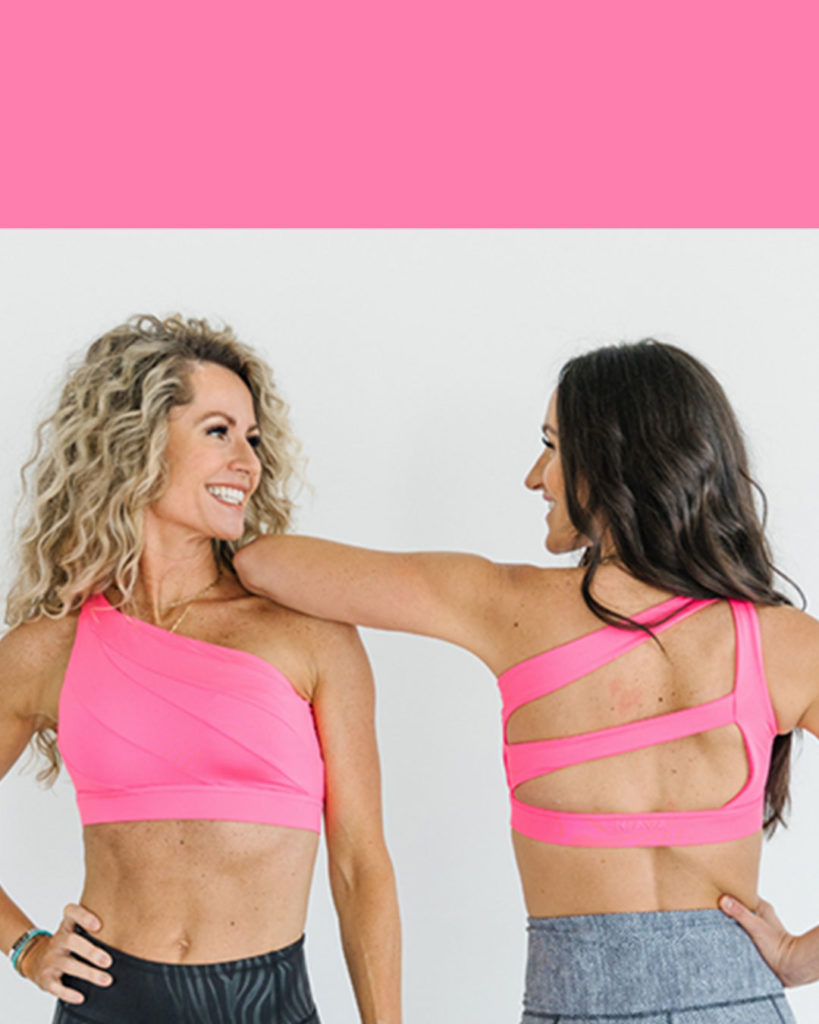 This high-impact, full-support asymmetrical bra has the most interesting back design, which gives a sense of how it holds up. Three broad straps stretch across the back and multiple panels in the front give its hold-in-tight shape. It comes in five colours, including this hot pink hue. Sizes range from XS to XXL.