To the uninspired, fitness can just be a bunch of squats, curls and jumps, possibly arranged in a different way every class. But to those with a passion for the fitness arts (yes, I'm calling it that!), there's lots of creativity to be found – and it's not just about the 'gram either. Azur Fit Founder Erin Ward-Williams says the space is bursting with innovation and expression. In fact, to work in the industry, you need to be creative, she says. 
"As a former yoga teacher, I can say that trainers and instructors definitely need to get creative with their programming to accommodate and connect with a diverse range of clientele and athletic abilities," she says. "Keeping fitness fun and accessible, yet challenging takes some thinking outside the box."
Yes!—25 one-shoulder sport bras, sorted by support.
Fitness is very, very trend-driven, actually. That's evident from the body building celebs (ahem, Ah-nold) from the '70s, high-cut bodysuits from the '80s, supermodel-led fitness VHS tapes from the '90s, the mass spread of yoga and CrossFit in the '00s, boutique fitness studios in the '10s, and the virtual and on-demand classes we enjoy at home today.  
Moving from the yoga room to the design room may have been a career switch, but it's just an extension of Ward-Williams as a creative force. "For me, inspiration comes from staying consistent and seeing results in whatever it is that I'm working towards," she says. As for the designs for the Canadian fitness line Azur Fit: "I often look to other industries for inspiration as well. Following trends in spaces like the interior design or the beauty industry always allows me to step back and see the fitness and fashion industries with a new lens and fresh eyes. I love a good Pinterest board or physical mood board as well. We always have a life size mood board going in the Azur Fit office to keep the team on track."
Here is what is keeping Ward-Williams on her creative toes: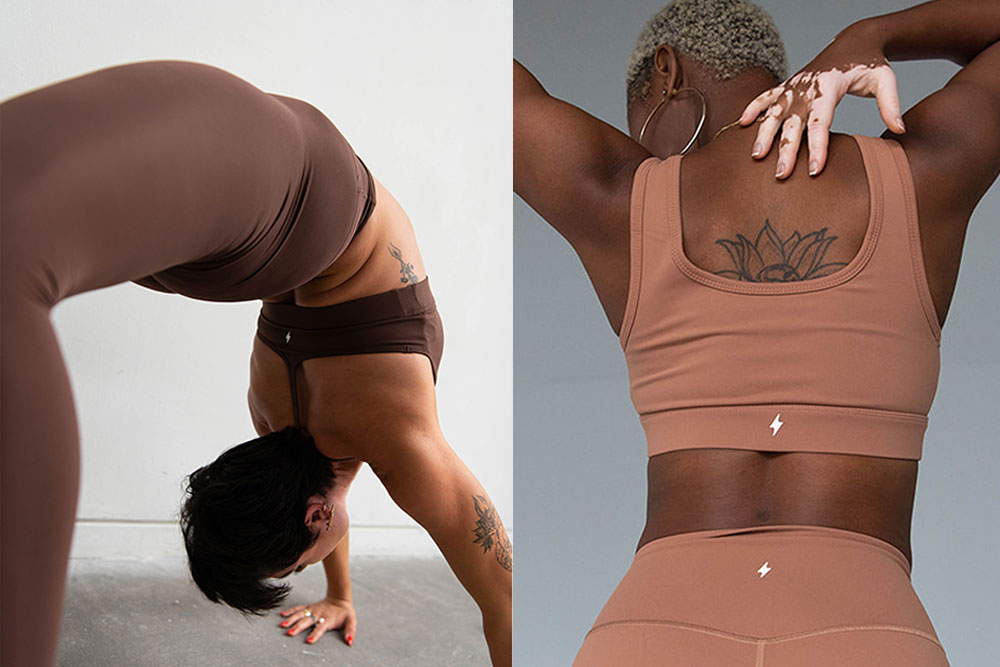 Favourite trends right now
"Fashionwise, I love a good matching set and coordinated look in the gym. Feeling put together for a workout is something I find keeps me motivated and excited to workout. That being said, minimalism is my go-to. Neutral colours or simple muted tones keep the look sleek and not too showy. I can also appreciate an aesthetic studio or gym setting to inspire a good workout and healthy lifestyle. There's nothing more exciting than getting to the gym and feeling special in a well designed space." 
The fitness trends you cannot ignore this year.
Most creative fitness studios 
"Something I love to see in a studio is community. I think that community is really something that sets gyms apart, and creating a strong community is something that takes a lot of effort and dedication. A studio that implements community building events, has a common space for members to connect or grab a coffee, and operates on a personal first name basis, is my kind of studio."
BARRIE: Athletic Kulture
154 Reid Dr, 705-725-8128, athletickulture.com
NEWMARKET: Functions Yoga 
16655 Yonge Street, Unit 202, 905-953-9392, functionstudiosinc.com
TORONTO: Sweat and Tonic 
225 Yonge Street, 647-372-0225, sweatandtonic.com
"I don't currently follow any specific programs but my go to workout is weight lifting, focusing on maintaining and growing muscle definition with progressive overload."
Ever done three workouts in a row? We did – at Sweat and Tonic.
Best workout songs for creative inspiration
"For yoga, anything with chill beats, like artists such as Shallou, Petit Biscuit and Sol Rising. For weight lifting, it's hip hop and rap, like Megan Thee Stallion, Drake and Cardi B. For cardio, this is not a song but I love a good podcast to keep me inspired. Some Favorites are Life With Marianna Hewitt, Gary Vee and Jay Shetty.
Most creative city
"LA, for sure. I spent some time in Los Angeles continuing my education as a yoga teacher, and the city is really the mecca for fitness and living an active lifestyle."
Favourite innovative restaurant
TORONTO: Planta
180 Queen Street West, 647-348-7000, plantarestaurants.com
"I really love Planta in Toronto, specifically the Queen St location. I think they do such a great job with flavor and presentation while keeping it plant based. I highly recommend the brussel sprouts and Bang Bang Broccoli.
Three Canadian cookbooks that will inspire you.
Go-to quotes for inspiration
"Perfect is good but done is better."
– unknown
"Insecurity is loud, confidence is quiet."
– Jane Curnow, fitness trainer
"Go the extra mile. It's never crowded there."
– Dr. Wayne Dyer, author and speaker
Find Ward-Williams on Instagram and TikTok as @erinndubs.
---
This profile of Azur Fit founder Erin Ward-Williams is part of the FLEETSTREET's series Street Meet, where we meet up with trailblazers and thought leaders to deliver unique insight and inspiration into issues we all care about.