This plant-based meat review is part of Street Smarts, FLEETSTREET's series where we, with an unvarnished eye, explore the *who, what, where, when and why* of new products – from fitness gear to health gadgets to beauty creams.
As someone who's not a huge meat eater (I'll opt for a cauliflower steak over any loin) and a fan of the drive-thru (yes, I'll have fries with that!), I never minded the lentils in my burger patty. Instead, I was skeptical of spongey brown patties that tasted more like burnt tea than charbroiled meat. I should say that I'm not a vegetarian. I always choose a dish I think will be tastier, have better texture and make me feel good. Unless of course I've already negotiated a bloated evening on the couch as a treat for myself. (Don't judge, you do it, too.) But when the Beyond Meat burger showed up at A&W a few years ago, I still went about seven kilometres off my route home from work to try it. 
The New York Times tagged these fake meat patties, from the likes of food producers Beyond Meat, Impossible Foods, Tyson and Perdue, as the "next generation" of vegan foods. They weren't just made of plants, but they looked and tasted like real red meat. And within three measly years, the segment has grown up, so to speak. The market has moved beyond the "Uncle Burger" and is elbowing its way into other meat markets, with nearly indistinguishable substitutes for sausage, ground beef, meatballs and more becoming commonplace on mainstream grocery store shelves.
Is fake meat any good?
Yes! Like all fast food, yes! And food science suggest a fast-food ingredient we've come to love and loathe may be the reason it tastes so damn good: Salt. 
Dr. Frank Hu, chair of the department of nutrition at Harvard University, tells The Nutrition Source: "Although Beyond Meat and Impossible burger patties contain zero cholesterol, are lower in total and saturated fat than a beef burger patty, and similar in protein and calories as a beef burger patty, they are both higher in sodium. […] There is no existing evidence to substantiate whether these nutrient differences alone offer any significant health benefit as a replacement." To be honest, I suspected the last part. Processed food is processed food. 
Hu says that the meat-like flavour in some products, particularly from Impossible Foods, comes from heme, made from fermenting soy plant roots. And if you take iron supplements you might recognize this molecule. The more heme, the more it tastes and looks like authentic meat. Beyond Meat, adds Hu, is more about the structure of the meat and the composition of fat and minerals. And pomegranate powder and beet juice give it that "bloody" red colour.
The fake meat taste test
Lisa's pick: Best plant-based meat pizza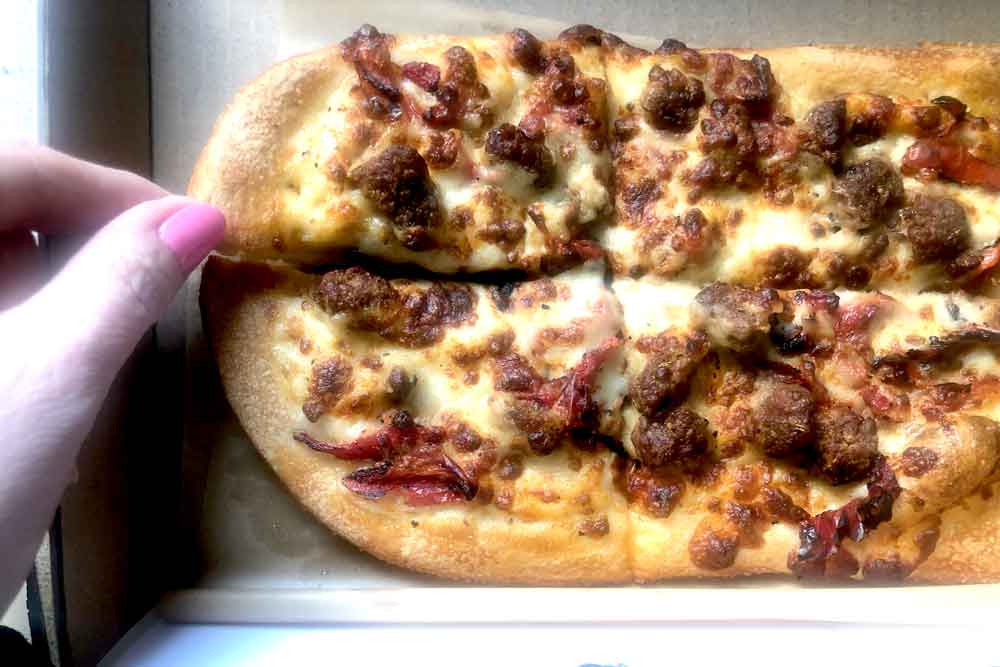 This is decadent. And if you're thinking this is a healthy treat, think again. This is a commitment to indulgence. I opted for the flatbread instead of the pizza or pasta, thinking it would be a light treat. Not so. Made with the Beyond Meat Italian Sausage crumble, the flatbread was also dressed with roasted red pepper, creamy alfredo sauce and mozzarella cheese. It's hearty, filling with its gooey cheese. One small two-by-three-inch piece satiated me as if I ate two or three slices of 'za. My dad had the pasta, and he was none the wiser that it was faux meat. But what about the faux meat? The texture is good with a Goldilocks hit of tender and crispy tops from being cooked in a pizza over. After reading how Beyond Meat mimics the texture of meat by nailing the fat content, I have an aha moment. Fat – that's what we want from a cheat meal anyways, right?
Note: Not available at all Pizza Hut locations.
Beth's pick: Best taco stuffing
If Taco Tuesday is a thing at your house, and you're over the fast-food options on your favourite app, maybe it's time to check out some cook-at-home options. That's how I discovered The Very Good Butchers. My priorities for eating plant-based meats are taste and texture, and this B.C. company known for "butchering beans" delivers both. So now we stuff our shells with their Very Good Taco Stuffer. The mixture is navy bean based, spliced with Mexican spices. It cooks up nicely and crumbles like the real thing. The mix also works on nachos and pizza, because why should tacos take all the glory? If you live outside of BC, plan ahead, because all purchases are online-only.
Courtney's pick: Best anything topper
I haven't eaten meat for over five years now. And even before that, I never ate much of it. All that to say: I know my way around vegetarian products and I'm very picky about them. So, I was pleasantly surprised when I stumbled upon this marinated jackfruit. It has a pulled-pork-like texture, is pre-marinated and basically ups the flavour of your meal with very little effort. My favourite is the barbecue flavour, or I use the plain version and spice it myself. I add this to tacos, stirfry, nachos, sandwiches and could honestly probably just eat it on its own. I also like that it's basically just jackfruit and the spices/marinade ingredients, making it pretty unprocessed, but still a great stand-in for restaurant food.