Anyone who's been to a group fitness class knows that body size, type or weight are not an accurate indicator of physical fitness. The only visible way to know if someone will crush a workout is if you go often enough to notice that they go often, too. Why wouldn't athletic wear designers seem to have the same wisdom as a spin-class regular? It's no secret that women's athletic apparel can limit the fit, function, quality (and simple existence) of clothing to just three sizes – small, medium and large. And mass retailer Old Navy wants to change that with its Bodequality fitness line. It comes in sizes XS to 4X and 0 to 30. (Old Navy is owned by Gap Inc., which also owns female-focused fitness line Athleta, which is new to Canada this month. It also has a wide-range of fits, too.)
I connected with Lisa Sim, the brand's design director of women's and girls' activewear. She revealed the process of creating a full-range of sizes, why trends aren't limited by size and how fitness inclusivity will continue to evolve.
This women's fitness brand treats its athletes the best.
Why range matters for activewear design
I had to ask about her personal quest for creating fitness clothes for a wider range of body types.
"Having accessibility to activewear that can move with you throughout any activity and throughout the day should be accessible to women of all sizes," says Sim, who never mentions the words "plus-size". "The beauty of activewear is that it's clothing made to function, first and foremost."
She explains that the nature of designing active is placing that function, and the customer, at the core. "[We are] asking ourselves what problems we are solving." What's more, Sim thinks that a sign of great style is feeling good in your body – "and that should be available to all women."
It took two years to prepare for the launch of Bodequality, focussing on what she calls "fit equity." (And no, it's not wordplay on "sweat equity.") It's about levelling the playing field in terms of the fit experience across all sizes. "What this meant for activewear specifically was that we looked at things like the internal construction of our waistbands on our leggings and strap widths on our bras for larger sizes," she says. (Check out these one-shoulder sports bras.) "Larger sizes require different proportions and componentry to offer the same level of comfort across the size spectrum."
Ballerina and actor Kylie Jefferson shares where she finds strength and how jewellery embodies that for her.
What trends have to do with inclusive athleticwear
As a design director, Sim sees it as her job to problem solve through clothes. One of those problems: The lack of fashion-forward clothes for larger sized bodies. Fashion trends are not size-specific, says Sim. "It may seem like seem so because we tend to see trends only a certain type of body," she says.
Old Navy partnered with the University of Oregon in 2018 to change its entire technical design process, reports Fast Company. It involved scanning 389 women to create "3-D avatars" as fit models for the design patterns. It meant restructuring the manufacturing process for a completely new sizing system.
Sims says: "Having read thousands of customer reviews and working with fit models across the size spectrum, we've learned that everyone wants trends – or at least the option to play into trend – regardless of [their] size."
Too many shoes to count? Here's how to organize them all – and show them off at the same time!
Why it feels good to design for all types of bodies
"It's inspiring and motivating to design activewear for all women," says Sim of the full collection. "Fashion has often been an exclusive arena; and in particular, technical fashion activewear has largely been attributed to aspirational brands."
Entering the fitness wear game with a lens that sees everyone's experience, it's something Old Navy supports, says Sim. "I think we've upped our game and really stood behind that statement by making activewear accessible to all. And it's not just fashion but offering trend in combination with technical, performance qualities that will support you throughout any activity."
The secret to all your favourite activewear items
Bodequality is all featured around Old Navy's technical fabric, Powersoft. It's a lightweight, soft interlock knit compression material (think: Spanx or Skims but more mobility).
"Powersoft has been a game-changer for our business and assortment," admits Sim. "The development of this fabric came from listening to our customers, asking them about all the activities they did in their leggings, and what their definition of the perfect legging was. Powersoft offers coverage as you bend and squat, while also offering incredible stretch in every direction. And the fabric is finished using a special brushing technique, so it feels incredible on your body. It has just the right amount of hold so you feel supported yet still comfortable enough to wear all day. We've designed everything from leggings to bras to joggers and dresses in this incredible fabric."
The power of intuition: Discover how to tap into your inner voice (it's easier than you think!)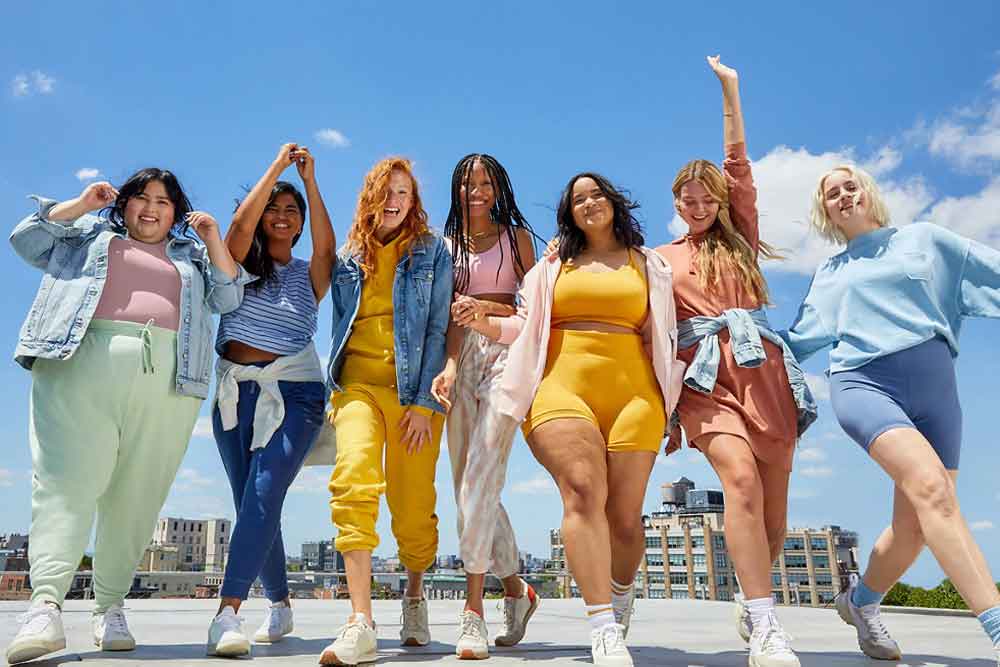 How the industry will evolve fitness fashion–inclusivity goals, beyond the gym
For Sim, Bodequality is about accessibility. "It means feeling seen and not left on the margins because of your size. It means seeing not just you but greater diversity of sizes represented in-store and online." She points out that it's also a full range of leggings, sports bras, jackets, tanks and tees, too.
And fitness inclusivity isn't just about activewear. Sims says the next step is to redefine "exercise" and broadening its accessibility. "Traditionally exercise has meant joining a gym, buying an exercise bike or taking a class," she says. "The price of getting in shape has often been steep. There is an opportunity to bring greater awareness to the accessibility of exercise through taking a lunchtime walk, visiting a public park, going on an urban hike, or signing up at your local community centre. 
What else is coming our way? Sim is a bit hush-hush, but she does hint that there is more to come with the womenswear active category. "A design innovation that I'm particularly proud of is coming next year," she says. "We have partnered closely with our vendors to unlock new technology that a year ago didn't exist in a size inclusive way, that will deliver on ultimate comfort and movement."