Back when I was a health editor at women's fitness magazines, I was invited to the Canadian launches of custom designed shoes by some pretty massive brands. And while I did try to push myself out of my comfort zone with colour and pattern, every single time, I went for monochromatic sneakers. Why? What shoes are leaning heavy on the single-colour look? 
Get a fitness capsule wardrobe, and never think about what to wear to the gym again!
What is monochromatic? What does it have to do with running shoes?
It's a single colour, sure. But there's more to it than that. "A monochromatic color scheme uses a single hue with variations in the saturation and brightness only," according to Pantone's fundamentals, the king/queen of all things colour (including naming, matching, theory and so on).
But monochromatic doesn't work for everything, as Pantone quickly points out. "However, if you plan to use monochromatic colors for your business graphics, make sure that you have the contrast necessary to make clear distinctions for the audience and to emphasize the important points."
But why are my monochromatic fashion cravings steering me toward running shoes in my closet? Because the contrast in single-colour sneaks works with contrasting textures. From stitched-on layers, perforated toe beds and leather heels, structured rubber soles and breathable fabrics, the architecture of trainers is completely built on contrast. So a single colour pair well because it highlights the design features. 
Behind Athleta's design – the pockets are deep!
Monochrome running shoes for 2023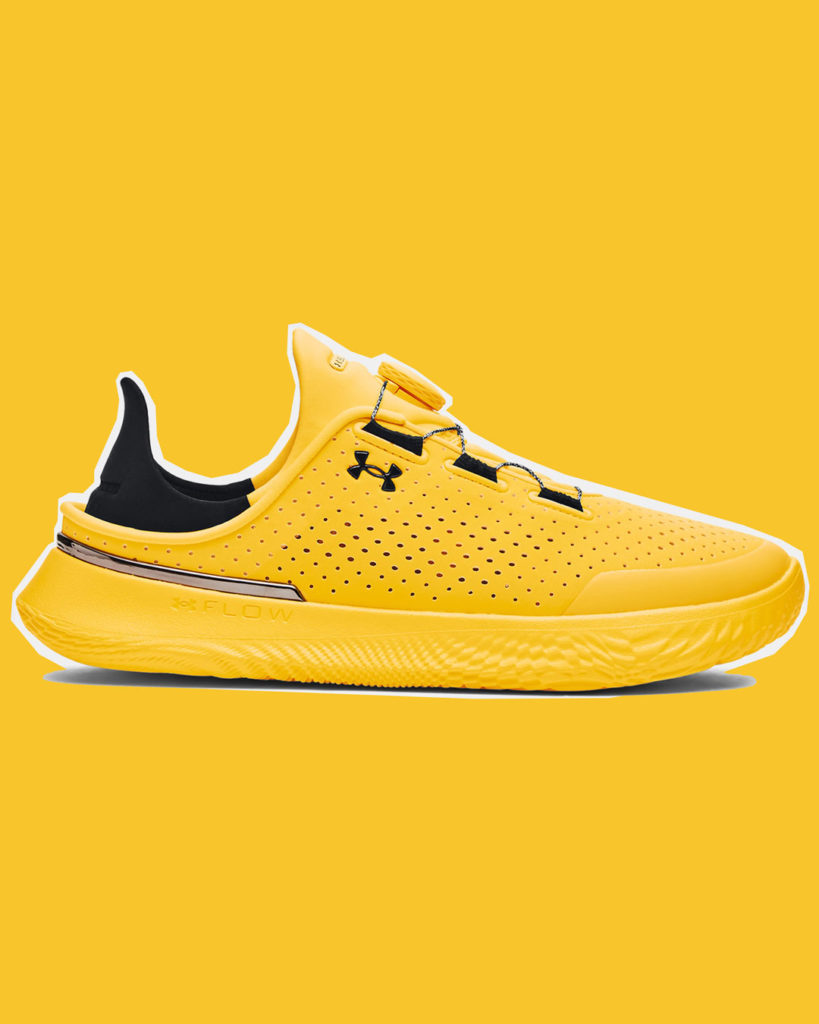 Underarmour Unisex UA SlipSpeed Training Shoes
Hail, hail – the monochrome trend brings the attention onto the shoe's features. Take this shoe, shown in "taxi yellow." Its convertible heel turns this gym shoe into a slip-on and the lacing system tightens and loosens with a turn of the button (that's the BOA Fit System). The fit is snug, like a weighted blanket for the feet, but the heel is so flexible you'll need a firm grip to get your foot in. The sole is sturdy, making squats and lifts stable, but the look is definitely street worthy too. But I love the strategically placed holes that make taking them off a pleasant experience, too (my feet don't stank). If you're looking for shoes to wear all day, know that these are truly gym shoes.
Monochrome sneaker tech and stats:
Weight: 10.8 oz.
Textiles: Machine-washable faux leather and neoprene.
Colours: Taxi yellow, red and white
This fashion designer shares what it's like to create activewear for all body types.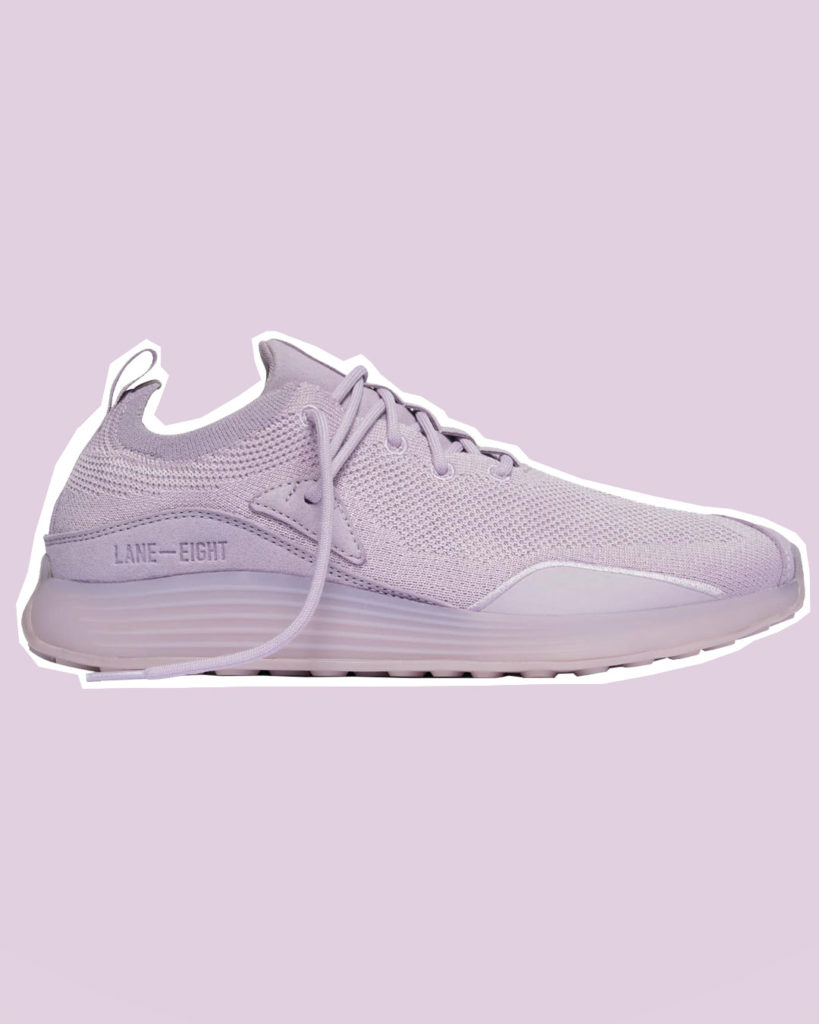 Lane Eight Women's HIIT Trainer
The entire range is monochromatic/achormatic with a core colour collection in grey, black and white. I opted for lavender as an unexpected colour palette. I can imagine my fitness capsule wardrobe really popping with these on my feet. Again, these are gym shoes. Don't be fooled by the delicate colour; these shoes are firm and strong. They're meant to keep you supported and feet flat as you do unstablizing movements. And the thick soles on on these do just that. I had no problems jumping through EMOMs and AMRAPs with these on my feet. Despite the aesthetics leading my decision making in choosing this shoe, it turns out it was a good functional choice, too. 
Monochrome sneaker tech and stats:
Weight: 13.45 oz.
Textiles: Plant-powered upper
Colours: Limited collection in lavender (shown), blue, slate, pink, green, teal and plum.
How to clean your running shoes, exercise mat, boxing glove & other stank stuff.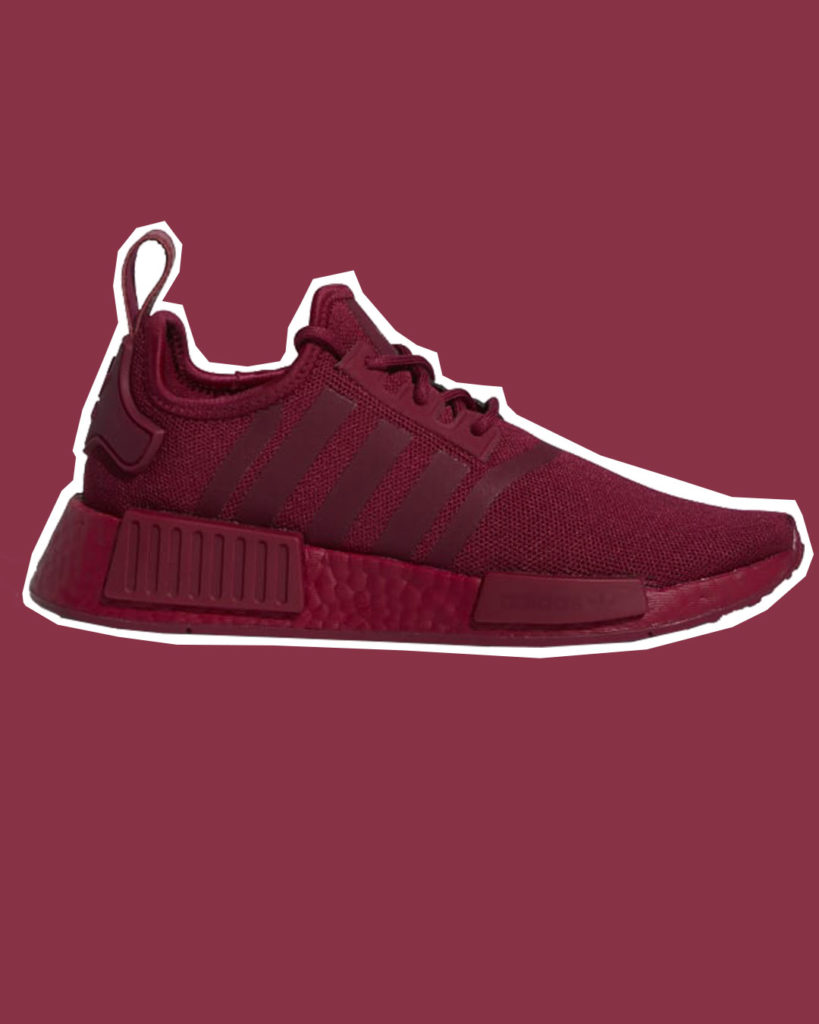 Adidas NMD_R1 Shoes
The first two were for training, so let's look at cardio monochrome running shoes. This modern iconic Adidas pair is probably the most comfortable I own. The heel-to-toe curve on the bottom makes movement smooth, and the slip-on style means no fussing around with tongues to keep 'em straight. Deep wine plum too emo for you? It's fashion dahling, but it does come in other single-toned hues. If I were to give you any tips for running in this shoe, it would be to wear crew sport socks, and leave your ankle or no-show socks for another pair. The heel tab is unusually high, compared to other brands. 
Monochrome sneaker tech and stats:
Weight: 10 oz.
Textiles: Recycled materials
Colours: Black, white (cloud and crystal), grey, blush, burgundy (shown) and red.
Yes!—25 one-shoulder sport bras, sorted by support.
More monochromatic workout shoes
Does a pattern qualify as monochrome?
Here's a cool factoid for you… the first-ever Nike custom kicks in Canada were designed par moi. And the snakeskin pattern were used in a monochromatic way.