This Loft Cycle Club workout review is part of Class Action, FLEETSTREET's workout review series. We get sweaty to give you the low-down on what the workouts are really like.
---
The Studio – Loft Cycle Club Midtown
FLEETSTREET and Loft Cycle Club go way back. Well, as far back as 2019. We reviewed the Loft Sculpt class and its original studio opening on the Danforth. The Toronto studio was founded by cousins and spin-sisters Samantha Coelho and Debrah Menashy. 
Although it's hard to find a record for this fact, I want to say that Loft was one of the first Toronto fitness studios to have that clean contemporary aesthetic. The reason it's popular with its clients is because the Loft space is a place you want to live. I mean, it is called Loft.
In September, a new Loft opened. There are now two locations in Toronto: Danforth (452 Danforth Avenue, Chester station) and midtown (2576 Yonge Street, Eglinton and Lawrence stations). Both are super accessible by public transit, and there's street parking (but you know parking in T.O.). I took the Loft barre class at its Yonge Street location.
Loft Midtown has the same beautiful Pinterest and Instagram-worthy spa-like aesthetic. Even with its high-energy spin and circuit classes, you can help but feel chill after, sitting amongst puffy pillows on a slatted wood bench. Maybe that's exhaustion?
The change room is fitted with a shower. And there's ample storage lockers (30 in the change room and another 12 in the hallway). 
Queensberry Rules Boxing Studio review: Let's not throw punches—it's hard.
The Schedule – More than just cycling 
When you look at the class schedule you will immediately see that Loft Cycle Club isn't just for cycling. 
There's a wide range of classes, like barre, strength conditioning, Pilates and yoga on top of spinning, as well as personal training and instructor education should you ever want to become certified. Here's a chart breaking down the class types and what you can expect when you go, according to Loft. 
Is a rowing machine a good workout? And is the Peloton Row worth it?)
Class 
Description
Time
Equipment
Spin
Includes sprints, climbs, jogs, and a bit of arms and shoulders, all going to the beat of the music.
50 minutes
Bike and spin shoes are provided, but you can wear your own clip-ons
Power Spin
Everything from Spin, but no upper body conditioning
40 minutes
Bike and spin shoes are provided, but you can wear your own clip-ons
Spin HIIT
Intervals with heavy resistance, fast paces and endurance challenges
45 minutes
Bike and spin shoes are provided, but you can wear your own clip-ons
Strength HIIT
A strength conditioning circuit class with cardio intervals
50 minutes
Weights and other equipment are provided, including mat (but you can bring your own yoga mat). Running shoes required.
Mat Pilates
Core-focussed class with Pilates strength exercises.  
50 minutes
Pilates equipment provided, but you can bring your own mat.
Pilates Fusion
A circuit class that blends Pilates with strength, endurance, and cardio exercises.
50 minutes
All equipment provided, but you can bring your own mat.
Barre
This is the class I took!
Low impact strengthening class with all the barre moves you'd expect with pulses and pliés.
50 minutes
You can bring your mat, but all other equipment is provided.
AAA (Arms, Abs, Ass)
Low-impact mat class – think barre, Pilates and strength conditioning.
50 minutes
Same as above.
Yoga
Flows that focus on strength (you know that yoga burn), flexibility and balance.
50 minutes
Same as above.
Spin + Abs
40 minutes of spin and 20 minutes of mat core work
60 minutes
Equipment is provided, but you can bring your own matt and clip-ons.
Spin + Flow
40 minutes of spin and 20 minutes of yoga to release tension.
60 minutes
Same as above.
Spin + Yin
40 minutes of spin and 20 minutes of yoga to relax the body and mind and release the hips.
60 minutes
Again, same as above.
Barre + Flow
A full-body barre strengthening workout with yoga mobility sequences. 
60 minutes
All equipment is provided, but you can bring your own mat.
The classes feel more intimate than other Toronto studios. The cycling room holds 20 bikes, and there were about 12 of us in the barre class I took. The surprising effect was how no one felt like strangers. We all talked before and after class. I know it's Canadian to be polite, but this was giving sisterhood. 
Five workouts and fitness studios to try when travelling to NYC.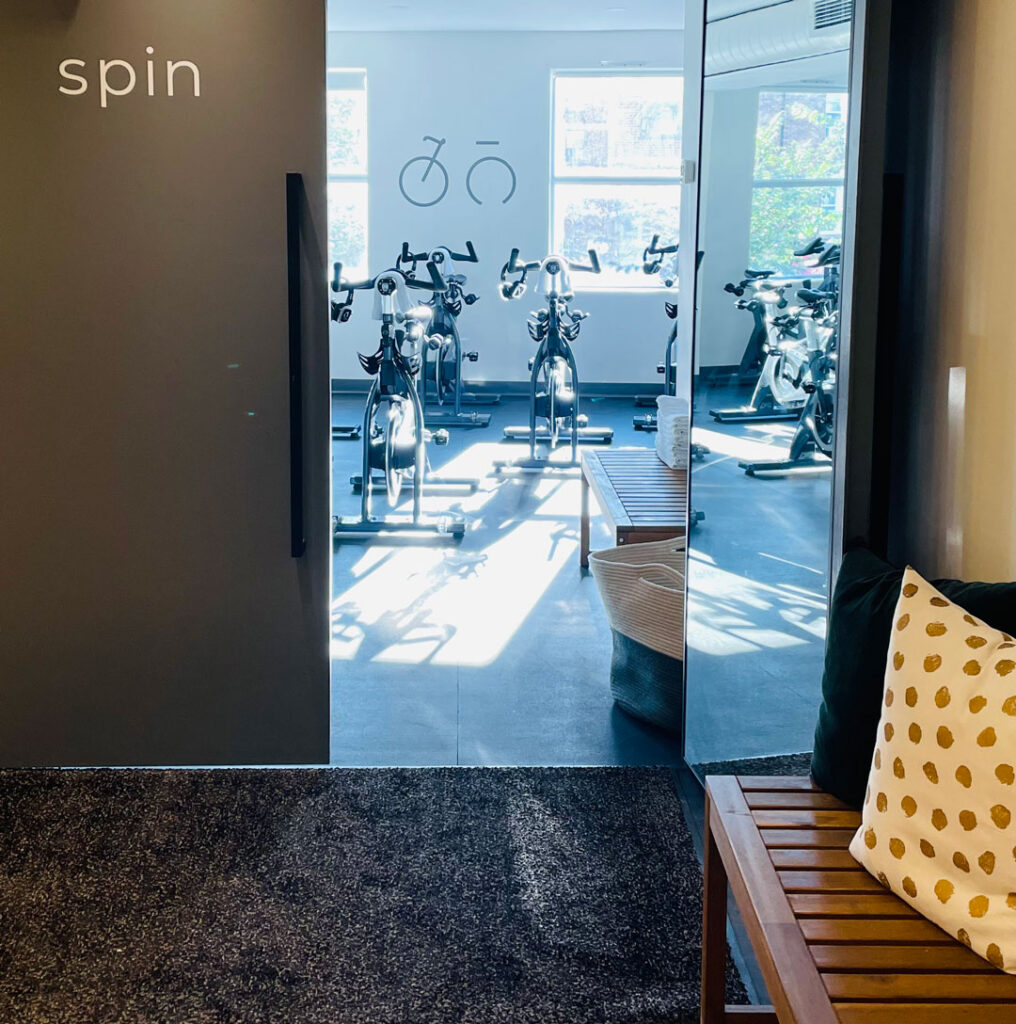 The Class – Barre
I went to the class 15 minutes early, as suggested. I found that most other students didn't arrive until about five minutes before the class started. But I enjoyed the solitude of taking in the cool vibes of the studio, with a personal tour, some alone time in the change room (a luxury, right?) and picking my spot in the "sculpt studio." The barre instructor Sean Def was there, though, setting things up. 
Peloton Barre review: It's not your typical barre class by any stretch or plié.
I didn't need to bring any equipment like hand weights and booty bands. I could've brought my own mat, but it was provided – phew.
The class was a typical of barre classes, with lots of pulses and micromovements. And it focused on the body parts that fall under the barre umbrella–like glutes, quads, calves, biceps and core – with moves such as plié squats, banded fire hydrants, ball squeezes, low-weight arm ballet positions, and so on.
The one key difference between this and other barre programs, though, was that I didn't find the class structure to be segmented into body parts. In other barre classes I've taken, they seem to go from legs to arms (and a bit of a mix of the two), into light cardio and finish off with core. Def's class was more choreographed in that the moves flowed seamlessly from one to the next. And he themed the music as a Dua Lipa versus Calvin Harris barre class. So, duh, yeah, Def's a dancer.
The 50-minute class went by so fast, that I sat there at the end, looking at myself in the mirror wondering if I even worked abs. I didn't even notice. The next day, though, I felt it.
Rumble Boxing Studio review: This ain't no shadow boxing class.
The Verdict
The Loft Cycle Club barre class is a fun class. Beginners and barre fans will appreciate Def's approach to the class, making it fun and all about the music – a nice distraction from the burn of endless reps and muscles. If you're new to barre, know that the environment is encouraging and approachable, and the moves aren't overly complicated in that you won't be able to keep up. If you've taken barre and want to try something new, the music-themed class by Def is a treat. But if you want to do more functional training and mobility or improve your cardio, then another class might be better for you, like the strength class or cycling classes. 
For myself, I just have to try the Barre + Flow class to see how the yoga stretches affect that barre burn.
Loft Cycle Club, 2576 Yonge Street, Toronto, 416.466.5638, $30 for one drop-in class, monthly memberships range from $110 (5 classes) to $275 (unlimited), and class packs are available ($130 for 5, $240 for 10, and $220 for 10).