This Oxygen Yoga & Fitness workout review is part of Class Action, FLEETSTREET's workout review series. We get sweaty to give you the low-down on what the workouts are really like. 
The Brand – Oxygen Yoga & Fitness 
I'd never heard of Oxygen Yoga & Fitness until I got a press release learning about the chain's first location in the U.S. – a slick new studio Calabasas, Calif. How did I not know? As a one-time health editor at Oxygen Magazine, I was curious and signed up to take a class, stat.
What did I learn? This Oxygen has nothing to do with the magazine I once worked at. Oxygen Yoga & Fitness launched in 2008, and the first franchise location opened in March 2012. Now, there are 97 locations across Canada, and a corporate "test studio" in Vancouver. In fact, GoodLife Fitness founder and chief executive officer David Patchell-Evans is an investor. But, unlike most franchise models, Oxygen Yoga & Fitness encourages its owners to make their studio "distinct." That means you may notice a different lineup of classes, schedule, social media or even a tone to your local studio. It's all about the energy of the clients and the locality. As for the "branding," you can buy OYF gear, including candles and sweats, from the OYF Warehouse.  
So, how is Oxygen Yoga & Fitness different from other workout studios? The workout rooms are heated, but not like other hot yoga studios. All the OYF spots have FIR (far infrared) heating systems.
According to the Mayo Clinic: "'Far' describes where the infrared waves fall on the light spectrum. A regular sauna uses heat to warm the air, which in turn warms your body. An infrared sauna heats your body directly without warming the air around you." 
Essentially you get the benefits of "heat" at a lower temperature.
According to OYF, fitness in this type of environment helps with "detoxification" and "skin purification" through sweating, "weight loss" from increased calorie burn (600 calories when relaxing!), "pain relief" from soothing stiff joints and muscles and speeding up healing for injuries. 
Peloton Yoga Review: It's got every type of class under the sun salutation.
The App – Oxygen Yoga & Fitness  
The classes are in-person and in-studio, but the Oxygen Yoga & Fitness app is how you book your spot. It's a Mindbody-powered app, which you may be used to for booking at other workouts, massages or spa treatments. You can also book through the Mindbody app itself. But since this isn't a Mindbody review, I'll stick with giving you the intel on the OYF app. 
You have five items on the footer menu: Home shows you membership promotions, the upcoming classes you booked and the studio schedule and your most recent class you've taken; Book shows you the schedule and a more detailed list of future classes you've enrolled in, Video is empty as of writing this; Profile, again, gives your upcoming and previously taken classes, metrics (which had no info for me), a list of the passes you've purchased and their expiry dates, and your "wallet" with your credit card info; and finally the More tab leads you to other pages, including Buy listing prices for cancelling a class, auto-pay and à la carte memberships and workshops. 
I mostly used the home page for booking and checking on the past instructors I vibed with. Also, the studio locator on the website didn't work for me when searching by province. Type in the city you live in instead. That should do the trick!
ALO Moves HIIT Flow Review: Christa Janine sneaks power into 30-minute yoga workouts.
The Studio – Oxygen Yoga & Fitness North Burlington
The studio looked so clean it looked brand new, which is super impressive for being open for almost three years. Owner Rebecca McLaughlin showed me and my workout buddy the space. The bathrooms were huge – you could do a full yoga routine in there if you wanted to. 
Like I said, the studio is worthy of posting on your feed, with its clean white tiles, decorative greenery and #shelfie-ready beauty products. It's very, very pretty. 
The heated studio I went to is spacious. Two walls are covered ceiling-to-floor with mirrors and fitted with ballet barres. The other wall has shelving for all the equipment, including bands, hand weights, yoga blocks and Pilates balls. There's a small closet off to the side for weighted bars. The remaining wall is meant to inspire; the words "I love my life" are penned
All the classes happened in the FIR studio. At my first class, I noticed the baseboard heaters. A few classes later, I noticed the heated cushioned floors when my yoga matt was warm to the touch. The temperature felt as if it changed throughout the classes, and the impacts were immediate. A few minutes before the classes ended, the air instantly cooled. Compared to other hot studios, this type of heating seemed easier to breathe in, and the mirrors didn't fog up or drip with condensation. That's because of the HVAC (heating, ventilation and air conditioning) system that controls and purifies the circulating air. 
Can't find a trampoline studio near you? Try streaming these at-home rebounding workout videos.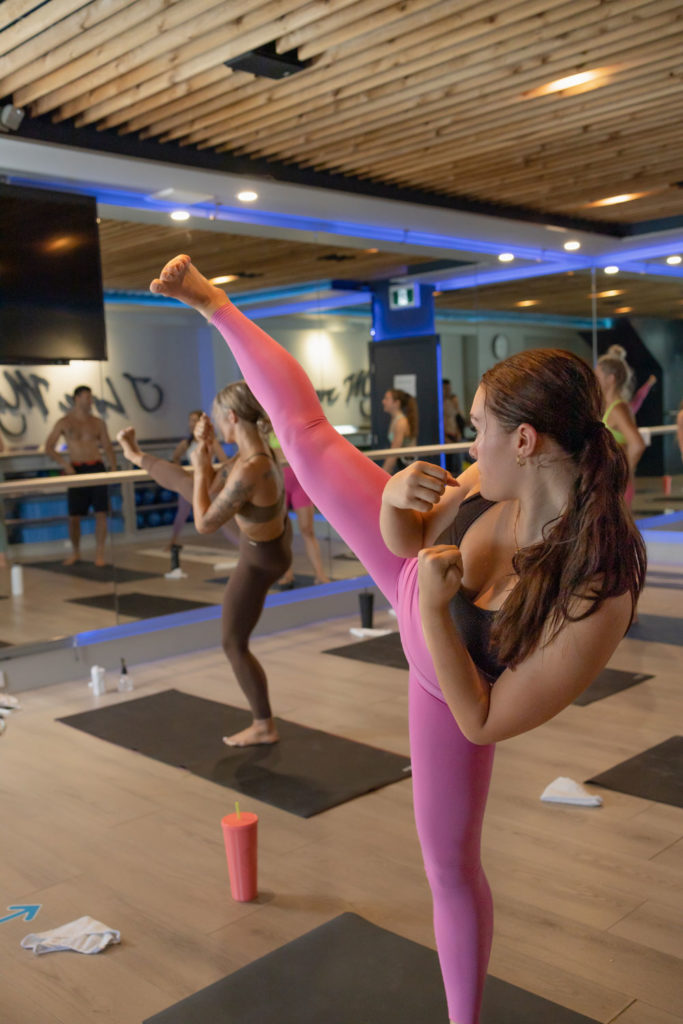 The Workouts 
The classes do run the gamut, from deep stretching to high-intensity interval training (HIIT), Yang Yin yoga to targeted core classes, Pilates and barre to muscle targeting classes like core, arms and bikini butts. All are done in heat. Curiously, though, one of its toning classes is called Scuplt It (looks more like a typo than a play on words). While the Instagram-worthy allure feels like a women's-only studio, all genders are welcome – at least the Burlington North location I went to had males in my classes. 
Here's the full list of Oxygen Yoga and Fitness classes. This list isn't exhaustive; there are others, like Broyoga or Pilates HIIT, depending on the OYF studio location and how it curates its schedule. For the levels, I gauged who would enjoy it most, but that's not to say what you should and shouldn't take. Take a class that interests you and modify the moves as you need to during the workouts. 
Level
Class type
Class name
What to expect
All
Yoga
Freedom Flow
Standing, balance, twists, pranayama, mudra postures for flexibility, increasing strength in the body and mind.
Intermediate and advanced 
Yoga
Rise & Shine
A centering class with sun salutations as well as other poses for balance, strength and energy.
Beginner
Yoga
Hatha Yoga
A focus on basic alignment, and mind-body connection.
Intermediate and advanced 
Yoga
Yang Yin Yoga
Postures that strengthen and stretch the muscles and connective tissues.
All
Yoga
Candlelight Deep Stretch & Relaxation
A calming class with seated stretches and flows.
All
Barre
Barre Fusion
High-energy class with movements based on ballet, Pilates and yoga.
All
Boxing
Box Fusion
Cardio workout featuring shadow boxing and kickboxing exercises.
Intermediate and advanced
Barre 
Fast & Furious Fusion
Endurance exercise using the practice of ballet barre, PIlates, yoga and weights.
Intermediate and advanced
Strengthening
Absolutely Burning Butts
Non-stop exercises targeting the glute, obliques and back muscles
Intermediate and advanced
Strengthening
Amazing Arms & Shoulders
Two-part class that focuses on shoulders then arms. 
Intermediate and advanced
Strengthening
Tone & Sculpt
Muscle conditioning for arms, core and legs.
Advanced
Yoga/
strengthening
Power Core
Endurance-held poses, as well as inversions and arm balances.
Intermediate and advanced
Yoga/
strengthening
Yoga & Core
A yoga class that focuses on Pilates-style twists for the core.
Advanced
Yoga/
strengthening
FitFlow
Two-part class with Pilates-style yoga with weights, and then with vinyasa flows.
All
Fusion
20/20/20
Three-part class focusing on cardio, strengthening and stretching in 20-minute increments.
Intermediate and advanced
HIIT
Total Body Conditioning
High intensity class to have you doing strength condition at the same time as cardio. 
Intermediate and advanced
HIIT
Scuplt It
A tabata workout (20 seconds high intensity with 10 seconds rest) for the entire body.
The best gyms in Toronto: Where the city's fitness pros work out.
We Tried It – Rise and Shine, Candlelight, Tone and Sculpt and HIIT Pilates
The temperature does "feel" cleaner than other hot studios I've been to. There was no sweating mirrors, and the only part of the floor that was wet was where my body lay on the mat.
I did love the instructors' ability to instantly control the workout roominstructors temperature. At the beginning it was a cozy-heat, like a warm day. During the workouts was more intense, as if you just got inside a car that sat in the summer sun. At the end was a blast of (not shocking) cool air that was refreshing like opened windows in the spring.
The OYF classes are what you'd expect – and then some. A workout, but a really, really hard workout.
The Rise & Shine yoga class was a great first class for me to take. The flows were repetitive, so I was able to improve my movements consciously throughout the class. I was led through sun salutations, standing poses and heart openers. There was a balance pose or two, and they were optional, which I liked for the beginners taking the class. But, damn, was it a workout! I had to nap later in the day. 
Candlelight Deep Stretch & Relaxation class is a soothing one. The movements weren't complicated, and I was able to sit in the stretches longer than typically – thanks to the far infrared heating. The candles aren't real, but are instead battery-powered tealights. The ambiance was lovely, as we went through yin postures, making use of two yoga blocks to position the body for deeper stretches than you might have planned for. The instructor was open to our requests for specific body parts to focus on, which is always a plus.
Tone and Sculpt is a total-body workout using both cardio and strength training. I ended up using a variety of equipment, delight, medium and heavy weights (actual poundages depend on your strength), a weighted bar, a booty band, a yoga block and Pilates balls. Cardio in the heat: Whoa. I thought I was going to collapse. While my body didn't feel tired, I did find it to be one of the hardest workouts I've ever done.
The Pilates HIIT class I took was the only one that was a bit of a head scratcher. As a devoted Pilates fan, I was curious to see how the heat would affect the controlled conditioning I was used to. But this class wasn't what I expected. It was more of a bootcamp style class, with things like jumping jacks, squats and pushups. And when the instructor overheard me confirming with my neighbour that this was indeed a Pilates class, she laughed and said something about me expecting a low-key class (which was kind of condescending but I get that she was trying to keep the class's energy up). The "Pilates" part was less obvious and the HIIT was definitely the focus.
Nike 20 Minute Workouts Review: The fitness videos that won't let you "Netflix And Chill."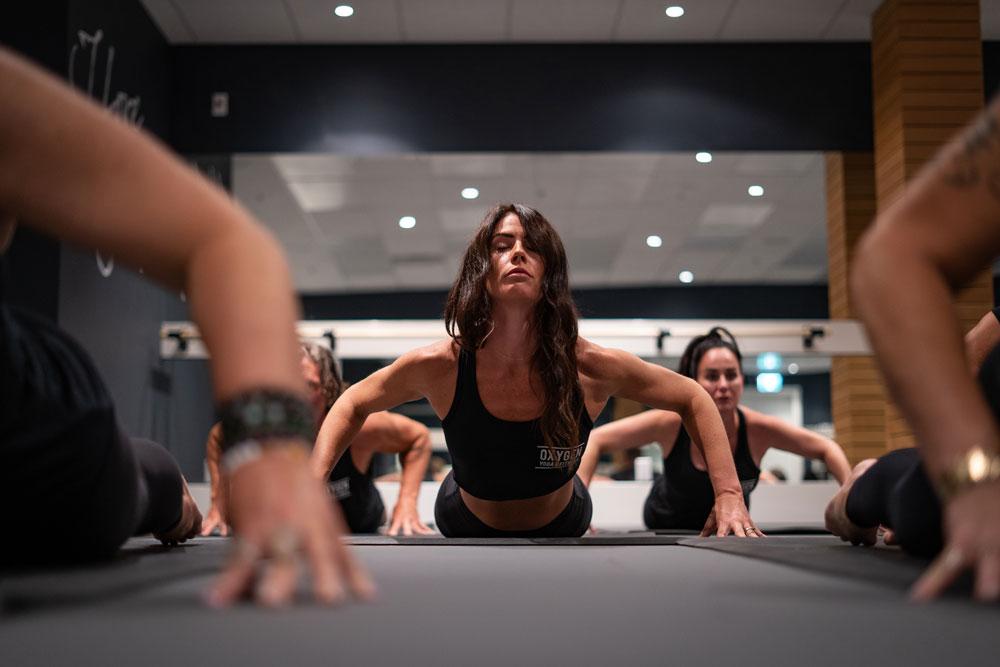 The Verdict
Oxygen Yoga and Fitness is a "hot, clean and busy" studio, as my workout buddy tells me after two classes we took together. Even though our first class was beginner-friendly, we both noticed that it knocked us out for the day. Unknowingly the heat had us working out harder than we thought and were truly exhausted from it. I did find that my body got used to the heat pretty quickly for the yoga classes. But, the strength and cardio classes really kicked my butt. And I train three to five days a week! It killed me to the point I did question why anyone would workout in the heat at all. (Stay tuned for an interview with an expert on exercising in high temps.)
Who would like these classes? Anyone fit who is bored with their regular workouts. The heat adds a challenge for sure. If someone is training for a race or workout event down south or in the tropics, this may help to acclimate their physical conditioning. It could also work for someone looking to improve their stretching and flexibility. I wouldn't have thought it to be ideal for beginners given how much harder it is than a regular-temp workout. But I overheard women talking after the toning class, saying they'd never worked out before but loved the challenge and feeling the difference in their abilities from one class to the next. So, there you go.  ?? ?? ?? 
Oxygen Yoga and Fitness, 100 locations, $25 for a drop-in class, $49 to $59 auto-pay memberships, and $170 to $1,300 packages; OYF app downloads available at the App Store and Google Play.