When Natalie Sexton wanted visible abs in her 40s, it's no surprise she made it happen. She has a long track record of crushing goals. When she wanted to be an editorial makeup artist, she became one. When she wanted to be a stylist, she became that, too. When she then wanted to create a fashion and retail brand, she opened her own boutique. She also became a blogger, an influencer and a TV personality, featured across North America for her take on style.
But, surprisingly, her quest for a JLo-like core ended up leading her to a better relationship with food, a stronger body and increased energy. Here's how she got it done.
"The hardest f*cking thing I've ever done" – What to expect in your first triathlon.
What sparked you to train hard, eat well and get abs?
"In my 40s, my perspective changed for what I wanted my body to look like," Sexton tells FLEETSTREET. "I wanted muscles and to feel strong and to carry around my 15-pound granddaughter with ease." She made the decision to work with a nutrition coach, which she says is the best investment she made for herself. "I learned about the relationship between food and workouts, what to eat to help nourish my body and grow muscle."
Before the pandemic, she didn't think it was something she could achieve. "I didn't think I had a body type that could be muscular. I never lifted weights until I stepped into the F45 studio two and a half years ago." But it wasn't until the second lockdown of the pandemic when she got serious about weights at home. She bought her own weights and a Peloton bike.
"Weight loss was always my priority," she says, admitting to a cycle of restrictive eating, fad diets and workouts. "I had always avoided strength training weights because it was intimidating, especially in a gym environment. So I stuck with things like a treadmill or elliptical machine. […] I always equated working out with endless hours of cardio, it often felt more like a punishment then an enjoyable thing to me. 
But she finally fell in love with working out. "In my 30s, I discovered hot yoga and that was life changing. It was calming mentally, which I needed at that time in my life, going through a divorce. And it was also very physically challenging. It was the first time I tapped into my strength and started to see changes in my body and muscle tone.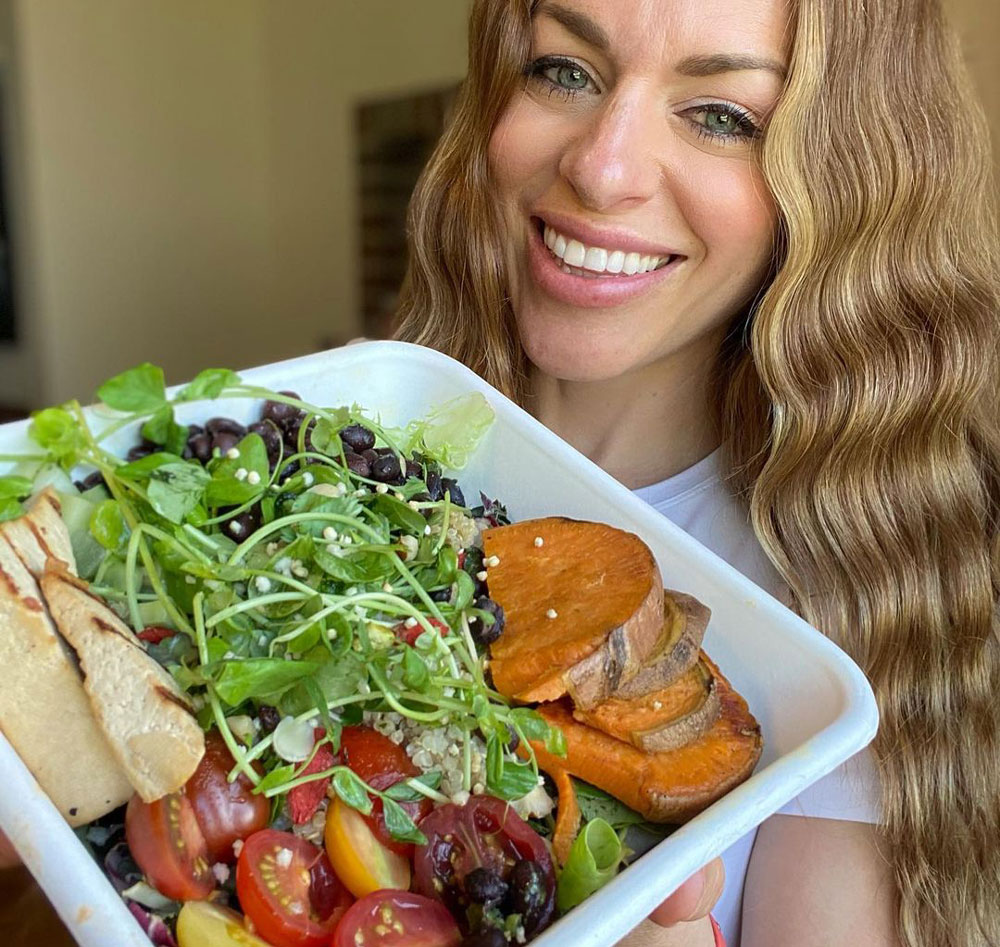 How she achieves every goal she sets for herself
"I start every morning with my intentions," she says simply. "I am grateful for my health, my family and I love my job. And I appreciate that I get to keep becoming a better version of myself each and every day."
Her ab goal didn't start off as an ab goal, funny enough. "When I started lifting weights, I thought, let's see if I can tone my arms. The more consistent I was, the more results I saw. I also learned how to eat to nourish and grow muscles. It was a challenge for me to realize that eating more of the right things would give me the results I was searching and working for. I was stuck in a mentality for a long time that eating less was important to reach my 'ideal' weight and size."
How Kylie Jenner inspired our meditation hack.
Let's talk, eating for abs. What's the secret? Are abs really made in the kitchen?
You may think a diet is the way to go, but Sexton discovered fad diet after fad diet, restrictive eating just wasn't sustainable for her. Tired of feeling deprived, she hired nutrition coach Andy La Magna. "I remember being in tears, looking in the mirror thinking to myself, 'I work out daily, how am I never changing?' " She uses Avatar Nutrition app. She logs her meals and it calculates the nutritional values, and lets her know how to adjust for her day. Too many carbs in one meal? No problem, it'll show you what you need to eat to stay on track.
The healthy blender recipes that will cool you off and curb your sweet tooth.
How to count macros for abs, according to a nutrition coach
The 40-30-30 rule? You know, 40 per cent of your daily calories from protein, 30 per cent from carbs and 30 per cent from fat. But macros are different for everyone, and Sexton had to figure out how her body responded to varying percentages of protein, carb and fat macronutrients. But she did so with the aid of La Magna, a nutrition coach, gym owner and host of the podcast "What the F…45!".
"It all depends on if you're looking to lose weight or build muscle," says La Magna, who also works with Avatar Nutrition, guiding users to best use the food intake tracker.
She educates clients on how protein functions within the body, how many calories they need for muscle repair and organ function. "It is an essential nutrient. If we are under eating protein for a very long time, our bodies look for it somewhere else." That means your own muscle tissue.
"Carbs and fat are energy macronutrients," she adds. "Both are sources of energy. They are fuel. What kind of fuel are you putting into your body?" she gets clients to ask themselves. Carbohydrates provide you with quick bursts of energy, and fats provide long-lasting endurance energy. Once you figure out your daily caloric needs based on your goals, and the amount of protein your body needs, she recommends clients play with the calories from fat and carbs.
How to track macros
If you want to try out tracking macronutrients, MyFitnessPal is a good app to start with, with its free version, recommends La Magna. But she says that Avatar Nutrition is a more intuitive app that helps you figure out your macro needs as you track through the day.
The benefits of eating this way, according to La Magna: No meal plan to follow, no "bad" or "good" foods, no food restriction, and you can pivot what you eat throughout the day. "I have one client who eats four Golden Oreos every night, and she just accounts for those carbs and fat earlier in the day."
Some research does suggest that the health and weight-loss benefits of eating based on macronutrients (namely high protein diets) can be short-lived for overweight and obese individuals. But La Magna suggests that this can be a lifestyle, has been a way of eating for body builders for decades, and it can be tweaked based on physical activity and goals. "There are different ways to get protein and I am mindful of people dietary choices. But protein is essential."
Sexton found the experience taught her about portions. "I bought a digital food scale to start understanding what an actual serving was," she says. It took a few months to get the macros downpat, but she decided to have fun with it. "I enjoyed experimenting with different macros on different days, depending on my workout. I eat more food now than I ever did and I never feel deprived. It is all about moderation. I always have pizza on Fridays."
Here's why plant-based meat tastes so frickin' good – according to science.
How she starts her day
It's structured. And that's how she wants it. "I am up at 4:45 a.m. every morning," she says. She'll have a tea, go over or set up her to-do list and set intentions for the day. She likes getting her workouts done right away: A 60-minute session at 6 a.m. That's either an F45 Training class, a Peloton ride with weight training, or yoga or Pilates. She always does a minimum of 10,000 steps a day.
"I don't work out to exhaust myself," she admits. "I see the changes inside and out – I lost just over 20 pounds in the last seven months and gained a lot of muscle tone that I never had before. I'm energetic, happy and more focused in every aspect of my life."
What to know about Natalie Sexton
Favourite indulgent food: "Pizza every Friday night and I don't skimp on cheese."
Favourite healthy snack: "Greek yogurt with frozen berries, or almonds and string cheese."
Dining out go-to: A big salad with protein, like salmon, tofu or shrimp, and no greasy croutons but add the feta. I have dressing on the side."
Favourite leggings: Lululemon Align 25″ "I have them all!"
Favourite free workouts: Linn Lowes @linnlowes "She is an inspiration."
Best workout-friendly mascara: L'Oréal Paris Voluminous Waterproof
Best & cheapest fitness equipment: "I bought all sorts of things to amp up my workouts for under $30 from Amazon, like booty bands, light weights, medicine ball and so on."
---
Welcome to Street Meet, FLEETSTREET's series, where we meet up with trailblazers and thought leaders to deliver unique insight and inspiration into issues our audience cares about.