This Queensberry Rules Boxing Studio workout review is part of Class Action, FLEETSTREET's workout review series. We get sweaty to give you the low-down on what the workouts are really like. 
---
The Brand, The Studio – Queensberry Rules Boxing
Queensberry Rules Boxing, named after a code of conduct established for boxing (more on that later, is a Halifax gym). Laura MacPhee and Julie Houde own the boxing studio. The two have been boxing since their teens – MacPhee started at 17 in Halifax, and Houde in Montreal at 18. Since opening this boxing studio in September 2018, the membership has grown and so has the space. 
Their most recent location is in downtown Halifax on South Park Street. And it is a beaut. Most boxing gyms are big, true. But this one feels like it has breathing room. The ceilings are high, and the ring is around the back and framed by hung boxing bags. There's legroom to bounce and shuffle. You can tell this isn't a trendy gym, but the real deal. 
What you might not expect
That said, it's not the typical grunge boxing gym. This place is clean and, dare I say, stylish. When you walk through the doors, the first thing you'll see is Apartment 3 Espresso Bar. It wasn't open when I went to my 6 a.m. class, but it gave the vibes of good coffee, baked goods and local art, with its high-end artisanal feel and décor.
Then, a few steps in, you're at reception to check in. And a few steps later, you're in the boot camp area. It's open, and all the equipment is grouped together along the walls – weights in one spot, ropes in another. There are no workout stations or marked-off spots on the floor. You just go where there's room for you. 
If you check out their IG, you'll see that it's black and white in the boot camp/workout area. With one wall covered in a massive collage of old photos and boxing posters, and a wall mirror covers on the other side. Beyond that is the boxing ring I was telling you about above. 
But back to those rules. 
Five workouts and fitness studios to try when travelling to NYC.
What are the actual Queensberry Rules?
John Graham Chambers created the Queensberry Rules in 1867 in London, England, for amateur boxing matches. It's pretty much widely accepted as fair play today, and that's the name behind MacPhee's and Houde's gym, Queensberry Rules Boxing. The name "Queensberry" comes from the boxing sponsor Marquess of Queensberry from that time. So to not pull any punches, here are the rules, according to the Britannica, with a few edits from me to modernize it and be more inclusive ;). 
To be a fair stand-up boxing match in a 24-foot ring, or as near that size as practicable.
No wrestling nor hugging.
The rounds are to be of three minutes duration with one minute time between rounds.
If either boxer falls from weakness or otherwise, they must get up unassisted, and have 10 seconds to do so. The other boxer, meanwhile, must return to their corner. When the fallen boxer rises to their legs, the round resumes until the three minutes are up. If one fails to get up within 10 seconds, the referee awards in favour of the other boxer.
Hanging on the ropes in a helpless state, with toes off the ground, is considered "down."
No seconds or any other person are allowed in the ring during the rounds.
Should the contest be stopped by any unavoidable interference, the referee will name the time and place as soon as possible for finishing the contest; so that the match must be won and lost, unless the backers of both boxers agree to draw the stakes.
The gloves to be fair-sized boxing gloves of the best quality and new.
Should a glove burst, or come off, it must be replaced to the referee's satisfaction.
A boxer on one knee is considered "down," and if they're struck they are entitled to the stakes.
No shoes or boots with springs.
The contest in all other respects to be governed by revised rules of the London Prize Ring.
What It's Like Join A Toronto Rec League To Play A Sport For The First Time Ever—& Get Over Yourself.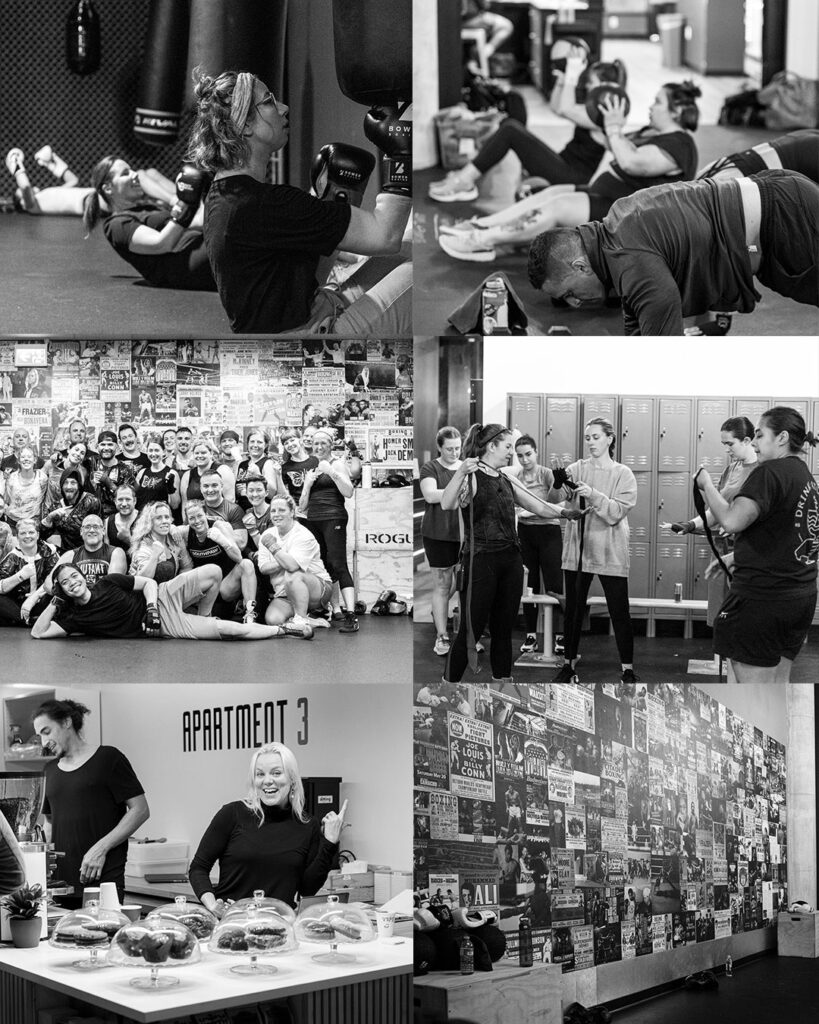 The Workouts at Queensberry Rules Studio
According to its website, the boxing studio teaches all levels, from those getting into shape and learning about boxing to seasoned pros. For Queensberry Rules, it's about technique within a non-competitive fitness space. That said, expect a good sweat. All the workouts include HIIT circuits with boxing (bag and shadow) and boot camp-style routines. You can bring your own gloves, wraps and whatever gear you want, but the studio provides those things along with skipping ropes, shadow boxing pads, heavy bags, BOSU balls, TRX straps and weights.
It's a co-ed gym but does offer women-only and welcomes LGBTQ+ classes.
How to advance your fitness with the Peloton dashboard.
The Class – Rise'n'Grind 
According to Queensberry Rules Boxing, the coach Rise'n'Grind structures the class to focus on boxing-specific technique, mobility and strength, as well as heavy bag work. It's good for boxing beginners and more experienced fighters looking to increase mobility and avoid injuries. "Would you like to get all your punches out of the way before 7 a.m., so you don't have to throw any at the office? This class is also for you."
If you get to the studio 15 minutes before class starts, get help with your wraps and gloves, as well as get "a quick 1-2 punch tutorial" from the class's coach. (Unfortunately, I was on vacation and had a few cocktails the night before, so I showed up at the ring of the bell when everyone was already prepping with boxing footwork.)
What is gymtimidation? And, how to feel more confident working out.
We Tried It 
Of the 15 coaches at Queensberry Rules Boxing Studio, I was lucky enough to get into a class led by Houde. The class had a wide range of ages levels and genders, which was very cool. The space was big, so it was easy enough to find a space for the warm-up, which included dynamic movements and jump rope. (I don't love skipping. Somehow I always end up with the rope smacking my arms and leaving red marks. But I'll do it with a smile.) 
Pick up weights
Then we go into a bit of strength using weights, growing from the dynamic warm-up into functional training. Then we moved on to shadow boxing, and some even used weights. Next: sparing. First with noodles (yes, pool noodles) and then sparring pads. A seasoned member helped me out. She offered to hold the noods/pads first as a courtesy, but I went first, as it was an opportunity for me to learn the drills before executing them.
Put on the gloves
I find boxing to be like dancing. The punching routines can vary from gym to gym, from instructor to instructor. It's just as much of a mental workout to figure out the sequences as it is for the body to engage those muscles. One tip from my sparring partner was to keep the feet moving and keep punching, even if I missed a punch or two. She was right. 
Hit the heavy bag
Next, we moved over to the ring room to work on a heavy bag. I loved the elbow room. I didn't feel the sweat from the person next to me. And, I swear we had like three feet between us. Houde demonstrated the sequences, then we were to go at it only to stop when the timer went off. We also had freestyle rounds too. The class ended on the floor with a solid 10 minutes, I think, of every crunch variation you can imagine. 
It was good. So good, I went back to my hotel room for a nap. 
Yes!—25 one-shoulder sport bras, sorted by support type.
The Verdict
Boxing is a trendy workout, but if you're looking for dance club vibes this isn't the place for it. Rumble Boxing might be more of your thing. If you want a slow pace in the privacy of your own home, then Peloton Boxing might be more your thing. But if you want a balanced approach to technique and increasing fitness level, then Queensberry Rules Boxing could be for you. It's a classed-up, old-school boxing gym where truly everyone is welcome. They're literally and figuratively in everyone's corner.
Best spots to eat, get fit and shop in Calgary, Vancouver and Toronto.
Queensberry Boxing Boxing Studio, 1565 South Park Street, unit 2, $20 for a drop-in class, $179 for a 10-class pass, unlimited access includes a monthly package for $160 and a three-month package for $420.