This review of Peloton Studios NYC is part of our Class Action, FLEETSTREET's workout review series. We get sweaty to give you the low-down on what these fitness programs are really like. 
---
There I was, with a Peloton-branded bottle of water (in U.S. dollars, not Canadian btw), geared up in my Peloton workout clothes, scanning the high-ceiling of the massive lobby. I could tell there was a nervous-but-excited energy in the room. When my eyes met that of another patron, we'd smile in acknowledgment: We were special, we were going to do a live Peloton class. And I was extra special, because I travelled from Canada to sweat with Ally Love!
How to advance your fitness with the Peloton dashboard.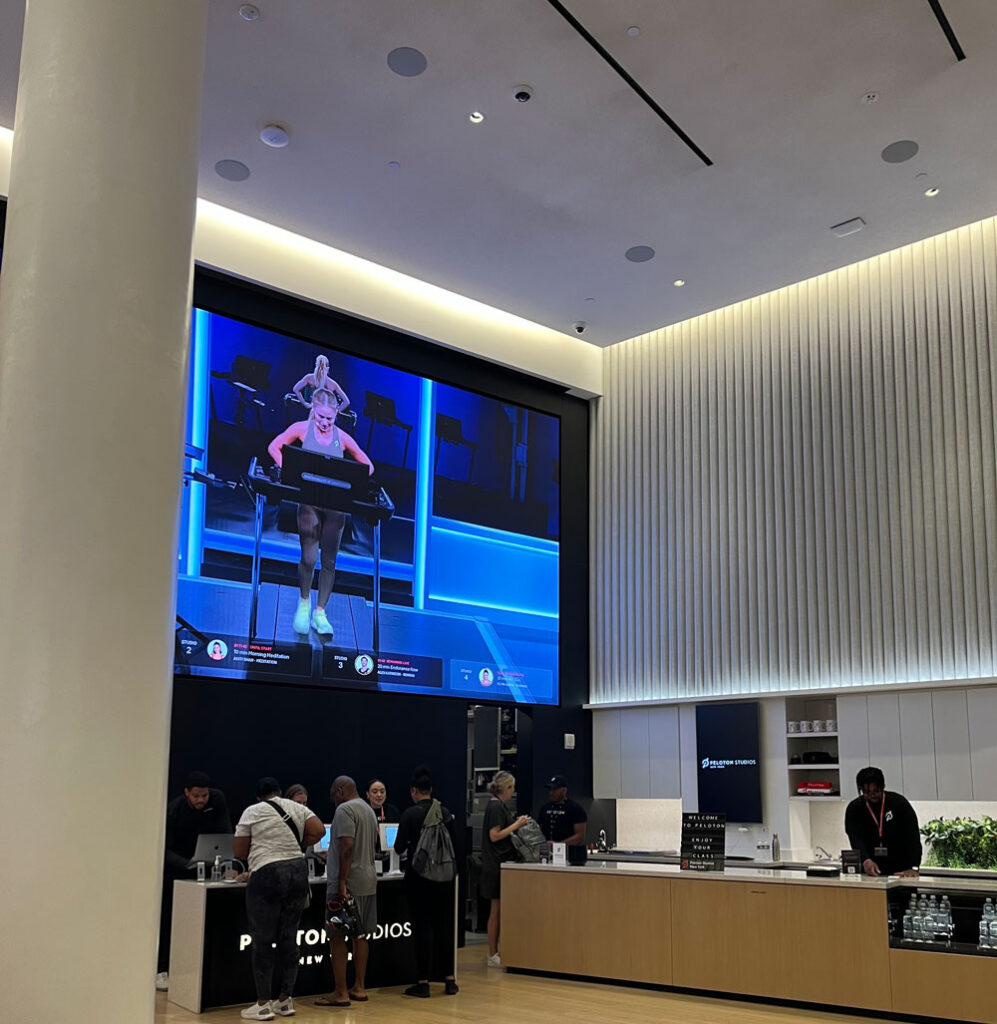 The Brand – Peloton
Chances are, if you're wanting to take a live, in-person Peloton class, you're familiar with at-home fitness app and equipment. Maybe you have Peloton Bike/Bike+, Tread, the app (which is available on phones, tablets, and smart TVs), or even the free version of the app. (Peloton Row is coming to Canada late 2023, but rowing classes are available on the app.) So, essentially, the classes you stream with members in the background.
Can't find a trampoline studio near you? Try streaming these at-home rebounding workout videos.
What classes can you take in person at Peloton studios?
Instead of watching a bunch of classes to figure that out, I created this handy chart to compare what's available at the two Peloton in-person studio classes versus what you can do at home. Here is what's available at time of writing.
| | | |
| --- | --- | --- |
| Class type | NYC | London |
| Bike bootcamp | | |
| Cardio | ✔ | |
| Cycling | ✔ | ✔ |
| Meditation | ✔ | |
| Outdoor | | |
| Row | | |
| Row bootcamp | | |
| Running | ✔ | ✔ |
| Strength | ✔ | |
| Stretching | | |
| Tread bootcamp | ✔ | ✔ |
| Walking | ✔ | ✔ |
| Yoga | ✔ | |
What is the Peloton Guide? Should Canadians add to cart?
Which Peloton instructors lead in-person classes at Peloton studios?
Look to see if your favourite Peloton instructor is listed for in-person classes in either the NYC or London studios. 
| | |
| --- | --- |
| NYC | London |
| Aditi Shah | Ben Alldis |
| Adrian Williams | Benny Adami |
| Alex Toussaint | Bradley Rose |
| Ally Love | Charlotte Weidenbach |
| Andy Speer | Cliff Dwenger |
| Anna Greenberg | Erik Jäger |
| Becs Gentry | Hannah Frankson |
| Callie Gullickson | Jeffrey McEachern |
| Camila Ramón | Jermaine Johnson |
| Chelsea J. Roberts | Jon Hosking |
| Christine D'Ercole | Joslyn Thompson Rule |
| Cody Rigsby | Leanne Hainsby |
| Denis Morton | Marcel Maurer |
| Emma Lovewell | Mayla Wedekind |
| Hannah Corbin | Mila Lazar |
| Jenn Sherman | Sam Yo |
| Jess King | Susie Chan |
| Jess Sims | Tobias Heinze |
| Kendall Toole | |
| Kirra Michel | |
| Kirsten Ferguson | |
| Kristin McGee | |
| Logan Aldridge | |
| Marcel Dinkins | |
| Mariana Fernández | |
| Matt Wilpers | |
| Matty Maggiacomo | |
| Nico Sarani | |
| Olivia Amato | |
| Rad Lopez | |
| Rebecca Kennedy | |
| Ross Rayburn | |
| Selena Samuela | |
| Tunde Oyeneyin | |
Peloton Guide Canada Review: With AI eyes on my form, are my workouts better?
How to book Peloton Studio Class Credits?
Before you run off to book your bike and/or spot in class, know that you will need the same patience you give to buying concert tickets or even booking a massage. Here are some other booking tips from the #hardCOREonthefloor Facebook group:  
The new weekly schedule launches every Thursday at noon. The tipster says to go on around 11 a.m. and keep refreshing every few minutes to avoid any computer time-out issues before the waistline opens around 11:30 a.m. 
Waitlists aren't on a regular schedule and they open randomly. So, keep checking before you head on vacation. Another tipster says they were on 19 waitlists before getting a spot, so put your name on as many as you can. Another says to pop by the studio an hour before the class and see if there were any no-shows.
Don't be choosy. Going to the Peloton studio is an experience more than clicking off a workout. 
Have low expectations, but keep trying.
If you notice any gaps in dates, that's completely normal. Since the studio experience at Peloton is more of a filming studio, the schedule isn't likely at the mercy of members' work schedules but possibly more for the needs of fulfilling a library.
Peloton Tread Review: Is it worth the money?
How much does it cost to take a class at the Peloton Studios?
You need to buy your class credits before booking. It's not like a typical Mind and Body app experience where you can load up after booking. How much you pay for your spot depends on where you're going. It costs $35 (US) for a spot NYC (which is pretty good considering I paid over $60 (CDN) for a drop-in for an army bootcamp-style class in the city back in August). In London, it'll cost you £25 (for an English-speaking class, and its cheaper for German ones). Credits can be bought at studio.onepeloton.com.
Where is the Peloton studio in NYC?
370 10th Avenue, New York, NY 10001 (See it via Google Maps.)
NYC Peloton in-studio schedule
Where is the Peloton studio in London?
11 Floral Street, Covent Garden, London WC2E 9DH (See it via Google Maps.)
London Peloton in-studio schedule
Peloton Boxing Review: It didn't knock me out, but it was the kick in the butt I needed.
The Workouts – Low Impact Ride & Tropical House Ride
I feel pretty lucky to not only have been able to get a spot in an NYC class but two! Actually, they were back-to-back classes in the same studio. The instructor didn't change and neither did the members, which was great because Peloton instructor Ally Love used the gap to chat with all of us. She went around the room asking where we were from, which lead to shoutouts during class. When I said Ontario, Canada, she mentioned she loved Murdoch Mysteries, a TV drama set in Toronto in the 20th century. Behind me was another Ontarian, too. But most members were from various states across the U.S. (Oh, and that same guy saw in the lobby? Turns out he was the other Canadian.)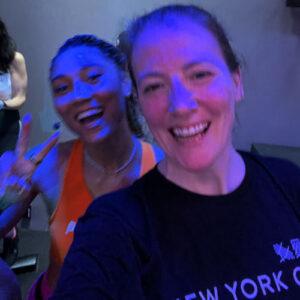 First up: 20 Min. Low Impact Ride (8/14/23). According to Peloton: "This class is spent primarily in the saddle to give your joints a smooth ride while still giving you a good sweat. Perfect for all levels, especially those recovering from an injury." Love prompts the class to guess the original singers of the covers playing during the ride. She encouraged us to hold back on wanting to cycle faster, but to focus more on pace and time for the climbs.
Second workout: 20 min Tropical House Ride (8/14/23). The class description says: "Summer has arrived! Ride and vibe to the beat of house music with a tropical twist." As Love says, "It's a vibe."
Peloton Yoga Review: It's got every type of class under the sun (salutation).
We tried it:
What to expect when you take a Peloton Studio class
When I opened the massive glass door on 10th and 31st in NYC, it was dark at 5:30 a.m., but inside was like walking into the sun. The room was bright, and the staff was friendly. Signing in was easy, by just filling out a five-second form on an iPad. Since I was travelling to NYC, I forgot to bring water, so I swallowed my Canadian-dollar pride and bought an expensive bottle of water (yeah, that was almost $8 Canadian!). Reception gave me a card and a bracelet to show at the studio room door, once we were all called up. 
I know Peloton has good customer service. I know that because I've been on their support line for help with squeaky pedals and finicky app updates. Every single time my issue would be solved with that one call. Once I recommended rowing videos be available in Canada before the row machine was, and two weeks later it was! I'm not saying it was me who made that happen, but it's proof that Peloton wants happy members.
So, when I lined up to enter the bike studio and gave the staffer my card at the door, he immediately said, "Lisa! I'm glad I found you!" I didn't even tell him my name. I don't know what they feed their staff to keep them so nice, so happy and so damn easy to like. 
He brought me to my bike. First thing I noticed: It's not the same bike that I have at home – the first gen in Canada that I got back in 2018. The bike was solid and heavy duty, just as you'd expect in a studio bike. The monitor was much smaller because, obviously, it didn't show the instructor leading the class — Love was to be seated right there in front of me. 
I was really impressed with how engaged Love was for the class. She balanced talking to those at home and in the studio perfectly. It never felt like I was just in the audience or a bobbing head in the shadows (although my sis-in-law spotted me there). She also didn't have an on-air/off-air personality. She was one in the same. 
Now, for the class, you'd think two quick 20-minute workouts would be a walk in the park, or at least a smooth ride. I am a HIIT fan, and I love the intensity bouts in my workouts so Tunde Oyeneyin and Jess Sims are usually part of my filters. So, I was immediately humbled by the long runs in Love's two classes. Don't get me wrong. The cadence and resistance was breathable, but the endurance was something my muscles weren't used to. Proof I need to diversify my workouts.
In-person versus streaming
I also did these two classes again at home. Now, I don't know if it's the energy of the others in the NYC studio class or that I had to be at the studio for 6 a.m., but the IRL workouts felt harder than the at-home sessions. There's that feeling that – maybe, just maybe – you're on camera, so you have to perform harder since someone – ahem, the world – is watching.
Peloton Barre Review: It's not your typical barre class by any stretch or plié.
The verdict 
Would I do it again? Heck, yeah. It was a lot of fun. I liked seeing how fit the others were in the class. I loved seeing groups of friends high-fiving with their real hands, taking selfies and feeding off the energy in the room. It pushes you harder with smile while doing it. Next time I'm heading to New York or London, I'll be tapping refresh on the Peloton studio schedule. It's a destination activity I want on my itinerary.
Peloton Bike Bootcamp Review: It's damn hard, but in a good way.
Peloton Studios, USD$25 in NYC and £15 to £25 in London for a single class credit; book online at studio.onepeloton.com.