Travelling between Calgary and Toronto multiple times a year as a fitness professional, you'll know the best and healthiest spots to grab a smoothie, shop for workout gear and stuff like that. And that is exactly why we reached out to Cissy Chen and Kealan Bailey. The two are part of the team that branched Rumble Boxing from its Calgary home base (two locations) to Toronto. The popular boxing gym also has locations in Vancouver too.
5 things to sneak in on your next trip to NYC.
Who founded Rumble Boxing?
First, before we dive into their city guide picks, here's a bit more about the box-fit duo.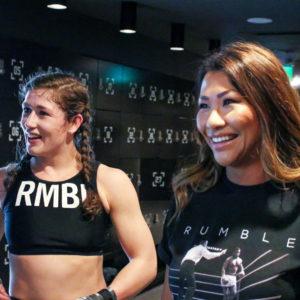 Chen is the founder of Rumble Boxing, launching her first location in Calgary after leaving her corporate career in oil and gas. She was craving the "spin" experience (dark room, strobe lights, nightclub beats) but, for boxing. And in 2016, she opened her first boxing studio in Calgary, opening two more there, another in Vancouver, and in spring 2023, a Toronto location. 
Bailey is one of the original trainers when Rumble first opened, and she now holds the title of vice president of training and development. (In fact, it was Bailey I met at the Yorkville location and wrote this Rumble boxing review.) She was an interior designer/Muay Thai fighter – the perfect combination of aesthetic and sweat we love at FLEETSTREET.
Now, let's dig into their picks for the healthiest spots to eat, drink, sweat and shop in Calgary and Toronto (and a few Vancouver honourable mentions, too). 
Peloton Boxing Review: It didn't knock me out, but it was the kick in the butt I needed.
Class Action: We try Triple Sweat at Sweat and Tonic.
Favourite smoothie and bowl bar 
CALGARY: Hercs Nutrition
858 16 Avenue SW, Calgary, (403)243-9544, hercs.com
Order the mint chip protein smoothie, says Bailey. 
TORONTO: Impact Kitchen 
1222 Yonge Street, Toronto, ‍(416)306-1986 extension 3, Toronto, impactkitchen.ca
"I could eat – and probably have eaten – everything here," says Bailey. "It's nutrient dense and minimally processed, which means it's keeping me going with my crazy schedule. Between teaching at Rumble, running the studio and doing my own workouts, I need real food that will fuel me without weighing me down."  Chen has this for her Toronto pick too. 
Must try recipe: High-protein turkey chili from Impact Kitchen.
VANCOUVER: Body Energy Club
1198 West Pender Street, Vancouver, (604)633-0088, bodyenergyclub.com
"I could never choose just one smoothie I like," says Chen. "Regardless of what I order, I always feel like I'm getting a boost of energy towards my health."
Michi Designer Michelle Watson's favourite places in Toronto and NYC.
Favourite healthy brunch
CALGARY: River Café 
25 Prince's Island, Calgary, (403)261-7670, river-cafe.com
"This place is just magical, right at Prince's Island Park," says Bailey. "It's a beautiful place in a spectacular setting.  The Eggs Bennie are always my go-to… always perfectly cooked and served.
TORONTO: OEB Breakfast 
125 East Liberty Street, Toronto, (416)238-1152, eatoeb.com
"I order the Chia Seed Pudding. It's like a burst of the tropics – bananas, coconut, berries," says Chen. "The vibe inside is also so bright and fresh – a little mini-vacation, but for brunch."
VANCOUVER: Café Medina
780 Richards Street, Vancouver, (604)879-3114, medinacafe.com
"I always have the avocado toast," says Chen.
8 Toronto Locals Tell Us Where to Reset, De-stress and Chill Out.
Favourite guilt-free dinner 
TORONTO: Planta
1221 Bay Street, Toronto, (647)812-1221, plantarestaurants.com
Literally everything on the menu is good, says Bailey. 
CALGARY: Trolley 5
728 17th Avenue SW, Calgary, (403)454-3731, trolley5.com
"Trolley 5 is so great," says Bailey. "It's a handful of doors down from our 17th Ave location, with an industrial style feel on the inside. On our warm spring and summer days, they open up the front for outdoor seating. Sitting in the sunshine and having their oysters is the perfect evening."
Fitness Guru Eva Redpath's favourite places in Toronto.
Favourite fitness clothing store
CALGARY: Lululemon 
2308A 4 Street SW, Unit A, Calgary, (587)418-3629, lululemon.com
"I mean, I live in Lulu," says Bailey. "I practically own everything – I actually wish that was an over exaggeration. My current fave though is the one-shoulder bra – very flattering cut and supportive whether I'm running around or working out."
TORONTO: TNT and Alo
TNT: 87 Avenue Rd, Toronto,(416)975-1810, tntfashion.ca
Alo Yoga: 60 Bloor Street West, Unit 1, (437)291-0380, aloyoga.com
Chen says TNT; Alo Yoga for Bailey, where she recently bought a mesh bustier workout top. 
VANCOUVER: The Latest Scoop
305 Water Street, Gastown, (604)428-5777, thelatestscoop.ca
"There are a few locations in Vancouver, but the Gastown locale bursts with history and energy," says Chen. "It's right in front of the steam clock, so always a ton of positive people around."
Nutritionist Tara Miller's favourite places in Toronto
Favourite run route
CALGARY: Bow River Pathway
309 Bow River Pathway, Calgary, (403)268-2489, calgary.ca
Bow River Pathway is Bailey's pick.
TORONTO: Moccasin Trail and Bluffer's Park and Beach
Moccasin Trail (Chen's pick) 55 Green Belt Drive, North York, (416)396-7378, toronto.ca
Bluffer's Park and Beach (Bailey's pick) 1 Brimley Road South, Scarborough, (416)396-7378, toronto.ca
VANCOUVER: Pacific Spirit Regional Park
West 16th Avenue, Vancouver, 604-432-6359, metrovancouver.org
A must-visit, according to Chen.
Class Action: We try Box-Fit at Studio KO.
Favourite fitness class – that's not Rumble
TORONTO: Ride Cycle Club
2 Humbert Street, Toronto, (416)531-3100, ridecycleclub.com
"When I'm not taking it out on the bag at Rumble, I've been known to hit up Ride Cycle, particularly for Marlon's class," says Bailey. "He lives by [the mantra] 'being savage, not average.' So [it's] definitely a similar vibe." Chen agrees. 
VANCOUVER: YYOGA 
888 Burrard Street, Vancouver, (604)682-3569, yyoga.ca
"I always feel very welcome in their studios," says Chen. "There are so many classes to choose from, but hot yoga is generally where I end up."
Preloved Fitness Wear: The active duo behind the seams.
Favourite fitness class – at Rumble
TORONTO: Marlon Santos and Bailey
101 – 1235 Bay Street, Yorkville, (416)925-3534, rumbleboxing.com
"It's a toss up between Marlon Santos or Jess Smith," says Bailey. And Chen says Bailey's class is one to check out. 
VANCOUVER: Vince Sobrino and Chris Besplug
968 Expo Boulevard, Vancouver, (604)336.6939, rumbleboxing.com
168 Kingsway, Vancouver, (604)336.6939, rumbleboxing.com
Vince Sobrino leads a great class, says Chen. And Bailey says to check out Chris Besplug.