I feel like my shoulder injury has been with me forever. Part, it's been almost a year of dealing with it. Part, the pain skews any sense of time in dealing with this. Part, my injury took away the one very effective way I dealt with stressors or blahs – exercise. I can't do planks or push-ups. In searching for workouts I could do, effective standing workouts seemed to be a hard thing to find. Surely, I'm not the only one looking for standing workouts who is not an inactive senior? I do love a good virtual workout. Figuring out alts for nine out of 10 moves begs the question: What's the point of even doing this workout?
Fitness AI will blow your mind – Find out how it actually works.
I know the answer. Keeping active has been hugely helpful with recovery. Keeping my shoulder joint mobile has kept my range of motion. Hitting play on a virtual workout meant I had to decide on an exercise within the five seconds a trainer demonstrates it. (They never do with planks, push-ups and mountainclimbers – they just jump in). Frustration with an injury suddenly becomes amplified. It's supposed to be that virtual workouts are easy to follow, hard to do. Complicate the instruction part, and it can really hamper motivation – this I know.
When Peloton announced standing and seated workouts to improve accessibility of its class range, I immediately perked up and started searching for classes. To find these strength workouts on the Peloton app, go to Strength workouts under Classes, then filter Class Type and select Adaptive. The library is very small at only eight workouts and no advanced workouts yet at the time of writing this:
10 min Seated Adaptive: Upper Body (intermediate)
10 min Standing Adaptive: Upper Body (intermediate)
20 min Standing Adaptive: Bodyweight
20 min Seated Adaptive: Full Body
10 min Seated Adaptive: Warm Up
20 min Standing Adaptive: Full Body
10 min Standing Adaptive: Warm Up
20 min Seated Adaptive: Bodyweight
While there are standing core classes, too, I do hope that the adaptive segment of the Peloton library grows. Or it could create a new search/filter function to find workouts that avoided certain body parts or moves, or even cater to specific conditions. I would have loved to search "shoulder injury" and have the option to choose from workouts! I know they are there. Peloton has tens of thousands of workout videos. 
Peloton Tread Review: Is it worth the money?
As part of the adaptive workout launch, I got the chance to connect with the instructor of the above list of adaptive classes, Logan Aldridge, who is Adaptive and Inclusive (AIT) certified and is the co-founder of Adaptive Training Academy, to find out more about working out with standing and seated workouts. He also makes the workouts moe accessible visually, by not only describing the moves in detail, but also sharing what he's wearing and what the set up is like, too.
How to clean your exercise mat, boxing gloves, running shoes & other stank stuff.
Typically seated and standing workouts online are geared towards inactive seniors, which I love, but I want workouts that challenge me. What should I be looking for in standing and seated workouts to really challenge me?
Basic and doable movements
Cater intensity to reach your goals and fitness level
Stop hating burpees (well, enough to just get through them!)
I love this question. That is why what we're doing at Peloton is so special because we're bridging that gap between entertainment and fitness, and delivering content that's extremely empowering, coupled with really awesome badass playlists. We're the opposite of geriatric fitness, you know, there is not this approach of "let's just make sure you can move out of your chair," but instead bringing this empowering content to our adaptive training.
The secret sauce, what really dictates anybody's specific goal or journey or where they are in their fitness experience, is intensity. That's the biggest part of what we focus on, especially with our adaptive content. The movements are basic and focus on what we all need to do. […] So things like body weight squats, adding resistance and changing up the stimulus all impact the feel of that body-weight squat by incorporating resistance through things like holding a dumbbell or an object, squatting, hinging, etc. 
Movements like this are really important because the transference from exercise and fitness to the real world is massive, like picking something off the ground, whether you are in a chair or are a standing athlete. You're in a chair being able to side bend, and pick something up from the side, and bring it to your lap, take your hands up while holding that object and place it up high. There's tremendous value when you look at the functionality of the transference of these movements. And also from a cardio perspective, I think this is a good connection for people to make to burpees. 
So many people just want to hate burpees because it's this whole body thing, and it makes us work really hard. But that is, to me, the most important movement to continue to practice and try to master for our entire life.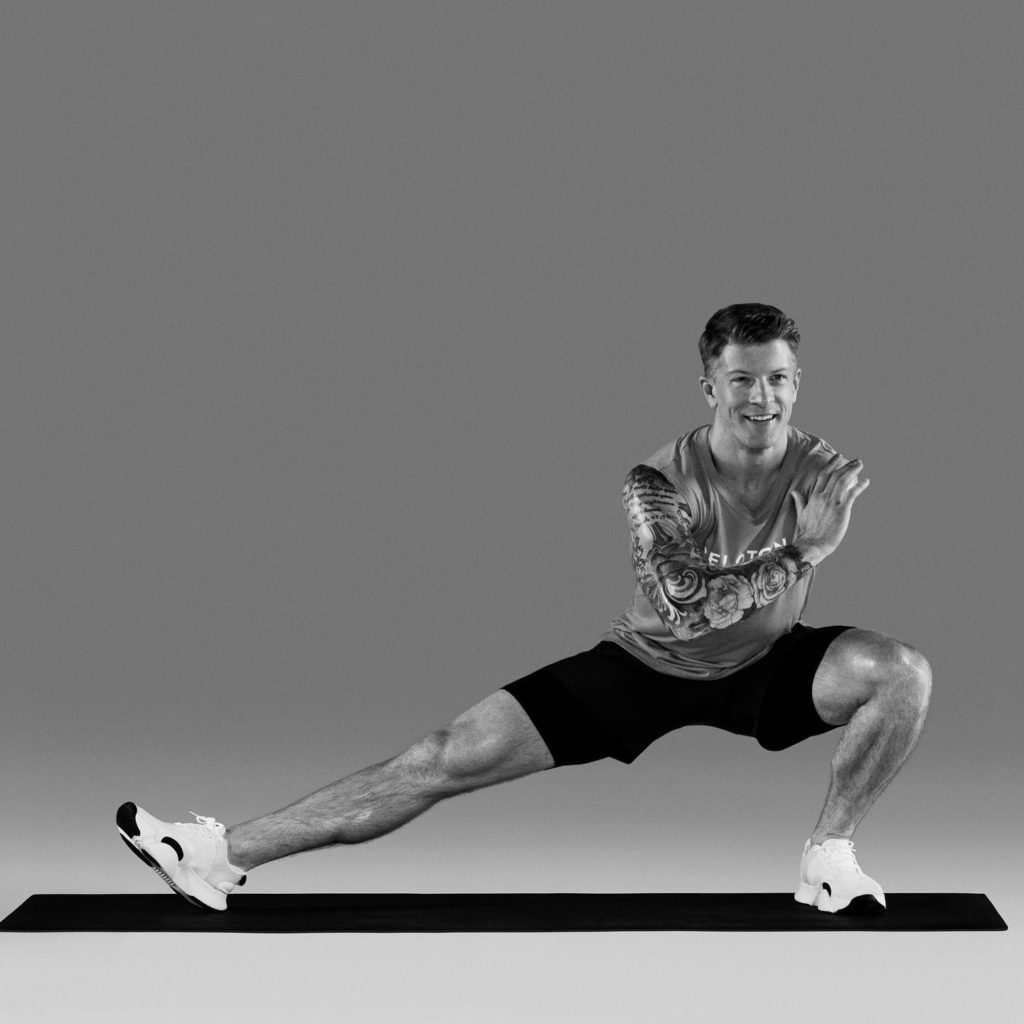 What are the ways that workouts can be modified to fit specific injury, impairment and physical conditions? 
Don't get hung up on having to do motifications
Don't avoid exercise – everything can be adapted or modified  
Changing moves to be more accessible can still be just as challenging
First of all, always follow the guidance of your medical professional. But with that said, there are absolutely ways for those with an injury, impairment and temporary condition to participate in workouts that incorporate things like planks, push-ups and mountain climbers. 
[In his classes, he modifies these in a variety of ways, and the way you choose really depends on your own abilities. For example, a one-arm plank, pushups from knees, and mountain climbers on an elevated base like a counter.]
There are endless ways that we can modify to meet us where we are with our current condition and ability that are not always through the lens of adaptive training. For example, for someone with a disability or who has temporary impairments like an inflamed shoulder, on the surface it may make sense for them to assume they need to avoid all of these movements. But that's a big part of why I'm here: to help educate and highlight through experience and exposure to adaptive training that modification solutions are really great when we're experiencing some sort of temporary injury, impairment or condition. 
Classes with modifications are not entirely different from a regular workout. Workouts are constantly varied and that's what makes them effective – you're not doing the same thing every time. So, there's always a way to modify. 
If you take my adaptive classes, you learn ways in which we account for planks with a single arm. I'll also show you what point of contact in the upper body accounts for push-ups when we're doing them with one arm and might not have the ability to go into that horizontal flat plank position. 
So, take my classes and you might learn some modifications that make you feel a bit differently about those movements with your inflamed shoulder. 
What happens to your menstrual cycle when you work out?
How do you approach planning your workouts? What goes into building those?
Functional fitness are strong workout themes
Workouts to fatigue are key
Focus on form, even when you adapt an exercise
Well, the theme of the workout is the first initial huge influence. And, for me, I am a big believer not to over complicate the movements. The secret is, in my perspective, let's all do common movements uncommonly well. 
And that means kind of what I was alluding to earlier: squats, push-ups and deadlifts. All these movements are compound and very foundational and functional. They are the epitome of how all other movements are derived. We're using the really big muscles and the really big muscle drivers to help execute these movements. 
So, when I'm creating programs, I tend to have this lens of wanting to intentionally couple movements that are similar, maybe build in some complexity so that we're creating this growing fatigue feel. 
Because class duration is often pretty limited, for 20 or 30 minutes, I'm there to maximize the seconds that I'm with you, not just the minutes throughout that time, but the seconds. So those durations are very intentional, and oftentimes, the variable that is unique to everyone is their relative intensity. 
We're all going to perform the same movement, and I'm going to educate and inform you on the points of performance and how I'd love to see you holding yourself accountable in this movement. And then when you feel comfortable with your mechanics, and your consistency of those mechanics, our focus is always on the intensity part. And that's what I'd like to convey in my classes: form, proper technique, good movement, consistently doing that good movement, and then we just go after it, with a lot of intensity. 
Build a better brain by breaking these five habits.
How do you feel about bringing these adaptive workouts to the Peloton platform?
Excited, amazed. I feel like it's my life's purpose in a lot of ways. I feel like the past 10 years of my life have been laser focused and dedicated to me learning, and understanding, and trying to better understand this bigger picture of access and barriers to entry of fitness and healthy lifestyles.
Regardless of people with disabilities, just in general, what are the barriers to entry there? And it's just the past decade has been me constantly observing, and then stepping back, and then diving deep in to try to understand. So finally here at Peloton, we're answering and solving all of the problems I've kinda been stuck with over the past few years.
Connected fitness is the way because it meets people right where they are. And this style and format is entertaining, empowering, educational, and a great workout and experience.