Preloved is a designer line ahead of its time, making clothing out of repurposed and found fabrics since 1995. Julia Grieve, founder of the Toronto-based fashion brand, turned her hobby of transforming and altering vintage duds into a business. Preloved grew, selling in Roots and Urban Outfitters. And so did the demand for its pieces in bulk, according to Fashion Magazine. No more one-offs. So, Grieve uses deadstock headed for landfills for as fabric to help with larger production. All the while, she still takes advantage of her skill set – finding new shapes and silhouettes with unexpected fabrics. Ever someone to adapt – from fashion model, fashion designer and activist – Grieve recently altered her business again. This time she partnered with TV personality and producer Nicole Servinis. And the duo created an athletic wear capsule, conveniently named the Preloved X Nicole Servinis Collection.
Fitness capsule wardrobe – never think about what to wear to the gym again.
We went to the launch at Toronto's waterfront Hotel X. We perused racks of grape- and coffee-coloured sweats and tanks. And we sipped beet juice and bumping into the who's who of Canadian fitness like Eva Redpath. We didn't have time to chat with Grieve and Servinis at the party due to the vibes and tunes. But we did connect afterward. Here's what we found out about the duo's working relationship and the clothes they created. 
From sports bras to inspirational quotes: Azur Fit founder Erin Ward-Williams talks creativity in fitness.
As your career is trend-driven, why do you think now is a great time to launch a Preloved activewear collection?
Julia Grieve: Although the activewear category has grown significantly in the last two decades, we still see a gap in the market for sustainable options. At Preloved, our ethos always ties back to a "healthy" planet. We also recognize the trend for a healthy lifestyle. So, the combination of our brand values and wellness naturally pair so well together. That's what Preloved brings to this space. 
We also recognize that post-pandemic fashion is very much about comfort. Women are shopping for streetwear, loungewear, and activewear – it's here to stay. This new collection's designed for movement. Whether that's at the gym, catching a connection at the airport or moving from the kitchen to the laundry room.
Yes!—25 one-shoulder sport bras, sorted by support.
How do you see this category of fitness wear evolving?
JG: Today's discerning consumer understands garment quality and won't accept knock-offs or disposable items. They are looking for pieces that have lasting power. Women are spending more time in activewear. They are investing in their purchases and in the brands they choose to wear and support. Sustainability, as it relates to fashion, is on the rise. I believe we will continue to see many more high-quality options and new brand launches.
Nicole Servinis: More and more women are turning to activewear and fitness wear because they want to be comfortable and still look stylish. People are prioritizing their health and making an effort to lead a healthy lifestyle, whether it's living more sustainably, eating plant-based, taking the stairs instead of the elevator, or choosing to finally make the most of a gym membership. 
Workout pants that don't roll down – you're so very welcome.
What are some key features and details you wanted to include in the first collection launch? 
NS: Every piece is thoughtfully designed. Julia and I worked very closely to choose pieces we felt offered a diverse range of loungewear and activewear for the capsule collection. We wanted it to be transitional, comfortable and easy to wear – no matter what [activity] you are doing.
One of my favourite pieces is the Powerhouse Leggings. In working with Julia, we were able to choose a soft, comfortable fabric and create the silhouette by adding a V-shape waistband – which again is not only comfortable, but extremely flattering.
Another standout detail is the thumbholes in the Woodchop long-sleeve top. It not only helps prevent your sleeves from rolling up and bunching, but it serves as a bit of palm protection when working out.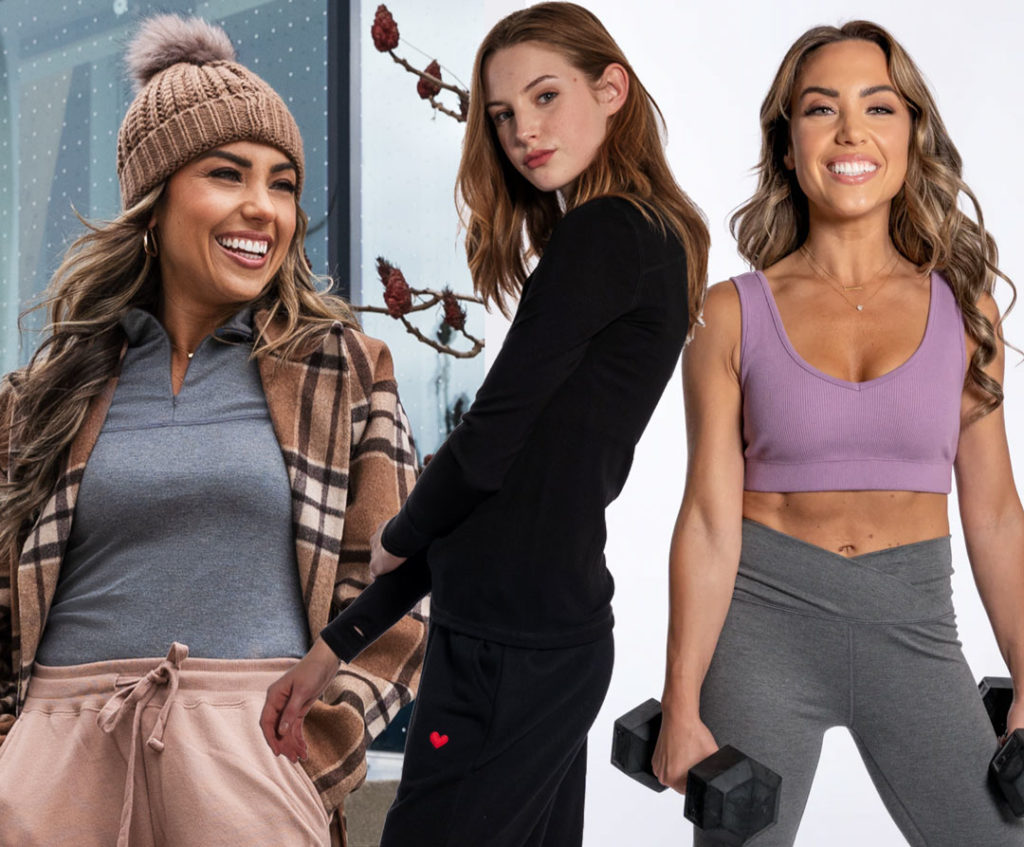 Winter workout wear: The art of layering.
What are some of your frustrations with alethic wear that you wanted to resolve with this collection?
NS: For one, no other athletic line uses recycled fabric. The second: fit. When it comes to workout wear, spandex and tight-fitting fabrics can be uncomfortable. With this Preloved collection, the fabrics feel so soft on the body but tight enough that they are not going to shift on you when you move in them.
Stylish shoe storage solutions, according to a sneaker collector. 
Can you comment on the size range? How inclusive is it?
JG: Preloved offers a range of XS to XL. We are a local brand whose mandate is sustainability first and foremost. And that means we commit 100% to diverting clothing and fabric from landfill by using vintage and recycled materials. Size inclusivity is a long-term goal for Preloved. However, our brand is currently limited in production resources. And producing in Canada is our priority so there are limits to the size and scope of each collection.
This fashion designer on how to create activewear for all body types.
Thinking about the environment, any advice for what to do with "old" activewear?
JG: Some activewear brands have incentive programs in place to take back their used product and have offered the consumer credit towards a new purchase which is a big step in the right direction. Unfortunately, a lot of activewear is made from fabrics that are not biodegradable. So, I really try to communicate and promote the preservation of items. You can enjoy key pieces for decades by mending when necessary and washing carefully. The number one rule is never to put activewear in the dryer.
Also, get creative. If the elastic on your favourite leggings has given out or are wearing thin, turn them into arm warmers for a seasonal running accessory. 
One dress for 10 days? Challenge accepted!
FLEETSTREET REEL FROM EVENT
How did you create the clothes to be both environmentally friendly and of high quality? 
JG: This collection, like all of our Preloved designs, is manufactured right here in Canada. 
Nicole had the opportunity to meet the people designing and creating, which encouraged an authentic and personalized collaboration. The line is cotton based. Some of the pieces are actually made 95% cotton, which is a huge differentiator in this category. The cotton includes a yarn made from recycled cotton. It is a 100% new fabric and it's premium. It's buttery soft and so comfortable. 
Behind Athleta's design – the pockets are deep.
What else should we know?
JG: This was one of our first collaborations. It was so fun I'm sure we'll be exploring new collections with like-minded brands and personalities. Nicole brought a different lens to our designs, and her input and ideas were so valuable. Her background in dance and figure skating really added value to how the pieces would move and look. The results exceeded our expectations.